Mouths water on
Karfreitag
, Good Friday, in Muensterland, North Rhine-Westphalia, because for generations it has been the tradition to serve
Struwen
that day. When the Lenten fast was closely followed and no meat allowed it was these sweet fried yeast pancakes, in those days
cooked in rendered animal fat, which supplied the energy necessary to complete whatever work was to be done, especially on the region's farms. Of course during a fast neither eggs nor raisins should have been added but the rules were often bent somehow.
Now, even though they are enjoyed throughout the year and are found in Farmer's Markets and chic Bistro's as well as a favorite
Hausmannskost
, home cooked meal, on Karfreitag Struwen will definitely appear on a great many of Muensterland's tables.
STRUWEN RECIPE
- for 10
INGREDIENTS:
1000 g – 2lb 2.1/2 oz all purpose flour
400g – 1.3/4 cups lukewarm milk
4 standard eggs, lightly beaten just to break up
150 g – 5.1/3 oz sugar
300 g – 10 oz raisins (Put raisins into bowl and cover with cold water for about 15 minutes, drain and dry well. This ensures that they stay moist and don't harden while cooking)
80 g – just under 3 oz yeast
Pinch of salt
Butter or cooking oil
METHOD:
Tear the yeast into small pieces, place to the lukewarm milk and stir. Sprinkle a tablespoon of the sugar over mixture.
Place flour into a bowl, make a hollow and into this place the yeast/milk mix.
Introduce the flour gradually from the sides into the yeast mass and knead until combined.
Cover bowl with a damp cloth, or plastic wrap, and leave in a warm place for an hour while it rises.
Add the raisins, eggs, sugar, salt, mix thoroughly and leave covered for another hour.
(The small amount of salt brings out the flavor as well as controlling the yeast growth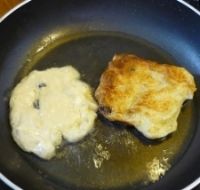 , and it is possible to have just one proving time, adding all the remaining ingredients after mixing the yeast into the flour saves an hour but proving twice makes a lighter texture)
Make small flat shapes about 7cm/3 inches in size from the dough, use two large spoons to do this it makes shaping and flattening very easy, drop into the melted butter or heated cooking oil and fry slowly on both sides for two to three minutes, until no dough appears when a small cut is made with a knife and the Struwen are golden brown.
Serve warm. It is a good idea to use two pans for cooking as this way the Struwen do not have to be kept warm for long.
These fried yeast pancakes are a typical
"Westfaelisches Karfreitagsgericht"
, along with Biersuppe and Pumpernickel amongst others, and very filling.
Traditionally served with sugar, cinnamon or a prepared mixture of both, fruit compote, such as apple or plum, is also very popular.
Muensterland, famous for its over 100 castles, bicycle culture and
Struwen
. And no need to save them only for a once a year "Good Friday feast", they can be enjoyed at anytime.
Both photos of Muensterlaendisches Struwen are from Andreas Wolter (Woltera), via de.Wikpedia
For topics in the news

And you can follow German Culture on Facebook