Guest Author - Elizabeth Darrach
Hello, and welcome back at last! I hope you all enjoyed your holidays and that your to-be-read piles aren´t quite as towering as mine has grown. Things are slowly getting back to normal, and I´m able to get caught up with all the books I have to share with you while I´ve been waiting for our technical difficulties to be cleared up. Now they are, and I´m ready to get back into the swing of things.

First up is Nora Roberts´s anthology,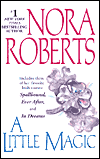 Little Magic (Berkley). If you´re a fan of Ms. Roberts, you´ll recognize these stories as being in the anthologies she´s participated in over the past few years, all with just a touch of magic in them. If you haven´t picked up the anthologies, you´re in for a real treat. First up is "Spellbound," with Bryna who´s waited several lifetimes for Calin. But is he ready for her and all the questions she´ll bring? Next is "Ever After" with Allena and Conal who´re trapped together by the weather and the fates to find their way to their future. Then is "In Dreams," Flynn and Kayleen have one chance to free him from his prison. I´d read all of these when the anthologies were released and fell in love with the stories. Magical, wonderful stories, with characters who´ll touch your heart. This one´s earned four of Cupid´s five arrows.



Lakota Love Song by Madeline Baker (Signet) is next. When Kaylee Matthews decides to defy her stepfather to care for a wounded Indian, Blue Hawk, her whole life changes. The lovestruck pair travel back to his village together, but they can´t avoid her family forever. But can they survive the bigotry of others? Not one of my favorite subgenres of romance, and Kaylee wasn´t my favorite heroine--a bit too passive for my tastes. I´m giving this one only two and a half arrows.



Finally is Catherine Anderson´s

Sweet Nothings (Onyx). Ms. Anderson specializes in writing stories about wounded characters, and this one is no different. Molly Wells is on the run from her ex-husband, and Jake Coulter allows her to stay on his ranch with some reservations. He´s quicker to fall for her than she is for him, but Molly´s past is still tracking her and she doesn´t want to hurt Jake or his family. Molly is another heroine I wasn´t too crazy about--she is a heroine with a lot of baggage, but I felt like it was just a little too much baggage to be believable. This one gets only two arrows.



Until next time, happy reading!