Frank Lloyd Wright's Fallingwater is considered one of the greatest architectural masterpieces of the 20th century. Wright built Fallingwater for the well-to-do Kaufmann family of Pittsburgh, between 1936 and 1939. The Kaufmanns owned the upscale and elegant Kaufmann's Department Store. Fallingwater continues to be one of most famous homes in the United States and is a National Historic Landmark.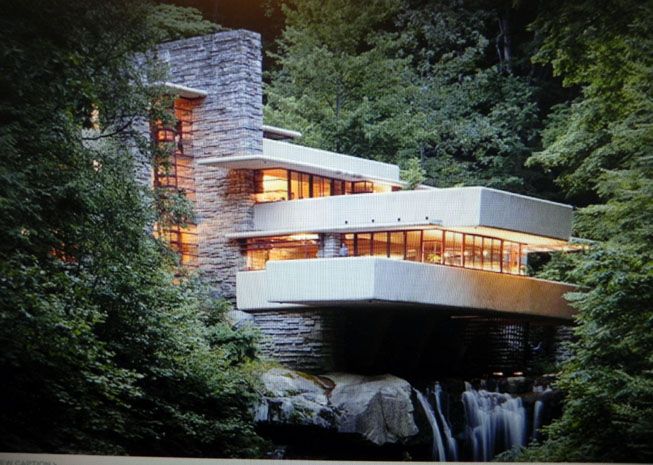 Fallingwater is located in Southwest Pennsylvania's Laurel Highlands about 90 minutes from Pittsburgh. The Laurel Highlands area is a beautiful area that abounds with outdoor activities including Laurel Caverns and Ohiopyle State Park. Other attractions in the area include: Fort Necessity National Battlefield, Kentuck Knob, another home designed by Frank Lloyd Wright, the Historic National Road, and the Great Allegheny Passage.
What began as a vacation destination for the Kaufmann's later became the location for Wright to design and have built using local craftsman, one of his most famous pieces of architecture. While the Kaufmanns thought Wright would design the house to have a view of the waterfalls they loved, Wright had other ideas. Wright wanted the Kaufmanns to live with the waterfalls as a part of their daily lives. Wright believed "Art has a humane and noble task to serve man in harmony with his natural surroundings," he said. After his death in 1959, Wright is still considered to be the greatest American architect of all time.
A visit to Fallingwater is a magical experience. The location is beautiful and to see the house perched over the falls is breathtaking. There are several types of tours available. Tour availability is subject to weather conditions and holidays. All tours are walking tours. Advance reservations or advance ticket purchase is required. Tickets can be purchased on-line or by calling visitor services at: 724-329-8501. The 90 minute guided house tour costs about $23.00. For more information, you can visit www.fallingwater.org or call the visitor services.