In January
"The Magpie Takes a Husband"
in Lausitz, a small region in the east of Saxony. The Vogelhochzeit, a centuries old tradition followed by Sorbs, a western Slavic ethnic group and national minority of about 60,000 who cultivated the land more than 1400 years ago.
Scarcely has Christmas finished with its Stollen and Lebekuchen when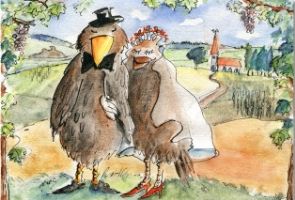 planning begins for the traditions and "goodies" that accompany the
"Bird's Wedding"
,
Vogelhochzeit
, between a Magpie and a Raven.
In some regions the "Bride" is a Blackbird and her groom a Thrush.
It's a unique custom quite unlike any other, involving birds, marriage, children and food, and found only in this part of Germany, or with Sorbs, formerly known as Wends, who emigrated and took the tradition with them.
Lausitz,(Lusatia), is only 80 kilometers, 50 miles, south-east of Berlin but has an individuality, language and traditions setting it apart from any other German region, and the Sorbs are very attached to their ancient folk customs, with this one celebrating the approaching end of winter.
Its origins are shrouded in mystery and myth however.
The tradition seems to have roots in the pre-Christian era where people gave offerings of food to their ancestors' ghosts, hoping to favorably influence the gods of nature, however as time passed, and confidence in the power of ghosts decreased, this became gift-giving to children.
Another theory is that, once again in pre-Christian times, the Sorbs believed the souls of their dead entered birds, so shortly before birds began mating they would increase the food they gave them to make sure that their "ancestors" were satisfied.
In pre-Christian days especially Sorbs were very superstitious.
While a folk tale tells us that January 25th is the wedding anniversary of a
"Magpie and a Raven"
, and so the day is filled by
'Wedding'
celebrations, with children dressing up as miniature brides and grooms, processions, performances, special songs and "Wedding Dances".
The "Bridal Couple" wear traditional costumes, the bride is the magpie - die Elster and her groom a raven - ein Rabe, or she is die Amsel - blackbird and he is die Drossel - thrush, while many of the wedding participants from coachman and choir to chaplain and guests are other children dressed as different
"birds"
.
The night before dishes are filled with bird food and placed outside, high out of the reach of any dogs or cats who might be around, and overnight "the birds" fill them with gifts for the following day's wedding. Chocolate bird's nests filled with colored eggs, bird shaped baked goods, different candies, nuts and apples.
One of the legends is that this is their way of thanking the children for having fed them, especially through the winter.
Another that as the birds were celebrating their wedding they want to share their gifts with their neighbors, who just happen to be human.
But where does the name
"Vogelhochzeit"
come from?
Despite years of research no one really knows because, although nest building might begin in January in years with a mild winter, even for ravens, magpies, thrushes and blackbirds the mating season still doesn't start as early as the end of the month, but usually at least a few weeks later.
Nevertheless it is a beautiful folk custom that shows no sign of dying out, continuing to be followed as enthusiastically by adults as it is by children and helping preserve the Sorbian language and culture.
For topics in the news

And you can follow German Culture on Facebook
Photograph courtesy Cottbus.de, illustration © 2014 Dorle Schausbreitner, info@dorle-schausbreitner with thanks.