Germany is a "Bread Paradise", with 3050 different recipes from the county's bakers registered with the Central Association of German Bakers. Zentralverband des Deutschen Baeckerhandwerks e. V.
On average a German eats 87 kilos, 192 pounds, of bread every year.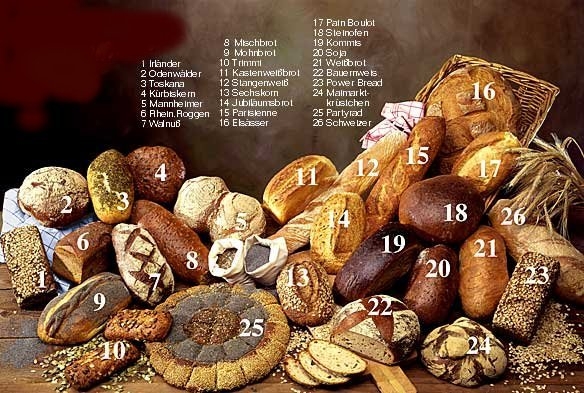 There are about 50 bakeries to 100,000 people in Germany. In Ireland for example there are seven.
The emphasis on bread in German cuisine is shown in words such as "Abendbrot" - supper, literally "evening bread" and "Brotzeit" – a snack, "bread time".
Bread rolls are very popular and go under different names depending on the region of Germany: Broetchen – little breads, Semmel, Schrippe, Schusterjunge, Pfennigmuggel, Rundstueck, Weck, Weckle, Weckli, Wecken. Luckily "Broetchen" is widely recognized, otherwise one simply has to point.
When Broetchen are cut in half, spread with butter and something like cheese, honey, meat, or fish added, either on each half or placed between the two, then they become a "belegtes Broetchen". A sandwich.
While of course Berlin's
Currywurst
is a sausage in a roll. A sausage and curry sauce sandwich.
Then there is
Strammer Max - Germany's "Anytime Sandwich"
; a popular open sandwich with many variations.
A popular street food in the North of Germany is a "Fischbroetchen", fish sandwich. Fish smoked, fried, raw, salmon, herring, white fish, North Sea shrimps, together with lettuce, pickles, chopped onions and perhaps Remoulade sauce.
Unlike many countries where bread is something to toast or soak up soup, for Germans it is a real "food", and a nutritional source for most of the day.
The huge selection of bread is partly down to Germany's varied climate, which allows all types of crops to thrive, together with the country's history. Baking different varieties of bread was one of the ways the small princedoms that formerly made up "Germany" carved out an own identity.
There is a culture of craftsmanship in German bread making, and bakers must complete a high standard theoretical and hands-on training before becoming a Baeckermeister. Master Baker.
German bread is as much part of the country's culture as beer and BMW, and across the world has such strong reputation that bakeries supplying bread of a high standard are often called "German bakeries".
The taste for German style textured bread is increasing to such an extent that bakeries from across Europe, and as far away as Australia, send apprentices to master bakery schools in Germany.
UNESCO added Germany's bread to it World Heritage List. "German bread as Intangible Cultural Heritage", to join, among others, Shrimp fishing on horseback in Oostduinkerke, Belgium, Gingerbread production in Croatia and the Argentinian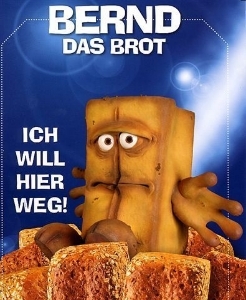 Tango.
Bread is so much a part of Germany's culture that for many years one of the most popular children's TV characters was Bernd a talking loaf. "Bernd das Brot" – Bernd the Bread, a perpetually depressed and thoroughly bad-tempered loaf of bread: but then it seems he "emigrated" to Sweden.
Of the thousands of different breads in Germany the most popular are:
Rye-wheat
- Roggenmischbrot
Toast bread
- Toastbrot
Whole-grain
- Vollkornbrot
Wheat-rye
- Weizenmischbrot
White bread
- Weißbrot
Multigrain,
usually wheat-rye-oats with sesame or linseed Mehrkornbrot
Rye
- Roggenbrot
Sunflower seeds in dark rye bread
- Sonnenblumenkernbrot
Pumpkin seeds in dark rye bread
- Kürbiskernebrot
Roast onions in light wheat-rye bread
- Zwiebelbrot
While topping your loaf or roll could be any of these:
Mehl
 - flour
Sesam
 - sesame seeds
Kümmel
 - caraway seeds
Mohn
 - poppy seed
Haferflocken
 - rolled oats
Sonnenblumenkerne
 - sunflower seeds
Kürbiskerne
 - pumpkin seeds - these are a dark green
Salz
 - salt - on Brezel/Brezn/Pretzels
Leinsamen
 - linseeds - small and dark brown, like shiny cress seeds
Internationally known sweet tasting Pumpernickel is rarely found in a bakery, and is steamed not baked.
A baker's assistant will offer to cut a loaf you have bought. "Geschnitten?" or "Schneiden?". Many families own an electric bread-cutting machine so will not take advantage of this service, as German bread already is quite solid and chewy so dries out quickly.
Apparently there was a custom that a future bride was tested by her bridegroom's family as to how well she could cut a loaf of bread. Nicely uniform slices meant she would be welcome, failing the test...hmmm.