How to Stock a Chinese Pantry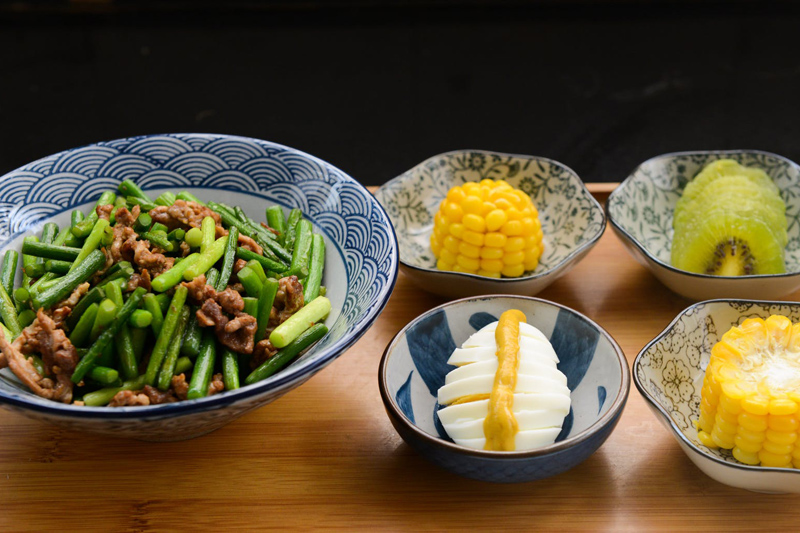 Most pantries have a basic stock of the things that are used in everyday cooking. For instance an American pantry is usually stocked with salt, pepper, ketchup, mustard, pasta, chicken broth, etc. A Chinese pantry is stocked with similar items. Following is an outline of the basic items that most Chinese pantries are stocked with. If you have these ingredients on hand you can simply purchase meats and vegetables and be able to create many different Chinese dishes.
Sauces:
Soy sauce – Soy sauce is used in almost every recipe in Chinese cuisine. It is best to stock both regular and thick soy sauce, which is a sweeter and more viscous version.
Oyster sauce – This is a dark brown sauce made from oysters, which is used to flavor stir-fries and create other sauces.
Shao hsing wine or sherry – Cooking wine is often used in Chinese stir fry recipes and to flavor sauces.
Hoisin sauce- This sweet bean sauce is often used as a condiment.
Chili sauce - Hot chili sauce, sweet chili sauce, and hot chili garlic sauce are used as condiments as well as to flavor several dishes.
Vinegar – Rice vinegar, white vinegar and brown vinegar are all used fairly regularly in Chinese cooking.
Spices:
Five-spice powder –This Chinese spice is a blend of ground star anise, cinnamon, ginger, cloves, and nutmeg and is used in a variety of recipes.
Star anise – Whole star anise are most often used in stews and to flavor meats.
Cinnamon- Whole sticks of cinnamon are used alongside star anise in stews and to flavor meats and some desserts.
Sichuan peppercorns – Whole peppercorns are used to flavor spicy dishes and are best when freshly ground with either a grinder or a mortar and pestle.
Ground ginger – Ground ginger is different in flavor from fresh ginger and is used in various Chinese recipes.
Sugar – Regular white sugar is often used to help flavor sauces, and Chinese brown sugar is used in desserts and congee.
Cornstarch- This is used to thicken sauces and soups.
Chicken broth or stock – Chicken broth serves as a base for many soups and sauces. Both chicken broth cubes and chicken powder is sometimes used to add flavor to dishes as well. However these often have MSG in their ingredient list. To avoid this I often use organic canned or boxed stock instead.
Dried black and Shiitake mushrooms – Though not technically a spice, Chinese dried mushrooms are often used for both flavor and texture in many dishes.
Oils:
Peanut oil – This oil is used mainly for frying. Vegetable oil can be used as well, however each oil will fry food slightly different. I've found that peanut oil fries crispier and more evenly for my tastes.
Sesame oil – This oil is for flavoring and should not be heated to very high temperatures because it will burn.
Hot chili oil – This red colored oil is used to add spice to a dish and can be heated at high temperatures.
Noodles and Rice
Long grain white rice – This is the most widely used type of rice in Chinese cooking. It is used for steamed rice, fried rice, and congee.
Short grain rice – Also called glutinous or sticky rice, this is used in dumplings called zongzi, and in nuomi fan, a rice dish that has char siu pork, sausage, and mushrooms. Short grain rice is also used in several dessert dishes as well.
Noodles – The type of noodles to stock depends on your tastes – in my pantry I have
both thin and thick egg noodles for chow mein and lo mein; cellophane noodles for inside spring rolls and on salads; and crispy chow mein noodles for topping salads and stir-fries.
Fresh Seasonings:
Although not technically a pantry item, these fresh ingredients are always on hand in most Chinese kitchens.
Garlic – Usually diced or minced, this is one of the main seasonings in most recipes.
Green onions – Another main seasoning, green onions are often diced.
Ginger – Fresh ginger root can be grated or minced for stir-fries and sliced for soups and stews.
To see what I have stocked in my Chinese pantry click
here.


Editor's Picks Articles
Top Ten Articles
Previous Features
Site Map





Content copyright © 2021 by Lila Voo. All rights reserved.
This content was written by Lila Voo. If you wish to use this content in any manner, you need written permission. Contact Lila Voo for details.