In many regions of Germany, but mainly wine areas, in early spring
"Alaaf"
mostly in the Rhineland, and
"Helau"
almost everywhere else, announces the Fifth and Foolish Season, 'die naerrische Zeit', Germany's Mardi Gras. A Carnival in Germany.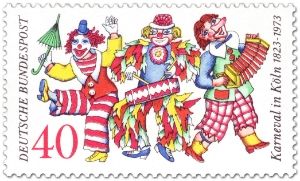 Karneval
along the Rhine,
Fastnacht
in the South West of the country and
Fasching
in Bavaria, it is a time of spectacular parades, balls, masks, and Carnival Princes and Princesses. Although for Carnival in Cologne there is no sign of a Princess, but instead a
Prince
known as His Craziness, a
Peasant
and a
'Maiden'
- a man dressed in a fetching medieval outfit, but everywhere the official 'craziness' begins seven weeks before Easter.
From the 11th of November at 11.11 am, a day of wild celebration, the 'behind the scenes' planning for the next carnival begins, including naming the years
Carnival Royal Family
, but from New Years Day and Epiphany in 'Carnival Regions' it is officially party time. Non stop revelry until Ash Wednesday,
Ashermittwoch
, then it's Lent and the forty days of fasting and sacrifice leading to Easter.
The Rhineland area of Cologne, Duesseldorf and Aachen, together with Mainz and Munich, hold the largest and most colorful processions, and smaller towns and villages also have their own traditional parades and festivities. The year's big celebrations start on the Thursday, with
Weiberdonnerstag
, Women's Thursday, in Rhineland's Karneval, or South West Germany's Fastnacht
Schmutziger Donnerstag
or
Schmotziger Donnerschtig
, Greasy Thursday as it is known locally, which are then followed by the
Die Drei Tollen Tage
, The Three Crazy Days.
No man will wear a favorite tie on Weiberdonnerstag because by tradition women take over, and chasing men to cut off their ties as souvenirs, later nailing them to trophy walls, is one of the day's most popular pastimes. Special ties are sold to be worn for the occasion, while turtleneck sweaters appear even on those who are usually very conventionally dressed.
As a sign of the general
'kicking over the traces'
of the day, until some years ago any divorce case brought about because of an incident which had occurred on Weiberdonnerstag would be disallowed by the court.
However it might take place on the same day but in the south-west Fastnacht's Schmotziger Donnerschtig, called that because it was the day pigs were slaughtered ready to be smoked or prepared for Easter, similar to
Mardi Gras
Fat Tuesday, is celebrated in a completely different way.
No tie cutting here, instead there are young children in costume, 'Narren', Jesters, and 'Hexen', Witches, help students escape school, a type of donut cooked in pork fat is the day's specialty, and at sunset there is
Hexensprung
, the witches jump.
Making as much noise as they can, 'Hexen' vault over a
bonfire on their brooms, and if the year's Fastnacht takes place early in the year those brooms are used to sweep away snow as well as the evil spirits of winter.
Although Fastnacht celebrations don't only involve witches wearing hand carved wooden masks vaulting over fires. On Saturday bonfires burn throughout the night, another symbol of the winter months being chased away, while on some of these fires there will be a burning effigy representing old man winter or a witch.
A return to the pagan roots of a Christian celebration.
The Cologne, Mainz and Duesseldorf processions start at 11.11 am on
Rosenmontag
, Rose Monday - Karneval's climax, and Germany's carnival cities fill with millions of spectators. In fancy dress, extravagant makeup, hats, masks and false noses, they join in televised kilometer long carnival parades filled with spectacle, enchantment and tradition, with Karneval 'Royal Families', Court jesters, costumed marchers, brass bands, drummers, dancers and enormous floats.
Floats are often almost works of art, taking months to make and traditionally decorated with mocking political and social commentary and caricatures, covering everything from unemployment and scandals to politicians and world leaders.
Through the cheers of the crowds are cries of
Kamelle, Kamelle
,
'Candy, Candy', and the revelers on the floats wave and sing German Carnival songs as they throw candy, chocolate bars, bags of popcorn or chips, small plastic toys, confetti and spring flowers into the crowds. Children, and some adults, scoop the flying goodies into large bags brought with them for just this purpose.
Carnival in Germany doesn't stop on Rosenmontag, because the suburbs are taken over by carnival celebrations and local parades on Tuesday, and for many this is 'real' carnival, as it used to be before becoming political. There the beautifully decorated floats, traditionally dressed marchers, some as devils, witches or with ferocious wooden animal masks, others as contrasting colorful
'Spring'
spirits, offer a more relaxed atmosphere than the previous day's Karneval processions.
Fasching celebrations in Munich are quite different, there are few costumes to be seen but instead elegant balls, gala's and sophisticated celebrations. It is more like the Venice Carnival as it leads up to
Faschingssonntag
or Fools Sunday, when the street festivities take off and for three days the inner city becomes a party zone. Filled with bands, dancing, singing, fancy dress, general riotous behavior and the
Faschingsumzug
, Carnival parade.
On Shrove Tuesday,
Faschingsdienstag
, a traditional, and cult, dance by Munich's
'market women'
from the century's old Viktualienmarkt, the city's huge open air food market, is a high point of the non-stop festivities.
Karneval ends at midnight and Lent begins. Many Germans, even those who are not especially religious, will follow the custom of giving up something, from that night time glass of wine to computer games or television viewing.
Karneval
, from
'carne vale'
Latin for 'Farewell to Meat' or perhaps from the Latin
'carrus navalis'
'Ship of Fools',
Fastnacht
,
'Fasting Eve'
the night before Lent, or
Fasching
,
'last drink (alcoholic) before fasting'
, is over for the year. On Ash Wednesday, Ashermittwoch, the fast can begin, perhaps with a traditional
fish dish.
However this is Germany, a country famous for its beers, so it is no surprise
Lent
brings with it a two week
Strong Beer Season
. A nutritious mixture brewed for centuries by German monks to fortify them when weakened from fasting, and now thoroughly enjoyed, and appreciated, not only by those who live in monasteries but also who visit bars and shop at supermarkets.
Illustrations: Briefmarke: "Karneval In Köln - Jecken" from 1972 via briefmarken-bilder.de.....Hexensprung in Offenburg, photographer Peter Heck via Badische Zeitung....Da fliegen die Kamelle: Cologne's Prince, Peasant and Maiden throwing Kamelle via Kamelle.de
For topics in the news

And you can follow German Culture on Facebook
Carnival Funnel Cake is known as 'Strauben' in the German speaking world, and this kid friendly Starter Kit makes producing great Funnel Cakes at home both quick and easy.
The Eyewitness Travel Guide for Germany is absolutely the best travel book available for anyone, who wants to visit the country. Either from the comfort of their armchair or in person. With stunning illustrations it has descriptions which go into depth and cover everything any traveller would ever need, but are written in a way that makes them fascinating to read for anyone interested in Germany. My personal favorite.