Are your recipes suddenly not turning out right? Did the cake fall? Did the beans burn, the bread not rise? Did you burn your finger taking dinner out of the oven, have you suddenly run out of your favorite spice? Is it taking longer than it usually does to clean the kitchen after dinner?
You need a kitchen witch! A kitchen witch will keep the spice cabinet gremlins at bay and the pot burning tricksters away.
Even if everything is just fine in your kitchen and you're not at all superstitious, a kitchen witch is a fun addition to your doll collection. A cloth doll you can enjoy during all the time you spend in the kitchen. And, because she's a kitchen witch, she doesn't ride on a broom, she rides on a wooden spoon, instead!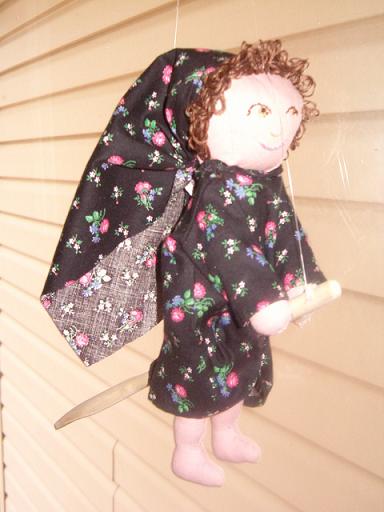 This is a picture of my kitchen witch hanging in my kitchen window.
To make my kitchen witch I started with my 9 inch Destiny Cloth Doll and her dress pattern. As you can see in the picture, I chose a black fabric with a pretty floral print because I wanted my kitchen witch to look somewhat "witch" like. But of course, you can choose whatever fabric you'd like to coordinate with the decor in your kitchen. I used to have a blue one! cut out the dress you should make it a little longer for your kitchen witch so it drapes over the spoon nicely.To make her Kerchief I simply cut a triangle of matching fabric large enough to cover her head and tie it at the back of her neck.
If you're starting from scratch to make the doll you can save time and effort by putting on only enough hair to fringe the face and then cover the rest of her head with the kerchief.
For the pattern and instructions to make the 9 inch Destiny Doll look here:
9 Inch Destiny Cloth Doll
For the pattern and instructions to make her dress look here:
Dress for 9 Inch Dolls
Once the doll and the outfit are complete, sit her on her spoon and adjust her position until you are happy with it. Using a hot glue gun, glue the doll in place on her "broom." I used a light weight fishing line to hang my kitchen witch because it tends to disappear when looking at her. You will also need to put a tiny dab of glue on her head, under her hair to stabilize the fishing line and keep her flying on top of her spoon.
Making and Dressing Cloth Dolls
Ebook with patterns and instructions to make 5 cloth dolls as well as chapters on general doll making techniques.The book includes 21 inch Lalena Doll, 21 inch David Doll, Bear Dolls, 9 inch Destiny Doll and 15 inch Annie Doll, all together in one handy book. 53 pages.
Making and Dressing Cloth Dolls
.