Guest Author - Sandra Lee Garth
Although centerpieces are used and are appropriate year round, there is something about spring that makes them a bit more special. The dreariness of winter has passed, and the sunshine and warmer temps usher in a new season for entertaining. Bringing with it a desire to make our spaces prettier. Beautiful centerpieces donít have to be expensive and chances are you can put one together with items already on hand.
When planning your centerpiece, consider the size of the table and the size of the room. A huge room with high ceilings demands a loftier and more dramatic centerpiece. By the same token, small spaces and tables require something more demure and scaled back.
Give your centerpiece a little extra length to fill your table also. Swags are traditionally used over doorways and window, but theyíre gorgeous on a table as well. Criss-crossing two swags leaves a opening just the right size to fit in taller tapers or large cylindrical votive holders. An informal candelabra works well with this setting also.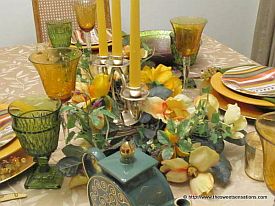 Whenever youíre using candles with flowers or anything else flammable, make sure the taper or votive holder extends at least half an inch over the top of the flammable material to reduce the risk of fire. If food is going to be served, consider using flameless candles if guests have to reach over them.
For an edible arrangement, fill a large glass vase or bowl with lemons, limes, oranges or a combination of all three. Tuck in some dried lavender for a aromatic arrangement.
If the centerpiece is for a dinner party, go for a completely edible arrangement of fruit, cheese, bread and wine. Use cake stands of various heights and diameters for the bread, cheese and fruit, or clay pots for a more earthy and casual effect.
Stacked books of various thicknesses and widths is a unique and inexpensive idea. Wrap them in antique looking scrapbook paper. Use ribbon, lace or vintage looking necklaces as bookmarkers and embellishments. A single silk or fresh rose adds a touch of elegance. This would be nice on end tables also.
Ornaments arenít just for Christmas. A glass bowl filled with ornaments of the same color are striking when surrounded by low votives or tealights. One of my favorite bases for centerpieces is a framed mirror. Whatever is on the mirror is reflected and oh what a pretty glow candles cast!
A beautiful table creates just the right ambience. Have fun with them, thereís no right and wrong.