Books about Gardening With Children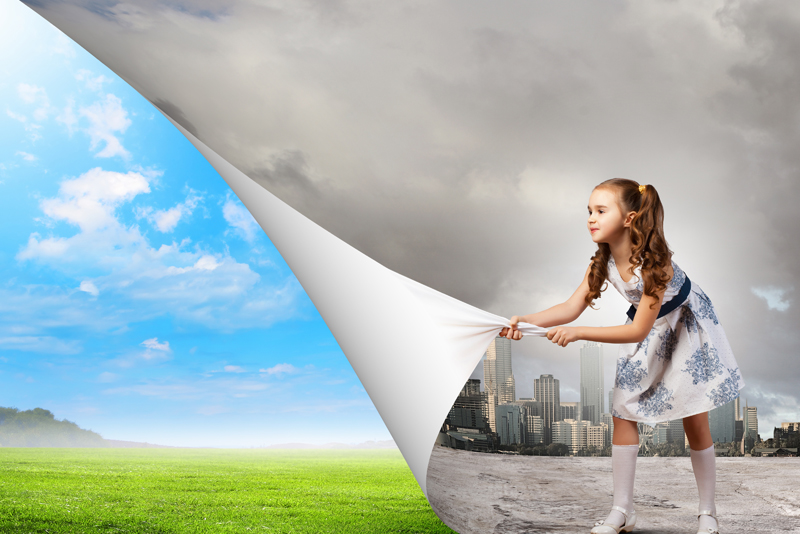 Children love the idea of having their own gardens. Unfortunately, their idea of the perfect garden doesn't often match their parents' gardening ideals. I've learned it is important to let the child do it their way if adults expect them to maintain their interest in the project throughout the gardening season. This may mean putting up with a weed-filled garden. The plants may be arranged in clumps, squares, or almost any shape except a straight row!

Living in a city, I've frequently had children tell me carrots come from the grocery store. Many urban children have little concept of how our food is grown. I urge all parents, whether they personally garden or not, to introduce their children to growing some basic vegetables and herbs.

Since I love encouraging children of all ages to get involved in growing plants, I looked for some books specifically about gardening with children. In my search, I found two books that matched my ideas best. Perhaps one of these books will give you some ideas on encouraging your children, grandchildren, or neighborhood children to try out gardening this summer.

Gardening Wizardry for Kids contains six chapters. The first presents the history and folklore of common fruits and vegetables. For instance, one section teaches children about the history of apples and Johnny Appleseed's role in spreading them across America. They learn the many ways apples are used: feeding cattle and horses, making a yellow dye for clothing, eating fresh, using in cider, and even in children's games. In other sections, the children are introduced to avocados, beans, carrots, celery, corn, grapes, lattice, onions, oranges, peas, peaches, peanuts, potatoes, pumpkins, radishes, spinach, sweet potatoes, tomatoes, and watermelon.

The second chapter talks about several ways of growing fruit and vegetables indoors. Each growing project lists what is needed (supplies), what to do, and what will happen as a result of following the directions. Based on reading level, and the clarity of the illustrations and project directions, most upper elementary children would be able to complete these projects with very little assistance from adults.

"Indoor Plant-Growing Experiments with Food Seeds" is the title of the third chapter. This chapter will teach your children the scientific method of solving problems without telling them this is what they are learning. The introduction contains a sample letter to send to seed companies asking for their catalogs. Children are attracted to garden catalogs because of their colorful pictures. Each project in this chapter poses a question such as "Does cold, cool, or warm air make a difference to seed starting?" The child has a place to write "Your opinion before the test." Then they find a list of what you need for the experiment, directions for doing the experiment, and something extra to think about. After completing the experiment, they write "Your opinion after the test" in the space provided. This particular chapter provides many experiments that are also suitable in the classroom as part of science classes.

Children love the critters found in gardens. Chapter 4 provides several experiments with earthworms, pill bugs and snails. Perhaps your child will enjoy one or more of these projects.

I found chapter 5, "Herb History, Folklore, and Growing Instructions" quite interesting. Here your children can learn the history, how to grow, and uses of common herbs. Perhaps growing their own herbs will cause your child to try tasting these items.

The final chapter presents some easy garden related crafts. Again, the author is careful to list items needed, explain how to do the craft, and even suggest ways of using the project. Even adults will enjoy doing some of these crafts.

I urge every parent and teacher of children to purchase this book. It is written for the child, not for the adult leader. The illustrations are colorful. The information presented is arranged in consistent patterns within each section, making it easier for a child to follow. Many older children (those who can read independently) will be able to pick up this book and complete the activities with little adult assistance. I believe many of these projects are suitable even for preschool aged children.

Many gardening with children books exist today. I strongly believe Gardening Wizardry for Kids is the best available today.

Gardening With Children. Beth Richardson and Lynn Karlin (illustrator). Taunton Press. 1998.

This book presents a more traditional way of gardening with children. They are taught how to select plants, making garden plans, building gardens, preparing the soil, and planting and caring for garden plants in the first section of the book. The next section introduces gardens organized around a theme such as butterflies, pets, pasta toppings, pizza ingredients, and those emphasizing their ethnic heritage. This section also includes suggestions for family garden-related projects.

One of more of the suggested projects is sure to be just right for the children in your life. One of the easiest projects of all is starting seeds on a brick. You will find the directions for this project on page 65. Many children love finding "bugs". Have them search their garden for insects and help them learn if they have pests or beneficial insects.

This book was written for the adult rather than the children. I base this on the reading level, style of writing, and topics discussed. The language is clearly geared towards the parent or adult leader. For these reasons, I recommend this book for any adult seeking to introducing children to gardening.

If you are working with elementary aged children, I believe Gardening Wizardry for Kids, written by L. Patricia Kite, illustrated by Yvette Santiago Banek, and published by Barron's Educational Series, Inc. in 1995 to be more suitable.




Editor's Picks Articles
Top Ten Articles
Previous Features
Site Map





Content copyright © 2023 by Diana Pederson. All rights reserved.
This content was written by Diana Pederson. If you wish to use this content in any manner, you need written permission. Contact Farjana Amin for details.