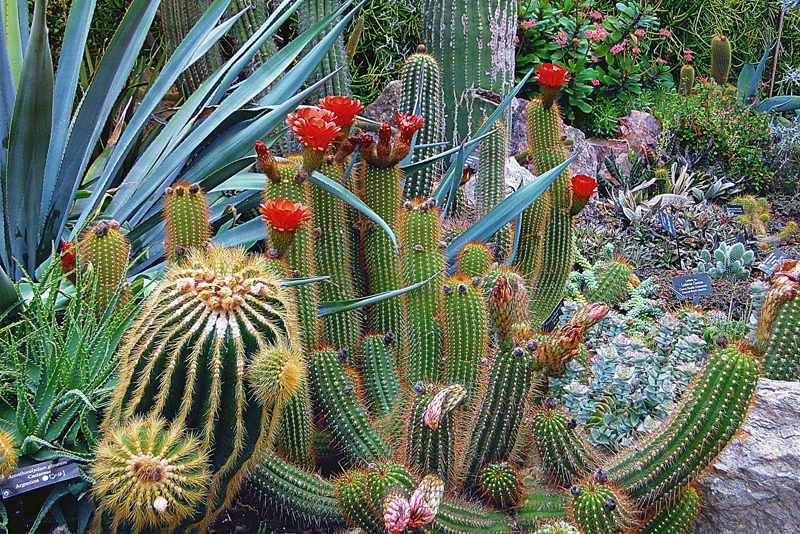 Among the easiest to grow succulents for outdoor gardens are the hardy spurges. This genus of plants includes both succulents, such as the crown of thorns, and non-succulents species. Worldwide there are probably a thousand or more species. A large number of these are wonderful succulents for outdoor landscapes.

Spurge is in the same family as the poinsettia—Euphorbiaceae. What we take to be flowers in this group are actually colorful bracts.

The hardy species are grown as perennials. They generally do best in full to partial sun. Hardiness will depend upon the species/variety you choose. But lots of them are hardy for USDA zones 5 through 10.

In the landscape the spurges have many suitable uses. Start by including them in mixed borders and perennial borders. They make excellent companion plants for other perennials. Low growing types can be used as ground covers for places where you don't wish to mow. In addition, ones with trailing or prostrate growth habits are simply ideal for container gardens.

Depending on the species you're growing, the appearance of spurges can vary greatly. This is one of the features that make them so versatile in the landscape.

Let's take a look at some of the many species and cultivars that are known to be hardy enough for the outdoors.

If you're looking for gorgeous plants that will provide color from spring through the fall, look for Proven Selections 'Despina.' It is hardy to zone 6.'Despina' features sulfur-yellow blooms in spring and gorgeous dark silvery-blue leaves that turn a gorgeous purple during the autumn. Because it is very dwarf, 'Despina' is recommended as a ground cover and for containers.

If you're looking for colorful, variegated foliage, I highly recommend Euphorbia epithymoides 'First Blush.' Hardy for USDA zones 4 through 7, this plant provides stunning color throughout the growing season. Plants are about 1-1½' in height spreading to about a foot wide. During spring you'll really love the gorgeous foliage—a delightful mixture of pink and white variegation mixed among the green background. Tall stalks covered with colorful yellow bracts appear early in the spring.

In general, spurge cultivars will not always come true from seed, but when they self-sow I generally just leave them alone to see what they will look like. Most of the seedlings from my purple-leaved ones were purple. But this doesn't always happen, so you may want to propagate those special cultivars vegetatively.

Seeds are available for quite a few kinds of spurges. The Thompson & Morgan (www.thompson-morgan.com) catalog offers seeds of some outstanding ones. These include Euphorbia longifolia 'Amjilassa, which originated at the Royal Botanic Gardens at Kew. It has remarkable bright red stems and huge masses of colorful bracts. This is hardy through USDA zones 5 through 10.

They also offer seeds of Euphorbia myrsinites, which is hardy in USDA zones 5 through 8. Because this low-growing plant has a prostrate growth habit, it is well suited to containers, and makes a great ground cover.

The cushion spurge has long been a favorite among savvy gardeners. Its Latin name is Euphorbia epithymoides. The plant is super-hardy to USDA zone 4 to zone 8. Those in hotter climates will do better growing it in the shade. The plant is a little over a foot in height with a 2' spread.

Once they are established, the spurges are drought tolerant plants. After a few years the plants may need divided. Other than that, they are carefree requiring little maintenance. If I don't want mine to self-sow, I remove the flowering stalks after the bracts fade.


This site needs an editor - click to learn more!


Editor's Picks Articles
Top Ten Articles
Previous Features
Site Map





Content copyright © 2023 by Connie Krochmal . All rights reserved.
This content was written by Connie Krochmal . If you wish to use this content in any manner, you need written permission. Contact BellaOnline Administration for details.