Agaves as Container Plants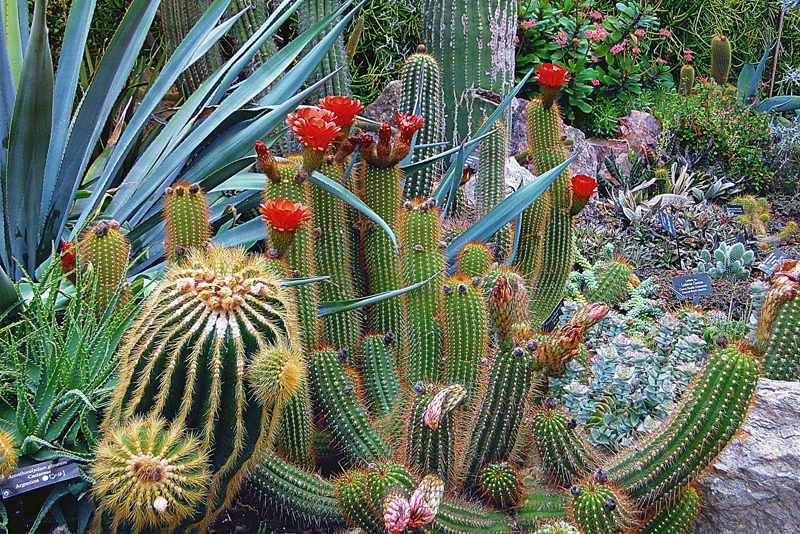 When it comes to majestic beauty, nothing beats the century plant. Despite the name, the plants bloom much sooner-within fifteen or twenty years.

The smaller ones are quite suitable for growing in containers. Probably the most popular one for growing indoors as a houseplant is the Queen agave (Agave victoriae-reginae) Plants are usually quite small when you purchase them, and they are rather slow growing. Some consider it to be the most attractive agave of all.

When full grown, Queen agave is only eight inches tall with a spread of about one and a half feet. The leaves grow in the form of a gorgeous tight rosette. It is noted for its attractive foliage with white margins and black spines at the tip. When growing it as a houseplant, give it lots of light, and reduce waterings during the winter when the plant is not actively growing.

Agave lechuguilla is native to Mexico. Outdoors it is only hardy in areas where the winters are mild. Some sources say it is hardy to 0 degrees Fahrenheit, while others say the minimum temperature shouldn't fall below 30 to 40 degrees. It features blue-green leaves that are about one and a half feet long. Under good growing conditions, it will produce four to eight foot tall flower spikes containing white blooms that are over an inch across.

Agave bracteosa can be grown in larger containers. Initially the plants will only be about a foot in height and across. As it matures, the rosette can be several feet wide. This plant is exceptional for it lacks spines on the tips of the foliage that is typical for most agaves. As with other agaves, the flower stalk can be quite tall, about five feet. Once the plant blooms, it will eventually die. So be sure to pot up some of the pubs before this happens. It is hardy to 10 degrees Fahrenheit.

Other species suitable for containers include Agave colorata. This diminutive plant barely reaches a foot in height. Like many of the other agaves, it features grayish-green leaves that are some distance apart.

Leopold agave (Agave leopoldii) is often grown as a houseplant. It is apparently a hybrid between the Agave schidigera and Agave filifera. It is easy to tell what features the Agave filifera contributed to this charming hybrid. Like this parent, Leopold has white stripes on the edges of the foliage and curling threadlike fibers to which the name filifera make reference.

A number of the other agaves will produce pups from which you can grow new plants. In addition, they may actually produce new plants with their own roots right on the flower shoot. These are called bulbils. Once these develop roots, it is safe to remove them from the mother plant and pot them up.

Queen agave can be grown from seeds. So can some of the native American species, such as Agave bracteosa. Plant the seeds by covering them to a depth of about two to three times their diameter. Germination can require about four to six weeks or so. Some agaves can also be propagated by division.


This site needs an editor - click to learn more!


Editor's Picks Articles
Top Ten Articles
Previous Features
Site Map





Content copyright © 2022 by Connie Krochmal . All rights reserved.
This content was written by Connie Krochmal . If you wish to use this content in any manner, you need written permission. Contact BellaOnline Administration for details.