Guest Author - Elizabeth Darrach
Hello, and welcome back! We're edging closer and closer to summer here--a little too early for my liking. Instead of sitting in the shade and enjoying a good book, it's almost miserable enough to think about turning on the a/c. Bleh.
If you haven't popped into the forum in the last week or so and you're on the newsletter mailing list, you might want to do that. The newsletter I sent out last weekend had a lot of bouncebacks from ISPs that are using spamhaus.org to tell them who spammers are, and they've somehow put BellaOnline on their list, so you need to let your ISP know this is something you signed up to receive. I have a list on the forum of the ISPs that bounced back due to this site, so if you didn't get last weekend's newsletter, you probably want to check the list.

Also, the June Book Club Selection is up, so come read with us!

Okay, the first book this week is May McGoldrick's latest,

Dreams of Destiny (Signet). Gwyneth Douglas thinks old friend Sir Allen will help her out of a jam, but David Pennington knows otherwise and steps in to interfere in her plans. Their journey into the Highlands is fraught with danger, and tension. As always, these are characters you'll want to cheer on, a romance you can believe in, and a wonderful setting. What more could a romance reader ask for? I'm borrowing four of Cupid's five arrows for this one.

Next up is Laurin Wittig's second book,

Charming the Shrew (Berkley). Catriona MacLeod, the Shrew of Assynt, has future plans that don't include marriage. To avoid the marriage her father has arranged for her, she runs off, and runs into Tayg Munro, who's traveling as a bard though on a much more serious mission. The setting is wonderful, though Catriona takes some warming up to. This was a fun read, and with Scotland as a backdrop, how could one be unhappy? This one's earned three arrows.

Finally, I have Patti Callahan Henry's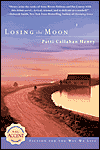 Losing the Moon (NAL), which is much more women's fiction than romance. It's an interesting enough hook--what if the love of your life long ago came back? I'm sure everyone wonders 'what if' about that occasionally, but acting on it is something else entirely, and, since adultery is something I despise in a story, this one definitely didn't do it for me.

Until next time, happy reading!