Starting Cacti and Succulents From Seed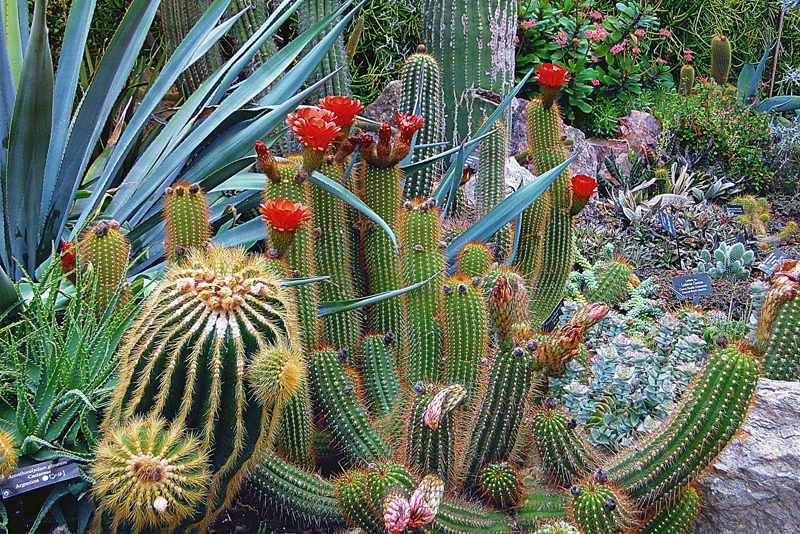 Growing your own cacti and succulents from seed is fun. Generally, this method is also cheaper than buying plants.

Seed are available for a number of different kinds. These include agaves, stonecrop, spurge, hen and chicks, yucca and others.

Usually, the seed package or catalog will have directions for planting the seed. Thompson & Morgan (https://www.thompson-morgan.com) usually sends a germination booklet with each seed order. That is a good thing because the growing requirements may vary from one kind of plant to another. Some seeds should not be covered, for they need light in order to germinate. Before you plant, find out the specifics for the kind of cactus or succulent you are growing.

For cacti and succulents, a sandy, quick-draining soil is essential for seedlings. Buy one of the commercial cactus potting mixes, or amend a regular peat-lite mix with sand to insure good drainage.

Once the seeds are planted, the pots should be placed in a location with good light—either outdoors in sunlight or indoors where supplemental lighting will be available. You can try putting them on a sunny window, but that may not always provide enough light, particularly on cloudy days.

When the seedlings first come up, you want them to have enough light. Otherwise, they will be very weak and spindly.

Depending on your climate, the pots can be kept indoors or outdoors until the seeds germinate. In my area, we're having frequent thunderstorms. So, I move my flats to the covered porch when necessary to protect them from heavy rains.

Never allow the potting soil to dry out completely once you have planted the seeds. This can easily prevent germination from occurring.

Seeds of various species of stonecrops are available. These include Sedum acre, known as golden carpet, which is often used as a ground cover, and Dragon's blood (Sedum spurium 'Coccineum'). When you're planting these seeds, do not cover them. They need light in order to germinate. The best germination temperature for them is between 65 and 72 degrees Fahrenheit. In general, these will germinate within a week to two weeks.

Seeds of hen and chicks can be left uncovered or covered very lightly. They usually germinate within ten days or so. Germination is best at about 70 to 75 degrees Fahrenheit. Hen and chick seedlings are very slow growing. I like to sow them as thinly as possible. This avoids overcrowding. That is important because these slow-growing seedlings will not be large enough to transplant to individual pots for one or two months.

The Thompson & Morgan catalog lists mixed agave seeds. These are hardy outdoors only in warm areas, zone 10 and higher. According to the catalog's instructions, these can require about one to three months to germinate. One of my gardening books says to completely cover agave seeds. This is not one I have grown from seeds, so I can't speak from experience.

The same catalog also lists yucca seed mix for zones 7 through 10. It says that the germination time for these can be even longer, one to four months.

The spurges or Euphorbias are very easy to grow from seed. In fact, mine usually self-sow. You know they can't be fussy when that is the case. Seeds of several species and kinds are available from various sources, including Thompson & Morgan.

This site needs an editor - click to learn more!


Editor's Picks Articles
Top Ten Articles
Previous Features
Site Map





Content copyright © 2023 by Connie Krochmal . All rights reserved.
This content was written by Connie Krochmal . If you wish to use this content in any manner, you need written permission. Contact BellaOnline Administration for details.