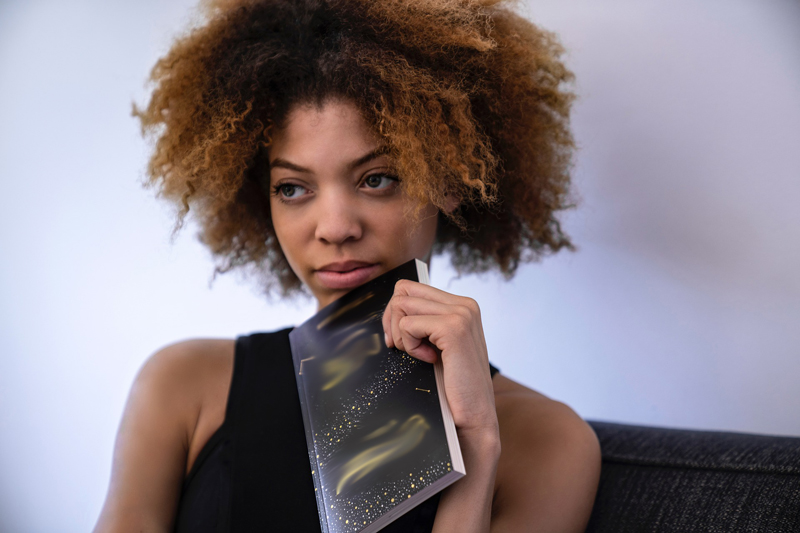 I don't believe that I can recall any African-African female writer that has influenced me more than Maya Angelou. The impact that her writing has upon my life is profound and eternal. I can't remember the number of times that I recited "Still I Rise" and "Phenomenal Woman" out loud to myself. Both poems became Anthems for me throughout the years, and lifted my spirit through many tears. When I felt life was trying to keep me down, I would loudly deliver "Still I Rise" with proud fury. And when I felt like others just couldn't see the best in me, I'd boldly reiterate that despite their obvious emotional blindness and mental challenges, I was a woman phenomenally. Phenomenal woman, that's me.

From her poetry to her autobiographies, she helped to shape the way I felt about my chocolate skin, big nose, thick lips, and wide hips. When I read "I Know Why the Caged Bird Sings" by the end of the book, I was so grateful. Grateful, that the little girl who suffered unimaginable horrors and stopped speaking for a number of years, found her voice. I couldn't envision how life would have unfolded for many of us, if Maya Angelou had never spoken again. Her words have helped to encourage us, build us, free us, and empower us. Her poetry became our positive affirmations, that despite our blackness we were beautiful and desirable.

I believed her when she said:
"….we walk like we have oil wells pumping in our living rooms,
….laugh like we have gold mines digging in our backyard,
…..and dance like we've got diamonds at the meeting of our thighs."

Yes my sister, despite the pain of the past: Still I rise.

And just when you may think that she can't possibly reach another level, touch another soul, inspire another generation; she comes across the big screen in a Tyler Perry movie performing another instant favorite:

"In and Out of Time"
The sun has come
The mists have gone
We see in the distance our long way home
I was always yours to have
You were always mine
We have loved each other in and out of time
When the first stone looked up at the blazing sun
And the first tree struggled up from the forest floor
I have always loved you more
You freed your braids, gave your hair to the breeze
It hung like a hive of honey bees
I reached in the mass for the sweet honeycomb there
God, how I loved your hair
You saw me bludgeoned by circumstance
Lost, injured, hurt by chance
I screamed to the heavens
Loudly screamed
Trying to change our nightmares into dreams
The sun has come
The mists have gone
We see in the distance our long way home
I was always yours to have
You were always mine
We loved each other in and out,
In and out, in and out of time

If you've never experienced the writings of Maya Angelou or it's been years since you last did, I encourage you to find your pride in the pages of her books, in the whisper of her poems, in the spirit of her words. You won't be disappointed because she is simply phenomenal.


________
Dianne Rosena Jones is the Founder/CEO of Royal Treasures Publishing, Author of the award-winning "Tragic Treasures: Discovering Spoils of War in the Midst of Tragedy" voted "BEST INSPIRATIONAL BOOK OF THE YEAR" [2010] by readers according to Disilgold Magazine, Transformational Life Coach, and Inspirational Speaker.



Related Articles
Editor's Picks Articles
Top Ten Articles
Previous Features
Site Map





Content copyright © 2023 by Dianne Rosena Jones. All rights reserved.
This content was written by Dianne Rosena Jones. If you wish to use this content in any manner, you need written permission. Contact Nina Guilbeau for details.