An Interview with Author William H. Johnson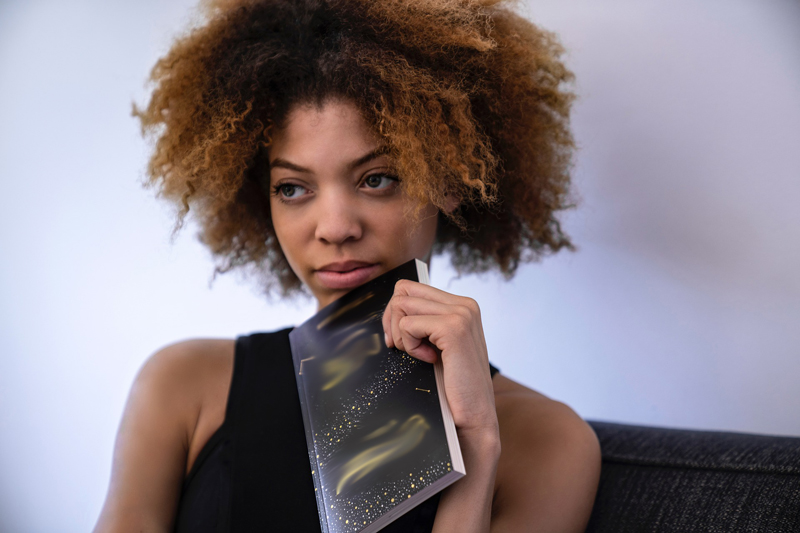 BellaOnline African American Literature Editor: Tell us a little about yourself

William: First and foremost I'm a husband and father of two great kids. As an artist I draw a lot of my inspiration from the theatre. I began directing plays during college in the mid-nineties and in some ways I see everything I do as a writer through the eyes of a stage director. My wife kids with me because I often call writing projects I'm working on "plays".

BellaOnline African American Literature Editor: Have you always wanted to be a writer?

William: I have since I was a junior in high school. I began writing poetry and short stories then. Poetry was very special because I felt free to focus on feeling and emotion in those pieces and not be overly concerned about structure. Feeling is still the heart of my writing process. Plot and structure work to support feeling in my work.

BellaOnline African American Literature Editor: What is your latest book about and genre?

William: My latest book is my debut novel THE DARK PROVINCE: SON OF DUPRIN. It is an epic fantasy adventure for adult readers.

BellaOnline African American Literature Editor: How long did it take you to complete your book?

William: THE DARK PROVINCE was 7 years from concept to release.

BellaOnline African American Literature Editor: Describe your writing style?

William: I strive for a balance between prose and dialogue that focuses on the observation of my characters emotional state. I teach acting and improvisational theater and in those art forms, emotion and listening to one's scene partner are of the utmost importance. In my writing I look to deliver great performances from the written characters with these being key elements for them as well.

BellaOnline African American Literature Editor: What made you want to write Fantasy Novels?

William: I'm a big fan of science fiction movies and TV series. Star Wars, Star Trek, The X-Files, the new Battlestar Galactica series—all of those I can enjoy watching again and again. Honestly I never thought of myself as a fantasy author. It just turned out that this was how THE DARK PROVINCE needed to be told. I'm sure I was influenced by the creative freedom I have seen in some of my favorite sci-fi stories. I love how they create a universe all to themselves. To me that represents an enormous amount of freedom. Fantasy is only one of the genres I write, however. I am currently working on two main projects, one is a fantasy—a sequel to the DARK PROVINCE. The second is a small town love story, far from the fantasy genre.

BellaOnline African American Literature Editor: What motivates you to write and stay focused on your craft?

William: My need to express myself creatively. I am big on themes in my writing. In THE DARK PROVINCE, the theme of religion vs. faith takes center stage. As well, prejudice and sexual tolerance are explored as the character travels from his homeland where sexuality is heavily a moral issue to a place where it becomes an issue of cultural understanding. The sequel touches on these themes but also explores new ones. The love story I'm working on is about community, family, and coming of age.

BellaOnline African American Literature Editor: Do you have a favorite author of all time or someone who inspired you to achieve your goals as a writer?

William: No, I am inspired by artists of all kinds. Great actors, great plays, films, music as well as great books—all these things inspire my work as an author.

BellaOnline African American Literature Editor: What other projects are you working on and release dates?

William: I don't have any specific release dates for my current projects yet. I am looking to have my next book release sometime next year in 2012. Whether that release will be the love story or the fantasy sequel is still being determined.

BellaOnline African American Literature Editor: What were the happiest moments you have experienced while writing your latest book?

William: I shared an experience on my blog about a moment where I was lying on the floor writing THE DARK PROVINCE. My son, then 2 years old, crawled onto my back and up to my head to peer over and get a good look at what I was doing. It was a special moment for me because I felt that even at that young age I could share my artwork with my son.

BellaOnline African American Literature Editor: What have been some of your toughest obstacles as a writer?

William: Me. [laughs]. Seriously. As a younger writer in my twenties I made the mistake of rushing past the strong emotions that inspired the pieces I was trying to write. It made my work come off superficial. I wasn't willing to take my time to truly explore what it was I was trying to say. I think my courage has grown in the last 10-15 years where I'm willing to be with feelings, both high and low, to get the story told right.

BellaOnline African American Literature Editor: What do you want the reader to take away from reader your book?

William: With any book I write or play I direct I want readers or audience to feel as though they went on a journey. With THE DARK PROVINCE specifically it is my hope that readers join the main character as he re-examines what makes a person noble or even valuable? What are our conditions for respect and how might prejudgment force our hand in how we treat each other?

BellaOnline African American Literature Editor: What advice would you give to first time writer about getting a publisher?

William: For the writer that is going the traditionally published route I would urge them to be patient and persistent. Always seek to improve your craft while reaching out to understand the business of bookselling. The audience for the writer following the traditional publishing path are businessmen and women who are looking for books that they feel they can sell based on reader trends in the market. The writer must understand this and pursue their business accordingly.

For the writer looking to self publish or take the indie author route I would stress the craft even more strongly and insist they find a professional editor to work with on their project. I would urge them to research the various phases of production and marketing long and hard before committing to this route. Once they did I advise them to treat their project as a new business venture and choose their investments wisely.

To all writers going into publishing I would say this: It's a marathon, not a sprint. Be patient and persevere.

BellaOnline African American Literature Editor: Is there anything about your book you wish you could change? What?

William: I wouldn't change anything about the book itself. It's my first book and I'm proud of the work. I think all writers look to improve with every new work and I do the same.

BellaOnline African American Literature Editor: Where do you see yourself as a writer ten years from now?

William: In ten years I would like to have three to five novels written and have built a strong reader base. I would like to be working on having some of them adapted into films to greatly expand that reader base. With my books I would like to be an even more interactive presence attending book clubs and traveling. To me, personally connecting with readers who have taken the journey is the highest form of fulfillment in the process.

BellaOnline African American Literature Editor: Are there any hidden talents that you possess that many of your readers may not know?

William: Many of my readers know through my posts on Facebook and Twitter that I perform live improv comedy in Los Angeles. I've actually been performing since 1995 and teaching since 2004. As far as hidden talents: I can type "hunt and peck" style 55 WPM using one finger on one hand and only two on the other.

BellaOnline African American Literature Editor: What are you passionate about other than writing?

William: I am passionate about a number of social issues. As an African American who has had quite a bit of experience with racial prejudice, I am driven to write and speak about the issue, being critical of all sides of the traditional debate over the cure. I'm passionate about education as well and am currently in the process of pursuing an M.Ed. in Cross Cultural Learning. I also see a great need for service within our community. My improv comedy performance group, The Magic Meathands, goes into the community and partners with organizations that serve the homeless and at-risk kids. We recently performed an outreach for the organization called KIDSAVE, a group that works to find adoptive homes for older kids that typically have a harder time finding permanent homes with families.

BellaOnline African American Literature Editor: Do you have any recent good news to share about your book?

William: The good news is that people continue to purchase and post kind words about the book a year after its release. As an indie author I don't take a single sale or kind word for granted. A reader sent me a message within the last ten days to tell me how much they enjoyed the book and asking if I would be willing to put on a seminar to describe the process I went through to "engineer" the piece, as he put it.

BellaOnline African American Literature Editor: Where can folks buy your latest book?

William: People can go to www.darkprovince.com to purchase a signed copy. This is my independent store and I sign and ship these orders personally. They can also go to major online booksellers such as Amazon and Barnes and Nobles.

BellaOnline African American Literature Editor: Tell us about any upcoming Book signings or book tours

William: I will be doing a signing at an event in Southern California coming up soon. I will have the details in the next week or two. I will also be facilitating a seminar on self publishing through a writing school here in California. I'm still working on the details of this event with the person who runs the school. I will post the information on my website, www.authorwilliam.com as soon as I have them.

BellaOnline African American Literature Editor: How can people contact you about book signings or speaking engagements?

William: My website has my e-mail address and updated Calendar. I can also be contacted on Facebook at facebook.com/authorwilliam and on twitter: @authorwilliam.

BellaOnline African American Literature Editor: What would you like your readers to know that we haven't discussed?

William: Just how thankful I am for everyone who has supported my work in this last year. The response to THE DARK PROVINCE has been wonderful and I am grateful for the kind words and continued enthusiasm for what's coming next. Thank you for coming on this unique journey with me.

African American Literature Editor: William, thank you so much for agreeing to do this interview. I really enjoyed reading "THE DARK PROVINCE." I look forward to reading your next book. Much success in all your endeavors. I am sure this is only the beginning of great things for you as a writer.

______
Dianne Rosena Jones is the Founder/CEO of Royal Treasures Publishing LLC, a Transformational Life Coach, Inspirational Speaker, and Author of the award-winning "Tragic Treasures: Discovering Spoils of War in the Midst of Tragedy" the "Best Inspirational Book of the Year" [2010].


Related Articles
Editor's Picks Articles
Top Ten Articles
Previous Features
Site Map





Content copyright © 2023 by Dianne Rosena Jones. All rights reserved.
This content was written by Dianne Rosena Jones. If you wish to use this content in any manner, you need written permission. Contact Nina Guilbeau for details.