A 'Romantische Strasse' must live up to its name, and as a real symbol of German Romanticism Germany's
Romantic Road
does exactly that.
Stretching from
Wuerzburg
at the northern end of Bavaria to
Fuessen
close to the Austrian border, and lying at the foot
of the Alps, the Romantische Strasse is a 350 kilometer (218 mile) route that was situated in the US sector of a Germany divided into four zones. It quickly became a popular excursion for service personnel families who were stationed there, and their visitors.
Perhaps inspired by this in 1950 a group of Augsburg business people and journalists came up with an idea to try to attract tourists to what had been a trade route during the Middle Ages, but had become a travel route just a few years before the war.
They hoped to show the world another side of a Germany which at the time still carried the shadow, and devastation, of the previous years, and highlight the characteristics of the country's people and culture, and some of its most picturesque scenery, towns and cities.
Formerly an affluent and well traveled trade route, in a part of Germany which during Emperor Augustus Caesar's rule 2000 years ago was an outpost of the Roman Empire, the Romantic Road is a journey through history.
It is filled with picturesque landscapes, culture from art to food and wine, ancient castles,
Baroque, Gothic, Rococo
and
Romanesque
churches, cathedrals and architecture, as well as the picture book walled towns and villages many of which,
with their medieval half timbered buildings and cobbled streets, are outwardly not much changed from the middle ages.
Outside of peak holiday times, which occasionally could be described as more frenzied than serene, it is an undeniably peaceful and calming escape from contemporary living and in many ways a journey back in time.
From north to south the Romantic Road begins in the ancient city of Wuerzburg, which after being almost totally destroyed in 1945 has been restored to its former splendor, with renovation work still continuing on many of the outstanding and historic buildings such as the baroque style
'Residence' World Heritage Site
.
While as the capital of the Franconian wine area it offers not only historical culture but also that of food and wine, with local and world renowned restaurants offering Franken cuisine and of course the best of the local wines.
A treat that is hard to find outside the country because the Germans like to keep it all for themselves.
There are over twenty beautiful Southern German medieval towns and villages along the Romantic Road, but for the majority of tourists a town that has been used as a background or inspiration for among other things
Pinocchio
, and other fantasy films, is at the top of their 'must see' list
Rothenburg ob der Tauber
.
As a town which reached its peak of influence and wealth in the 13th and 14th centuries, Rothenburg had neither the money nor connections to modernize in the 16th century when most similar towns were expanding. A subsequent preservation order later prevented any changes, apart from repairing war damage, so its original buildings remain virtually intact and you have only to walk around the town to get a real sense of what it must have been like to live in those days.
Each town along the Romantic Road has its own charm.
Wieskirche
, has a stunning oval Rococo church, with a wooden statue which "cried tears" in 1738. A center for pilgrimages since then, as the "Pilgrimage Church of the Scourged Savior", there are many claims of pilgrim's diseases miraculously cured.
It lies in the region of
Pfaffenwinkel
, or Monks Corner, the name coming from the old Bavarian dialect for priests, "Pfaffe", which is known as the land of "Farmers, Artists and Monks" and is filled with churches.
Noerdlingen
, situated in the center of a meteorite crater and one of the three medieval towns with a complete original wall and towers, was used for the end sequences of another movie,
Willy Wonka and the Chocolate Factory
.
Hohenschwangau
and
Neuschwanstein
are surrounded by lakes and have two castles. Hohenschwangau was King Ludwig II of Bavaria's family home in mid-19th century, while Neuschwanstein was built as an architectural fantasy to fulfill his dream, but nevertheless it was somewhere he hardly ever lived and was not completed by the time of his mysterious death.
However it has been used in many films including
Chitty, Chitty, Bang, Bang
, was the inspiration for Cinderella's castle in Disney's classic
Cinderella
, and both the "Cinderella" and "Sleeping Beauty" fairytale castles in the Disney theme parks are based in part upon Ludwig's 19th century castle romanticism so, although he did not live to enjoy his vision, there are millions who have.
Finally to
Fuessen
which also began alongside the Via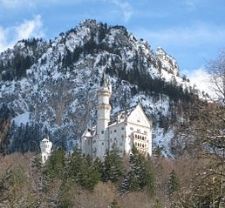 Claudia Augusta, the main route from Italy in the days of the Roman empire. As Germany's highest town at 800 to 1200 meters above sea level, and at the edge of snow capped mountains and lakes a place of beauty and history, it's a treasure house of art and architecture all within a perfectly preserved medieval heart.
From
Wuerzburg to Fuessen
or from
Fuessen to Wuerzburg
, it is not important which direction one takes, the aptly named
Romantic Road
is not only a trip into the past it is a fascinating and welcoming blend of the cultural, natural and even the culinary worlds, as well as a spellbinding journey of discovery.
Photograph of Rothenburg ob der Tauber's Ploenlein, former market place, with on the left the Siebers-gate and on the right hand side the Kobolzeller-gate, photographer Berthold Werner - Wieskirche fresco by Johann Baptist Zimmermann (1680–1758) a Bavarian artist, public domaine, photographer Nuckelhamster - photograph Neuschwanstein Castle, photographer Cezary Piwowarski - all via de.Wikipedia
Germany (Eyewitness Travel Guides) - This has to be the best travel book for Germany out there. I wouldn't go anywhere without my copy while the beautiful illustrations and detailed descriptions also make it ideal for arm chair travelers, or anyone who is just interested in Germany. And of course it has a detailed piece on the Romantic Road that makes you just want to pack up and go.
For topics in the news

And you can follow German Culture on Facebook