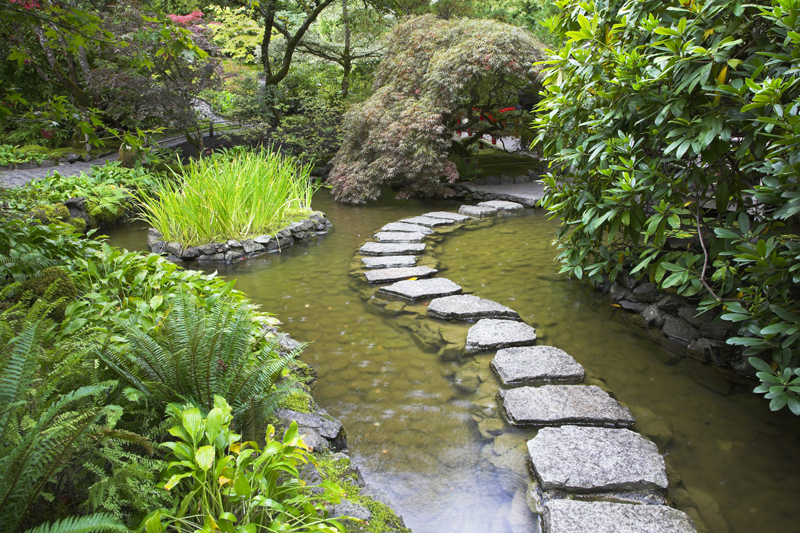 In the last fifty years, the average single-family home has increased 2½ times. Much of this has been at the expense of the landscape. Larger homes leave less space for gardens.

Yet, there is still an emphasis on having an excellent landscape. People now see the garden as an integral part of their outdoor décor and lifestyle. According to a manufacturer of outdoor furniture, the backyard has become the outdoor living room. As a matter of fact, Americans are now spending more on enhancing their décor, indoor and out, than they are on clothing.

Decks are an important part of this outdoor living trend. 25% of American homes now have a deck. The deck and its surroundings create a perfect spot for a small garden. Use such gardens to create that perfect outdoor living room.

For small-scale gardens, one should choose plants with extreme care. The chosen tree should provide year-round beauty. Examples are ones with attractive bark or unusual forms, such as weeping ones. Not every plant has to provide interest twelve months of the year. But, on the whole some features in the landscape should be selected with winter in mind. This gives you something to look forward to during this period, which can be cloudy and a gloomy in some areas of the U.S.

For ground covers and herbaceous plants, I especially recommend the Stepables. Under a foot tall, these groundcovers are wonderful for planting between stepping stones. They should be available at local garden centers and nurseries.

Concerning the planning of small gardens, every detail deserves particular consideration. The texture, size, and especially the color of the materials and plants should be considered.

Mulch shouldn't be an afterthought. Consider this as you plan the garden. Dyed ones are available, so there is no need to settle for the natural brown if you don't want it. I actually prefer pine needles, which are sold as pine straw. They are very long lasting, have a pleasant fragrance and remain neat.

For accent, some people are using colored glass as mulch. This special recycled glass is tumbled so it has no sharp edges, so it is safe to use. It is applied to a small area specifically for its color, and not for its ordinary mulching properties. Blue seems to be the most common color, and this is very striking.

In a small garden, make use of all available space to add visual interest. Fences are an excellent example. Dress them up with vines or climbing roses. Wooden fences can be decorated with murals, a technique used by residents of Pompeii to make small spaces seem larger.

Gardens need more than plants. The non-plant materials add a lot of interest to a landscape. These may be in the form of garden art, wind chimes, and the like. Trellises and arbors add architectural interest to a small landscape, and provide vertical space for growing vines. Some arbors come with built-in planters, which are very attractive.

In a large landscape, we may be able to conceal our design flaws, but not so in the small garden. Whatever goofs we make will be in clear view for all visitors to see. That is why I recommend "Planning a Small Garden" by Richard Bird, published by SOMA.

For every situation, this book has inspiring examples and ideas you can use to create a stunning small garden. It is especially suitable for those with little experience in planning landscapes. The introduction begins just where it should with instructions on how to evaluate the garden site. Also included in the introduction are practical garden design worksheets with questions about your lifestyle and personal garden priorities. There is even a grid for drawing a map of your garden space. Following that, Bird has chapters on a number of theme gardens, including natural gardens, water gardens, flower beds and borders, romantic gardens, and foliage plants. For those with any sort of physical problem, the author presents two interesting chapters, including an easy care, low maintenance garden as well as a garden for the physically challenged. In addition, the author has chapters on paths, surfaces, entrances, exits, entertaining in the garden, and play areas. He even explains how to deal with sloping lots, utilities, and property boundaries. The book is beautifully illustrated with lots of color photos, and provides detailed instructions for creating an enjoyable small landscape.

With a little thought, a small space can be turned into a pleasing landscape.



Editor's Picks Articles
Top Ten Articles
Previous Features
Site Map





Content copyright © 2019 by Connie Krochmal. All rights reserved.
This content was written by Connie Krochmal. If you wish to use this content in any manner, you need written permission. Contact Connie Krochmal for details.