Guest Author - Elizabeth Darrach
Hello, and welcome back! I'm wishing our vacation week was nearer, though I know when the time comes, I won't be ready. At least I have some new reading material, including the first August titles, sitting here on my desk.
In the meantime, let's finish July's releases, beginning with one that I can't even put into a romance subgenre. Probably because it isn't a romance. John Dearie's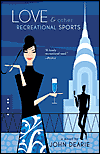 Love and Other Recreational Sports (Plume) tries hard to be a male "chick lit." But do romance readers want to read "guy lit"? Not this one. Jack Lafferty doesn't want any more women, but he's still interested in Sarah Mitchell. But Jack is a typical male, which means he does stupid things to drive her away. A little too typical for me.

Moving back into real romance, we have Marsha Canham's

My Forever Love (Signet). Amaranth de Langois has been trying to escape her abusive new husband after trying to kill him, but her attempt has only caused much destruction and death in her wake. Until Ciaran Tamberlane rescues her. The former crusader is only doing what comes naturally when he discovers intruders on his lands, and saving the woman means nothing more. Okay, maybe a little more, the longer she's in his home, and the more he learns about her. If you're a reader who loves as much history as romance, this one is definitely for you. For me, it's not quite enough romance to go with my history. For the right reader, though, this one will be a real treat. Here, it's earned three of Cupid's five arrows.

Finally, we have one for the fans of erotic romance, leaning heavily on the erotic: Alison Tyler's
Sticky Fingers (Cheek). Jodie Silver is a thief, and stealing priceless objects only fuels her lust--not just for her current man, but for others as well, including Nick Hudson, the detective stalking her. If you're looking for strictly traditional steamy romance, this one isn't for you, but for the more adventurous, there is much of interest here...threesomes, domination, public sex. I could go on, but I don't want to spoil it for anyone. It was definitely an enjoyable way to pass a few hours. It's earned three arrows as well.

Currently in the forum, we have a discussion about why romance novels get no respect, and I'd love to hear from more readers on this topic.

Until next time, happy reading!