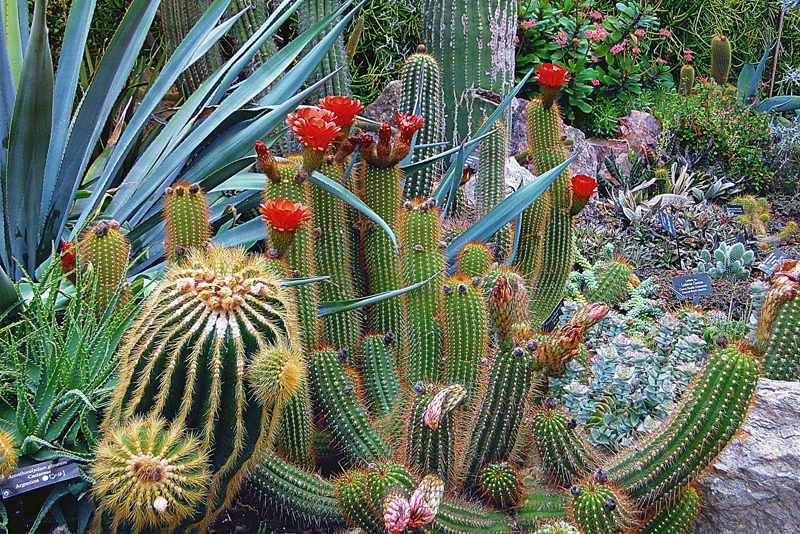 The American Southwest is facing its 6th year of drought. Yet, this isn't the most serious problem native cacti have at the moment.

Cactus poaching and legal harvest of desert cacti are the real concern.

Landscapers and plant lovers often resort to collecting wild plants, because many cactus species are very slow growing.

At the present time, the U.S. Fish and Wildlife Service has 32 species of cacti on its endangered plant list.

Overharvest and poaching is especially serious in the Chihuahuan Desert in Mexico and the U.S. This area contains nearly one fourth of the 1500 named species of cacti. Some of these aren't found anywhere else in the entire world.

Plant protection is a complicated matter. Sometimes, state laws may protect certain species. Arizona has strict laws that regulate the harvest of cacti.

Protective laws have their opponents. Different groups may lobby the state legislators to reject proposed bills designed to help native plant species. For example, the Texas Nursery and Landscape Association became involved when a bill to protect native cactus populations was under consideration. The proposal required a certificate stating that the plant under question was propagated by a nursery and not collected from the wild.

The nursery group said the bill would place undue burdens and expenses on nursery growers. In addition, they said that cactus poaching was not a problem on public or private lands within the state's borders. The truth is a little more complicated than that.

As a matter of fact, an awful lot of plants harvested in Arizona end up in Texas. In a three-year period, almost a hundred thousand plants worth nearly three million dollars were shipped from Arizona to Texas. So it would seem Texas didn't have a problem because its citizens were using the precious resources of nearby states. Despite the opposition, the Texas bill was passed. It requires proof that the cacti being sold were harvested with the landowner's permission. Violators can receive 6 months in jail and fines up to $1000.

The World Wildlife Fund has called for a series of measures to remedy the situation. According to their reports, some of the world's most endangered and rarest cactus species are under threat due to overharvest by plant collectors and landscapers seeking drought tolerant plants for xeriscapes. The report was entitled "Prickly Trade," and was written by Christopher Robbins.

According to this report, the large barrel, saguaro cactus and prickly pear are the species most commonly poached and harvested from the wild. They want the cactus trade to be monitored. In addition, they would like increased protection for the species that are the most widely exploited. Finally, they recommend that community-based programs be put in place to collect the more common desert species and propagation of slow-growing ones in commercial nurseries.

This would take the pressure off the wild plant populations. The organization has already set up a community-based nursery industry to grow native cacti. In addition, their program also promotes eco-tourism in West Texas, where the species in question are found.

Harvest of desert cacti should be allowed under certain circumstances, such as when a salvage operation is needed to save vulnerable plants when dams are under construction.

This site needs an editor - click to learn more!


Editor's Picks Articles
Top Ten Articles
Previous Features
Site Map





Content copyright © 2023 by Connie Krochmal . All rights reserved.
This content was written by Connie Krochmal . If you wish to use this content in any manner, you need written permission. Contact BellaOnline Administration for details.