Propagating Cacti and Succulents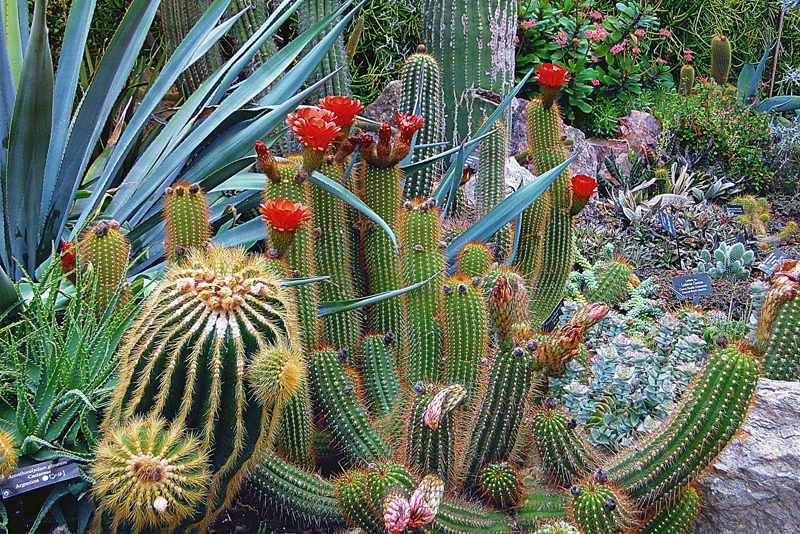 You know you're really serious about cacti and succulents when you become interested in propagating your own plants.

There are different methods of propagation. The best one depends upon the kind of plant you're growing. Seeds are one of the easiest ways. The other methods are done vegetatively, using some portion of the mother plant. Among these are division, offsets, cuttings, and grafting.

Division is an easy, simple method that is used for any number of plants. Within 3 to 4 years, most of my outdoor Sedums are ready to be divided. This can be done with container plants, or ones in outdoor gardens. To divide a plant, dig it up or remove it from its pot. Then, divide it into pieces. Sometimes, this is simply a matter of pulling the sections apart. At other times, it may be necessary to use a trowel, a sharp knife or whatever to separate the sections.

There are no set limits on the size of the new plants so long as each new one has a root system. When dividing outdoor succulents, I don't mind if the pieces are small. These tend to be fast-growing, so the garden looks full and lush within a season or two.

For outdoor plants, it is best to do this in the early spring before the plants have a lot of new growth. It could be done later, but it is likely to stress the plants, especially if you do it in the summer during very hot weather. I prefer to do it in the spring. Then, the new transplants have time to get well-established before summer arrives. The worst time to do it is when the plants are in bloom. Avoid that if possible.

Assuming cacti and succulents are growing indoors under ideal growing conditions as houseplants, these can be divided any time.

Using offsets is also an easy method. A number of cacti and succulent species produce offsets or pups. Sempervivum or hen and chicks is an example. Others include Echeverias, Echinopsis, Mamillarias, and Rebutias. I have also known snake plants to produce offsets. You can wait until these have fully developed root systems before removing them from the mother plant. Rather than waiting for that, I remove them when they are about the size of a half dollar. Next, I allow the cut stem to dry for 24 hours. Then, I stick these in a container with regular potting soil. Usually, I have enough pups to fill an entire window box.

Depending on the plant, various kinds of cuttings can be used. Cuttings may be taken from most any of the above-ground parts. For this, you can use pieces of the stems or the leaves. When a whole leaf is used, it is called a leaf cutting. On the other hand, if a leaf section is used, it is known as a leaf start.

For several kinds of succulents, leaf cuttings are a good choice. These include the snake plant and the gasterias.

Generally, it is best to use non-blooming tissue for cuttings. The same is true when you are doing grafting.

When using cuttings, the first step is to select appropriate plants. Stem cuttings are used for kalanchoe, some crassula, upright hardy forms of sedums like 'Autumn Joy,' and Euphorbia. For Hoya carnosa, burro's tail, and some other small-leaved sedums, a whole leaf can be used.

Whenever you are using cuttings or grafting, it is a good idea to allow the cut tissue to dry before planting it in the potting soil. If you don't wait, it may rot. Some people like to wait until the cutting or grafting pieces begin to develop a callus. For the moisture-loving ones from more moist, humid climates, I only wait for about 24 hours. An example is the Christmas cactus and other holiday cacti.

For very special plants, grafting is sometimes used. This method is harder, so it is more sensible to use the other methods if possible. The tubercles can be used, such as those of Leuchtenbergia or Mamillaria.

Grafting is used mostly for very special cacti and succulents. Species that are suitable for grafting include the different Crassulaceae, the Euphorbias, Echinopsis, Eriocereus, Hoodia, Pachypodium, Pereskia, Selenicereus, Stapelia, Travaresia and Trichocereus.

For grafting you need two different plants that are compatible. The scion is the upper part of the graft, and this is the one you are really trying to preserve. The one you are using for the lower part of the graft is called the stock plant. For the stock plant, you will want to choose a strong growing plant that is easy to grow. Grafting isn't hard to do, but it isn't always successful. When they fail, you don' t always know why. I've had my share of failures just like anyone else. It isn't necessarily your fault when this happens. Sometimes, it is due to incompatibility, or perhaps an undiagnosed disease in one of the plants.

Because grafting is more complicated than the other methods, it is a good idea to study pictures showing the steps. I took a class in propagation, and we did all kinds of grafts, some of which took and others that didn't.

This site needs an editor - click to learn more!


Editor's Picks Articles
Top Ten Articles
Previous Features
Site Map





Content copyright © 2023 by Connie Krochmal . All rights reserved.
This content was written by Connie Krochmal . If you wish to use this content in any manner, you need written permission. Contact BellaOnline Administration for details.