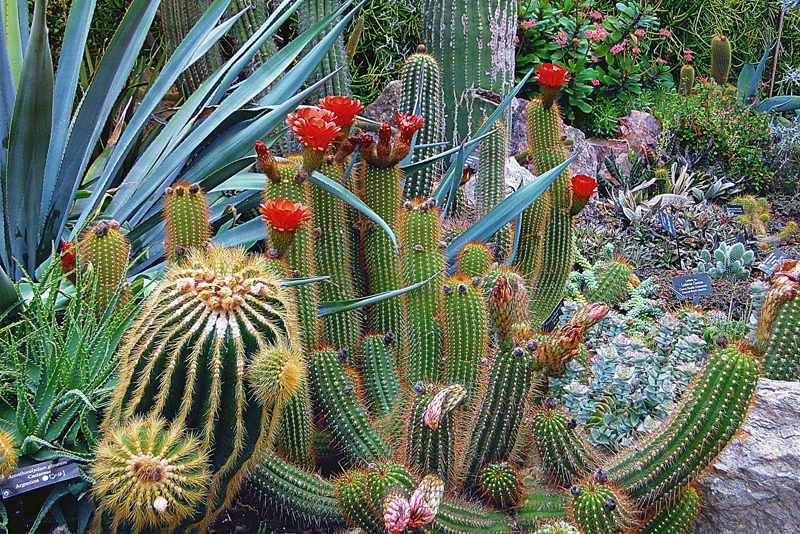 Of all the cacti, the night blooming cereus are probably the most widely known. These are much appreciated by indoor gardeners that normally wouldn't think of growing cactus.

The name night blooming cereus actually refers to several different species. These include ones in two genera, Hylocereus and Selenicereus.

Gardeners who grow these plants are the first to admit that these can seem uninteresting and nondescript—except when they are blooming. This event is enough to cause considerable interest in a household.

Hylocereus is an epiphytic species. Its other common names include queen-of-the-night and Honolulu queen. This plant usually blooms from July through October. The funnel-shaped flowers are ghostly white, and extremely fragrant. This scent is one way they attract pollinators, such as bats. The individual blooms can be slightly over a foot across. They are produced all along the length of the stems.

Though this plant is fairly easy to grow, the one thing that can cause a problem is its mature size and its climbing habit. The plants can get really large. It features rambling stems with sharp edges. Many gardeners find it helps to grow this plant on a trellis. This gives the rather sprawling stems a means of support. In its native habitat, these plants have stems that are over 200 feet in length.

So far as light is concerned, the Hylocereus do best with bright, indirect sunlight. Mine do best when it is about three feet or so away from the window. For the summer months, these plants do fine if they are moved outdoors to a partially shaded area. When the plants get very large, you may need help doing this.

During the winter, Hylocereus can tolerate ordinary indoor temperatures so long as it is above 55 degrees Fahrenheit.

Like most epiphytic cacti, the Hylocereus needs to be kept evenly moist when it is actively growing. The soil shouldn't be allowed to dry out. Neither should it remain soggy. During its rest period in the winter, keep them relatively dry. Reduce the watering so that the surface of the potting soil dries out between applications.

This plant does fine with an ordinary houseplant fertilizer every couple months during the growing season.

Selenicereus are also called night blooming cereus. They require similar growing conditions. Like Hylocereus, Selenicereus has climbing or creeping stems. In this genus, they are much smaller—only about 15 feet long. When young, the plants are often grown in hanging baskets.

As the plants age, their cylindrical stems can become purple. The exact shape of the stems can vary from angular to tubular or ribbed. Along the stems are air roots, which the plants normally use to attach themselves to trees.

The blooms of Selenicereus are white, funnel-shaped, and almost a foot across and long. They may be fragrant. These appear in the evening during the summer months.

There are at least two species of night-blooming Selenicereus. These include queen of the night (Selenicereus grandiflorus), and princess-of-the-night (Selenicereus pteranthus), princess-of-the-night. Queen-of-the-night has very fragrant blooms, which begin opening around ten pm. At one time this plant was assigned to the genus Cereus.

The Selenicereus are native to tropical areas in South and Central America.

All of these plants are propagated by seeds and cuttings.

This site needs an editor - click to learn more!


Related Articles
Editor's Picks Articles
Top Ten Articles
Previous Features
Site Map





Content copyright © 2023 by Connie Krochmal . All rights reserved.
This content was written by Connie Krochmal . If you wish to use this content in any manner, you need written permission. Contact BellaOnline Administration for details.