Guest Author - Elizabeth Darrach
Hello, and welcome back. Our weather is actually quite nice for this time of year, so I won't complain this week. Now if it's 95 degrees with an equal amount of humidity next week, I may not be so pleased, but for now, I can sit outside with a book and enjoy. Finally.
So, besides spending more time outdoors with my reading material, I've also been playing around with some new products over in my Cafe Press shop. I'm not finished over there and have plans to change some of the older products as well, but I hope you'll pop in and check out my progress so far.

So you like your romances hot? Maybe beyond hot? Then you'll be very pleased to know that all three of this week's books are erotic romances. Starting off with LuAnn McLane's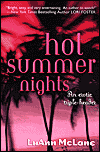 Hot Summer Nights (NAL). Some women like baseball a little more than others, and the three women featured in this anthology fall into that category, finding their very own baseball players...gotta love a man in those clinging pants that show off long, strong legs, right? Erin O'Shea, Josey Cooper and Halley Forrester all take a step (or two) outside their straight-laced high school images to indulge in some scorching summer affairs, and maybe even find something more. A fun read, especially for fans of baseball and erotica. This one earns four of Cupid's five arrows.

Next, I have two more Emma Holly releases from Cheek, starting off with
In the Flesh. Chloe Dubois may be sexy as hell, but she's not very forthcoming about her past, nor does she think in terms of exclusivity in her relationships, something David Imakita learns too late. Or maybe it isn't. Chloe's past has left her scarred emotionally, and she doesn't make any attempt to overcome it, which doesn't make her very likeable at times. This was a good read, but it's not my favorite Holly. It's earned three arrows.

The third book I have to share with you this week is
Menage, also by Emma Holly. Kate Winthrop's just taken in two guys as boarders, and she can't help indulging in a little fantasizing. But walking in on the two of them indulging one of their own changes the delicate balance. But who's going to end up hurt? I liked this one a lot, because Kate's a strong woman, but she doesn't use that strength to cause hurt to anyone else. This one gets three and a half arrows.

Until next time, happy reading!