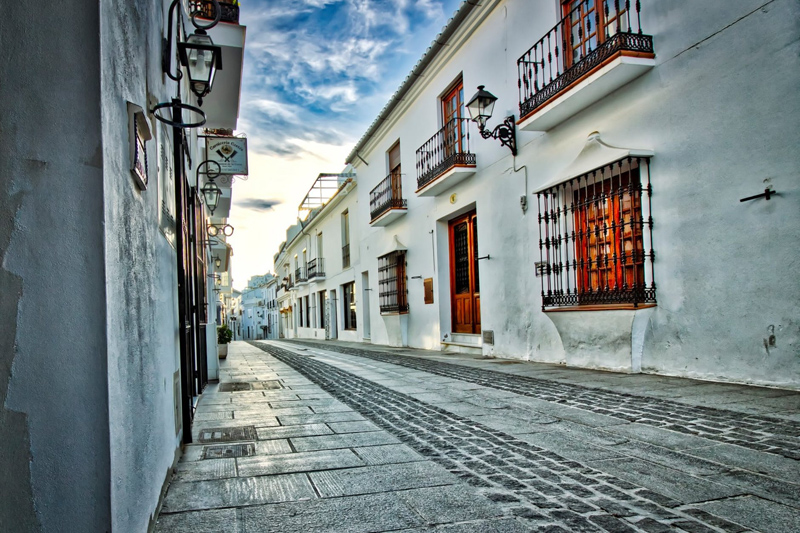 We learned there are two Spanish verbs -
Ser
and
Estar
- that are the equivalent for the English verb
To be
. Today we're going to study the verb
Estar
, its conjugation and uses.
| | | |
| --- | --- | --- |
| Singular | Yo estoy | I am |
| | Tu estás | You are |
| | El está | He is |
| | Ella está | She is |
| Plural | Nosotros estamos | We are |
| | Vosotros estáis | You are |
| | Ellos están | They are |
Ok, now, read the following sentence:
El niño está cansado
(The boy is tired)
The verb in this sentence is: "
está
" and is used to show a
temporal state / condition
. The sentence is telling us that at this precise moment, now, the boy is tired. Other examples that show us this "temporal state" marked by the verb "
Estar
":
La cama está rota
. (The bed is broken)
Usually, the bed is not broken, but,
at this moment, IT IS
.
Another sentence:
Los hombres están contentos
. (The men are happy)
The verb "
Estar
" can also indicate
"physical position"
:
Los libros están en la estantería
. (The books are on the shelf)
La silla está cerca
. (The chair is near)
"
Estar
" is an
auxiliary verb (progressive tenses)
: (auxiliar verb + gerund / participle)
(Yo) Estoy leyendo
(I am reading)
(Tu) Estás comiendo patatas
(Your are eating potatoes)
Estar
is also used in many
idiomatic expressions
. For example:
- Estar de más: To be in excess
- Estar de vacaciones: To be on vacacion
- Estar enfermo: To be sick
- Estar listo: To be ready
- Estar de pié: To be standing
Now that we have reviewed the main uses of verbs
Ser
and
Estar
, let's go further: Apart from those general rules, is there any "tip" we can follow to know when to use any of both verbs?
Maybe these ideas will help you:
We can think about verb Ser as an "equivalence verb". It's as if you treated "Ser" as the symbol "=". Here's an example:

La niña es feliz (The girl is happy). The equivalence the verb Ser implies in this sentence is: niña = feliz.



As mentioned above (see also the Verb Ser), the verb Estar implies "condition", and the verb Ser implies "essence". So, in this case, if you want to translate the verb To be, when followed by an adjective, use Ser if you want to express essence, or Estar, in case you want to express state. i.e.:

The lion is big --> El león es grande (essence)

The lion is hungry --> El león está hambriento (temporal state)
All the notes above are the main uses for the verb
Estar
. As I always say, this is just a question of use and practice. And another thing I always say:
Ask me!
In case you have any doubt or problem regarding this lesson or Spanish language in general, feel free to e-mail me or post a message at the Bulletin Board.
Have a nice day! (¡Que tenga un buen día!)
---
Recommended material:
You can find below some materials / web pages that, from my point of view, can be useful and interesting:
---
| | |
| --- | --- |
| Visual Link Spanish | Visual Link Spanish™ - Just click, listen and repeat! Don't just learn Spanish; put it into practice with a unique guided, step-by-step system. I've tested it and I wish I'd had something similar when I studied English!! |
---
| | |
| --- | --- |
| Think Spanish Magazine | I write monthly articles for 'Think Spanish' ('Piensa en español') about Spain, its culture, travel issues... But this magazine also covers all Latin American countries. Articles include a glossary. You can also listen to all the articles as they also publish a monthly CD. |
---
| | |
| --- | --- |
| Puerta del Sol - Audio Magazine | A very interesting way of learning or reviewing not just Spanish grammar and vocabulary, but also a great way to find out about Spain and its culture. |
---
| | |
| --- | --- |
| Lo más TV | Such a funny, intelligent and useful way to learn and enjoy the Spanish language!! It is a web based activity and offers new videos, on a weekly basis, with Spanish / English captions, dictionary and games. |
---
| | |
| --- | --- |
| Angeles' Blog: "Spanish Word of the Day" | I'm adding a new Spanish word, everyday, including its sound file, translation, uses and descriptions. You can send your messages with questions, examples to be reviewed, etc. |
---



Buy From Amazon.com
"This book provides a systematic presentation and review of Spanish verb forms and explains when and why a certain verb tense should be used. Practice Makes Perfect: Spanish Verb Tenses includes an impressive number of exercises and open-ended questions, numerous conjugation charts, a list of verbs and their prepositions, and Spanish-English and English-Spanish vocabulary lists"
Buy From Amazon.com
"With over 90,000 words and phrases and 130,000 translations, this revised second edition retains all of the superb features of its esteemed parent volume in an affordable, compact, and easy-to-use format. Packed with extra features, The Oxford Spanish Desk Dictionary offers a brand new grammar supplement that provides information on all of the important and essential rules of Spanish grammar. In addition to a guide to grammatical terms, this intermediate level dictionary includes extra letters, emails, postcards, and CV's, as well as a useful A-Z guide to Spanish life and culture. For travelers, professionals, business people, and students of either language, The Spanish Desk Dictionary is the ideal resource and belongs in all suitcases, briefcases, and backpacks."


Related Articles
Editor's Picks Articles
Top Ten Articles
Previous Features
Site Map





Content copyright © 2018 by Angeles Fernández. All rights reserved.
This content was written by Angeles Fernández. If you wish to use this content in any manner, you need written permission. Contact Angeles Fernández for details.