Guest Author - Elizabeth Darrach
Hello, and welcome back! Vacation week is finally here, and the weather appears to be cooperative. At least for the first part of the week. I guess we'll see what happens in a few more days. But at least I know if some of our outings are rained out, I still have plenty of reading material here on my desk.
If you haven't popped by the forum, you're missing out on some good discussions and book giveaways. I just gave away a Janet Dailey, and currently we're working on an erotic romance by Alison Tyler, plus there are several more here waiting to go to readers in upcoming giveaways. You do have to be a registered user to participate in the discussions and giveaways, but registration is free and painless, I promise. Plus if you get registered soon, you'll be all set for something big I'm working on for next month.

First up this time is Suzanne Simmons's

Sweetheart, Indiana (Berkley). Gillian Charles is definitely not small-town, but to keep the bequest her grandfather has left her, she has to live in one--and it happens to be her inheritance, one she hadn't planned on. Sam Law is none too pleased to have the snooty debutante taking up residence in Sweetheart, but he has no say in the matter either. This story reminds me very much of a story I read some months ago, though I didn't like this one as well. Its breezy tone just didn't fit with my reading mood, and Gillian and Sam didn't really touch me, though I'm sure some of you will feel differently. I'm giving it three of Cupid's five arrows.

If you're into chick lit, Denise N. Wheatley's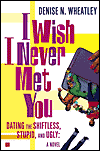 I Wish I Never Met You: Dating the Shiftless, Stupid, and Ugly (Touchstone). The title pretty much says it all. Told in first person (not my fave POV, as you know if you're a regular here), this seems like a dating-don'ts handbook with a woman who takes a while to learn her lessons. Or maybe it's just me--I'm not a chick lit fan, as the regulars also know. But I know there are some readers out here who are, and maybe you'll want to check this one out.

Finally, we have Diana Dempsey's

Too Close to the Sun (Onyx). Gabby DeLuca isn't about to let spoiled Max Winsted ruin her family's hard work at Suncrest Vinyards, but letting Will Henley take over might not be the best option either, no matter how attractive he is. I wanted to like this one more than I did, but the secondary storyline here takes over too much, and Will's reaction to Gabby's secret was overblown. Not the best reading week for me this time out, I guess. This one only gets three arrows as well.

Until next time, happy reading!