Guest Author - Elizabeth Darrach
Hello, and welcome back! Summer is winding down--only a couple weeks till the start of school now, and the weather has taken a decidedly non-summer-like turn, not that I mind the latter a bit. In a few more weeks, it'll be time to break out the soup recipes again and retire the iced tea for something warmer. But still, I have plenty of reading material, whether I do my reading inside or out.
If you still haven't registered to participate in the forum, you're still missing out on great discussions with other romance readers, and all the giveaways that have been happening this month. You definitely don't want to miss out on next month's, so hurry on over.

I have the last of the August releases on my desk today, though only one of them is a romance. The first is a memoir that came with my romances,

Almost French: Love and a New Life in Paris by Sarah Turnbull (Gotham). Ms. Turnbull's story is about the changes in her life in her move to Paris to be with her new love. Interesting story about trying to fit in if you're looking for a variation in your reading material.

If you're a Bertrice Small fan, you're familiar with the historical harems of the Middle East, and this next book may be of interest to you. Colin Falconer's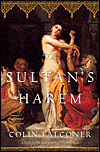 The Sultan's Harem (Crown) is set in the harem of Suleyman, a sultan the great Ms. Small has included in one of her own tales, though this one is definitely not a romance. However, it is a very good read, with all sorts of details and characters that pull you into the story, and intrigues that will keep you reading all the way to the end even if you know how the real-life version ends.

Last, I have Sasha Lord's

In a Wild Wood (Signet). Matalia McTaver, daughter of Kalial and Ronin of "Under a Wild Sky," wants to learn the mysteries between a man and a woman, and what better way than to capture her own man, Brogan O'Bannon. Matalia starts off a spoiled young woman who throws a fit when she doesn't get her own way. Thankfully, she does a lot of growing and maturing during the course of the story. Brogan has much growing of his own to do--raised to compete with his twin for the legacy of their father, he's not a willing husband to Matalia, despite the pleasure they shared before the wedding. I admit being a little disappointed in this one, after reading the first in the series. There is much conflict here, though I had a hard time buying into all of it. I'm giving this one only three of Cupid's five arrows. I look forward, though to seeing Brogan's brother's story told in Ms. Lord's next book.

Until next time, happy reading!