Take A Break From The Garden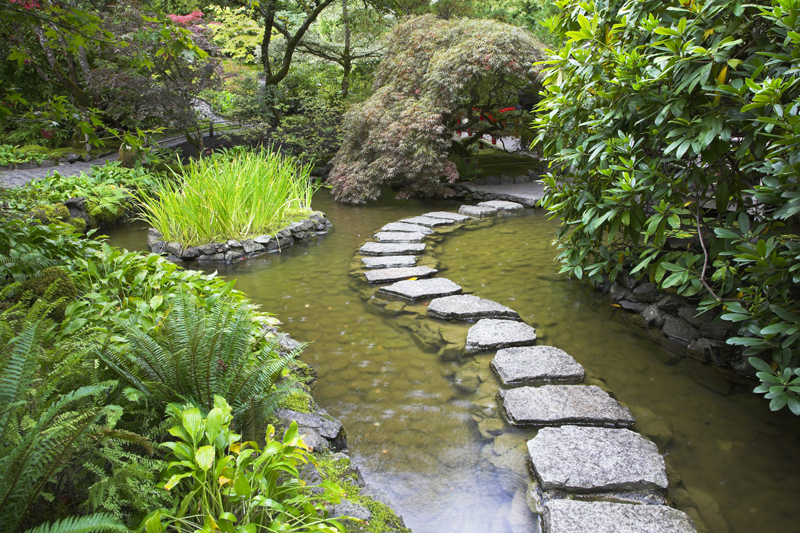 The late summer doldrums have set in. What's a gardener to do? We can't do anything about the heat and humidity. In time, that will be behind us. What we need right now is an attitude adjustment. A little R & R is just the thing. Take a break from the garden.

Step back, and use this time to plan ahead for the fall and winter season. I'm always looking for tools and garden aids to make life easier. As far as hand tools are concerned, the Cobra Head Precision Weeder & Cultivator is the best thing around. With a revolutionary 'cobrahead' shape, it zips through the soil when you're weeding, digging, and transplanting effortlessly and quickly.

If you plan on spraying Wilt-Pruf or other anti-desiccant on your evergreens in preparation for the winter, do it the easy way with the new, sleek Chapin Spray 'N Go garden sprayer. It is ergonomically designed for comfort. Older type sprayers tend to clog and get the hoses in a tangle, but Spray 'N Go's designers solved these problems.

Pamper yourself now, and reap the rewards later with renewed motivation. Refresh yourself by keeping in touch with friends and family. Email is fine, but nothing brings as much pleasure as a card or letter. Just in time for the new season, Galison has released numerous garden-related, premium quality stationery and accessories. Of their new cards, my favorites are the J.P. Redoute Roses in a magnetic Little Keep-It-Box. This set of 20 cards features four different rose paintings by Redoute, the renowned French artist.

The new Galison catalog also has a new line of Japanese stationery by artist K. Kouizuma, including Japanese Blossoms. The Flip-Top Note Cards set features trifold cards in an exquisitely decorated lift-top box. There is a matching Accordion Organizer complete with a notepad and expandable file folder in a beautifully decorated hardcover booklet to help you get those loose files organized once and for all.

Get copies of the new 2005 almanacs as garden planning aids. The 180th edition of Baer's Agricultural Almanac & Gardener's Guide is now available. Order a five-year subscription to be sure you don't miss an issue. Originally started for farmers in 1825 by John Baer, it is edited by Gerald S. Lestz, and published by John Baer's Sons. This handy guide features weather forecasts, and helpful planting tables as well as informative articles on garden and plant history, folklore, and scrumptious recipes.

Llewellyn's 2005 Herbal Almanac has been released. This unique guide is essential reading for herb lovers. It includes articles from 25 well-known herbalists along with ideas on growing, harvesting, and using herbs for cooking, crafts, health and beauty as well as herb folklore and magic. In addition, there are handy tables giving the quarters and signs of the moon.

If you've been in a bookstore lately, you doubtless noticed the new 2005 calendars are now available. Thanks to Pomegranate Communications, the humdrum calendar depicting days, weeks, and months is now a thing of the past. The ECOlogical 2005 calendar offers users a unique format through which they can experience the natural world through the seasons. It is designed for use on a desk or wall. This one-of-a-kind calendar is the very first to actually incorporate the true age of the universe.

Fall will be here soon, so now is the time to create some new fall decorations for the home. Just in time for the new season, Alaska-based artist Letitia Hutchings has released a new quilt pattern, "Sweet Addiction." It is available from Mount Redoubt Designs. This gorgeous 29" by 40" wall hanging lends a witty, light-hearted approach to traditional fall motifs, such as pumpkins, jack-o-lanterns, witches, candied apples, and the harvest moon.

Transport yourself to the coming holiday season by creating some Christmas crafts. A number of craft publishers have already released new holiday titles, including Mt. Redoubt. "The Spirit of Christmas" features various size patterns that will give your home a festive look, including a table runner, stocking, tree skirt, and wall hangings. These machine applique quilting projects are suitable for quilters of all levels.

"Debbie Mumm's Decorating With Quick & Easy Holiday Quilts" features 45 gorgeous projects. In addition to home décor, these would make wonderful, handmade gifts for those on your shopping list.

"Holiday at Home-Crafts to Celebrate the Season" from Martingale & Co. has twenty simple, stylish ideas using traditional holiday motifs. The decorations include items for the Christmas tree, home décor, and dining. They're created with various easy-to-learn crafts, such as collage, painting, sewing and beading.

Practice makes perfect. Now is the time to perfect your gingerbread house-making skills. The 12th Annual National Gingerbread House Competition will be on November 8, 2004, at the Grove Park Inn Resort & Spa in Asheville, N.C. Over $5000 in cash and prizes will be awarded. For details call 828-252-2711 ext. 8045, or see the website.

Have a garden party. This no-fuss approach to entertaining requires a
minimum of fuss and effort. Print your invitations and envelopes on your computer by using Galison's new line of Imprintables, which includes Fall Bouquet and Spring Bouquet. These printer-friendly sets are compatible with virtually every style of personal printer.

Your party is bound to get rave reviews when it features hana sushi. These unique sushi rolls are as decorative as they are tasty. The word originally means 'floral sushi,' so you know they're a sight to behold. Japan Publications has released an extraordinary title, "Hana Sushi-Colorful and Fun Sushi for Parties." This is available from Kodansha America. With full color, step-by-step illustrations and easy recipes, novice cooks are sure to succeed with these spectacular dishes. Various motifs include different flower blossoms, animals, and fruits as well as ideas for special events.

When it comes to the menu, Francine Segan has the answer. She is author of "The Philosopher's Kitchen-Recipes from Ancient Greece and Rome for the Modern Cook," which was just released by Random House. I'm deeply interested in food history, and have found it to be a struggle using the other Roman cooking titles that are available.

Segan, a food historian, has appeared on Food Network's Top Five, and has published several other food history titles. So, you know these recipes are the real things. She presents an engrossing historical background for each dish. The chapter on menus and entertaining offers rare insight into Greek and Roman banquets and feasts. For modern-day cooks, she provides menus and sample invitations. What more could foodies expect from a cookbook?

For tips on entertaining, go to the experts. Susie Coelho of HGTV's Outer Spaces is author of "Styling for Entertaining" from Simon & Schuster. In this title, she takes four different spaces—the living room, the dining room, patio, and lawn, and presents three makeovers for each. In the introduction, she features 8 simple styling steps you can take to update a space. The outdoor themes include an English tea garden, a tropical paradise, and an exotic oasis.

When we need a break from the garden, reading is an ideal pastime. "Horses and the Mystical Path-the Celtic Way of Expanding the Human Soul" is a new title from New World Library by a psychotherapist family team that includes Adele, Marlena Deborah, and Thomas McCormick. The authors pioneered the use of equine therapy for emotionally disturbed teens. In this book, they take that one step further, and share what they learned during a trip to Ireland. In essence, they gained valuable insight into equestrian-partnered spirituality. They are also authors of "Horse Sense and the Human Heart."

Emily Giffin has made quite a splash with her sensational debut novel, "Something Borrowed," about a thirty-year-old who falls in love with her best friend's fiancé. What could be a sticky subject ends up as a very enjoyable read. Let's hope St. Martins Press publishes more of Giffin's works.

What a wonderful, relaxing way to spend the last days of summer.




You Should Also Read:
Galison
Mount Redoubt Designs
John Baer's Sons


Related Articles
Editor's Picks Articles
Top Ten Articles
Previous Features
Site Map





Content copyright © 2022 by Connie Krochmal. All rights reserved.
This content was written by Connie Krochmal. If you wish to use this content in any manner, you need written permission. Contact Connie Krochmal for details.