Guest Author - Elizabeth Darrach
Hello, and welcome back! Our weather in the northeast is gorgeous, and looks like it's going to stay that way through the holiday weekend, which means plenty of outdoor reading time, but for our readers in the southern U.S, the weather doesn't look so inviting. Here's hoping you all stay safe from the hurricane, and get in some reading time this weekend!
First up this time is a new paperback release from Colleen McCullough,

The Touch: A Novel (Pocket Star). This one isn't really a romance, but I'd bet I'm not the only romance reader who devoured The Thorn Birds way back when and hoped for a happy ending to that one, right? This one's a bit different, but no less enjoyable. Elizabeth Drummond has never met the man who's sent her father money and a demand for a bride. Heck, she's just a small-town Scottish lass who never expected to leave her father, let alone travel to Australia. Poor Elizabeth is in for a rude awakening. Her husband Alex Kinross is no prize, a self-made man who's named his town after himself and keeps his long-time mistress Ruby down at the bottom of the mountain. He never expects Elizabeth and Ruby to become the best of friends despite their stations. This is one of those family sagas you rarely see anymore, and you'll definitely be cheering for Elizabeth to get her hard-earned happiness. You just won't expect the way it comes about. Great, engrossing read.

Next is one just out this week, Julie Garwood's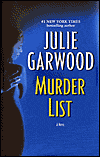 Murder List (Ballantine). Regan Madison only agrees to go to the seminar because of one of her best friends. She never expects to find herself in danger afterward and stuck with Detective Alec Buchanan as a body guard. Though it gets off to kind of a slow start, this one is more romance than suspense, which will delight romance fans and may disappoint suspense fans, but I liked it. Regan is strong and smart, and Alec is fun--a smart-mouthed cop whose spiteful boss has given him the assignment as punishment, darn. I hope Regan's two best friends are going to get their own stories, too. I'm borrowing three and a half arrows for this one.

Finally, we have the latest from Lauren Bach,

Pure Dynamite (Zebra). I've been waiting impatiently for her next book--it's been way too long! This time out FBI agent Adam Duval is working undercover, trying to break open a family crime ring. Taking Dr. Renata Curtis prisoner to keep his crime 'partner' alive wasn't in the plan, however. For Renata, attraction to a prison escapee is also not in the plans, but to stay alive, she can deal with Adam. She thinks. Great suspense, as usual, and some steamy interludes. This one's earned four arrows. Let's just hope the next book doesn't take as long to get to us as this one!

Until next time, happy reading!