The Intrepid Plant Hunters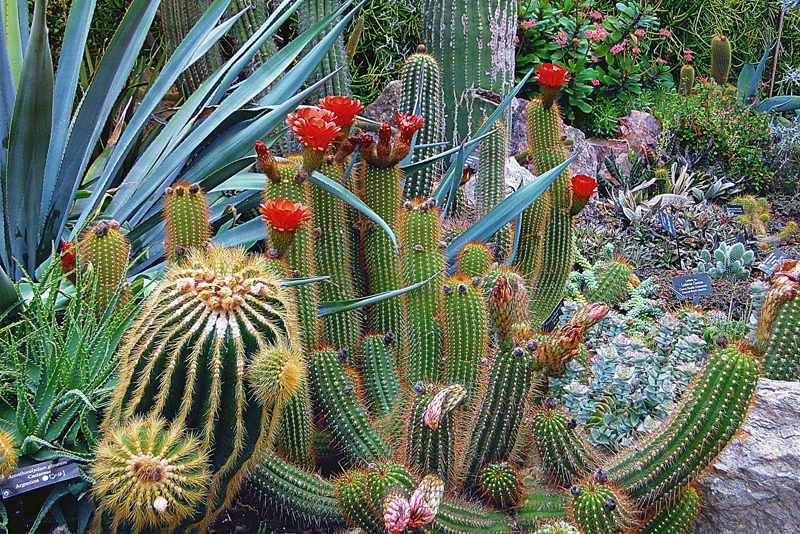 In 2004, Americans are celebrating the bicentennial of the Lewis and Clark Expedition. For this occasion, several publishers have released books on plants discovered by this group. At times, the accomplishments of this scientific corps seem to overshadow the great explorations of others. For that reason, let's take a look at some books on explorations by other plant hunters. These folks have furthered scientific knowledge, and made it possible for us to enjoy many plant species, including cacti and succulents that might not otherwise be available.

Let's start with a recent release from Timber Press. "In Pursuit of Plants-Experiences of Nineteenth and Early Twentieth Century Plant Collectors" by Philip Short features fascinating, firsthand stories taken from journals and letters of the explorers. Among the plants featured are a number of cacti and succulents, including aloe, Cereus, and Staphelia. These people experienced everything from vampire bats, snow blindness, biting insects, and illness as well as injuries. They had more than their share of narrow escapes from dangerous animal, including outraged llamas. Short sheds light on the mundane problems these people faced in collecting and getting their plants—either fresh or dried—back to civilization, and how these played a role in the creation of herbaria where the new species could be named and studied. This book is beautifully illustrated with nineteenth century botanical art as well as photos.

The role of modern-day plant hunters is explored in "A Cactus Odyssey-Journeys in the Wilds of Bolivia, Peru, and Argentina" by James D. Mauseth, Roberto Kiesling and Carlos Ostolaza, also published by Timber Press. Mauseth is a professor at the University of Texas in Austin where he devotes his research to cacti. Ostolaza founded the Peruvian cactus and Succulent Society, and is responsible for the discovery of a new species. This fascinating book is the result of their joint travels. It presents the story of their trips and the cacti they encountered. The book begins with a great introduction to cacti, their evolution, history, and biology. Each of the later chapters covers a different geographic region. They explored every sort of imaginable habitat and climate with everything from rainforests, rainy and foggy highlands, and dry deserts, to cold, snowy areas. For each plant, they provide descriptions, natural history, and details on the habitat. The book is beautifully illustrated with color photos of the plants taken during their expeditions.

Island Press has released a new paperback of "John Muir's Last Journey-South to the Amazon and East to Africa" edited by Michael P. Branch. It features unpublished journals and selected correspondence. Those interested in natural history will find this to be an engrossing title. The introduction provides background information that will help readers to enjoy and appreciate Muir's work even more. To prepare for the trip, Muir did extensive reading, and kept careful notes, which appear in this volume. Muir had long wanted to take this trip. When he began this 40,000-mile journey to Africa and South America, he was 73. He considered this eight-month expedition to be the culmination of his life-long work in conservation. The book is illustrated with sketches he did and maps he used.

Like Muir, Alfred Russel Wallace was a very well known explorer and naturalist. Verso has published "Infinite Tropics-an Alfred Russel Wallace Anthology," edited by Andrew Berry. This extraordinary collection features his best and most important writings from articles, letters, and books he wrote. Much of this has long been out of print. During the nineteenth century, Wallace played a pivotal role in various fields of science, including anthropology, geography, and evolution. He independently discovered natural selection along with Darwin. In addition to all these scientific endeavors, he was a humanist, and expressed his concerns for humankind through his writings on women's rights, pacifism, public health, and much more. Illustrated with maps and drawings by Wallace as well as photos, this marvelous title begins with an introduction to Wallace's life. The writings are arranged by subject matter, including sections for science, travel, metaphysics, and social concerns. The appendix features a list of his publications, and published works about him.

The American Philosophical Society has published a groundbreaking work on American explorers. "Surveying the Record-North American Scientific Exploration to 1930" was edited by Edward C. Carter II. This multi-faceted book looks at exploration on land and sea from many different perspectives—from that of mapmakers and art historians to geographers and anthropologists. With contributions by contemporary scholars, it offers valuable insight on how maps helped to shape our national heritage. It explains the significance of important discoveries, and how these were introduced into the daily life of Americans. It brings little-known aspects of exploration to light. For example, Mormon farming methods had far-reaching effects by appearing in the 1878 arid region report of John Wesley Powell. The different essays are organized by subject matter with sections on mapmaking, scientific illustrations, oceanic expeditions, and anthropology. It also devotes an entire section to Lewis and Clark.

Of the better known explorers, these are only a sampling of their remarkable feats.
This site needs an editor - click to learn more!


Editor's Picks Articles
Top Ten Articles
Previous Features
Site Map





Content copyright © 2022 by Connie Krochmal . All rights reserved.
This content was written by Connie Krochmal . If you wish to use this content in any manner, you need written permission. Contact BellaOnline Administration for details.