Part II-Ferns for the Landscape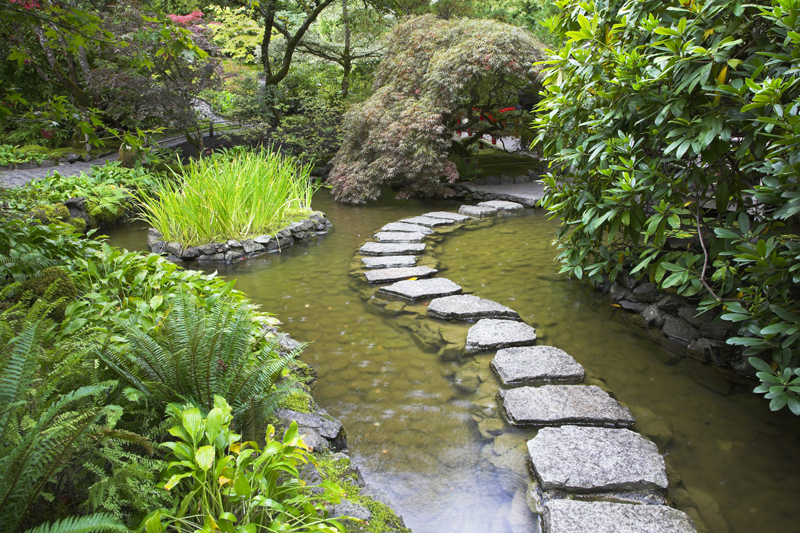 This concludes the two-part series on ferns for the landscape.

Generally I divide overcrowded ferns in the spring, but this can also be done in the fall. It isn't needed very often for most species. Overgrown ferns will have offshoots or secondary growth points where new fronds are emerging at the tips of the rhizomes. Only those with multiple growing points should be divided. Some holly ferns (Polystichum spp.), for example, only have one growing point, so they don't qualify.

With a sharp knife cut the rhizome so that each portion has one or more growing points. Avoid cutting the roots.

The hole should be deep enough to hold the roots. Plant each new division so the growing point is level with the soil surface. Keep the newly divided ones watered until they're well established. Initially, the fronds may wilt a little, but this is no cause for concern.

Ferns reproduce by spores much as their ancestors-the mosses. A single fern can produce fifty million spores in a single season. On the backs of the fertile fronds there will be clusters of dark brownish spots, the sori. These contain the spores.

Growing ferns from spores is different than using seeds. The thing that initially germinates hardly resembles a fern. You might think it's a weed, and discard it by mistake. Become familiar with the life cycle of ferns before attempting to grow new ones from spores.

Because ferns are unique in the plant kingdom, a special vocabulary is used for them. Fern leaves are called fronds. The thing that resembles a leaf stalk is the stipe. The emerging stipes are fiddleheads, while they're crosiers when they're still tightly coiled. The individual leaflets making up the blades on the stipe are pinnae. Instead of having the usual stem, ferns have a rhizome or underground stem.

Initially I began with foolproof ferns like the Japanese painted fern and the autumn fern (Dryopteris erythrosora) as well as native ones, such as the Christmas fern and the maidenhair fern.

The maidenhair fern, also called the five-finger fern, is a particularly elegant native species. About 1½-2 feet tall, this deciduous plant with dramatic dark black stipes features distinctive fronds in a horseshoe pattern. Initially it is slow growing, but once it is established it does very well.

Japanese painted fern, a deciduous species, is a top choice for beginners. This plant was selected as Perennial of the Year a year or so ago by the Perennial Plant Association. Reaching 1½ feet in height, its tri-colored fronds are a kaleidoscopic blend of wine-red and numerous shades of green. The stipes are pink to burgundy. To maintain its good looks, it needs a shady, moist spot.

The autumn fern is so named because the fronds are bronze when they first emerge. Early in the spring it has a faster growth rate than at other times. This handsome evergreen species with long, arching fronds is usually 1½-2 feet tall. It's noted for the striking brownish or blackish scales on the stipes and the sori, which are bright red when young. Easy to grow, the autumn fern is especially suitable for novice gardeners.

Ignore the name for the European lady fern (Athryium felix-femina), as this beauty is really one of the toughest and most vigorous ferns. This deciduous species, two feet in height, will grow anywhere except full sun. Be careful of the fronds-they break easily.

Around 3 feet tall, the bold, robust ostrich fern steals the show in my mixed border. Its attractive fronds are light green. This vase-shaped, native plant needs a wet area. At one time it was often used in foundation plantings.

The Christmas fern is probably the best known of our native ferns. It has lovely evergreen, dark glossy foliage. Generally 1-2 feet in height, this adaptable plant tolerates sun and drought. During the summer months, its growth slows.

The cinnamon fern (Osmunda cinnamomea) is another remarkable native species. This vigorous, vase-shaped plant, 2½-4 feet tall, has shiny fronds that are somewhat brittle. The common name describes the orangish color of the fertile fronds. It needs a moist spot.

Approaching 5 feet, the native royal fern (Osmunda regalis) towers over most other ferns. When young the fronds are dark reddish brown. This species will grow in full sun if it is kept moist. The fronds are tender, so handle with care.

Lady in Red is a captivating cultivar of the lady fern that has only been available for a few years. Its stipes are a vibrant burgundy, thus providing a sharp contrast to the rich green fronds. It's somewhat taller than the species plant, about 3 feet.

A rich folklore surrounds ferns. During the Middle Ages, people thought fern spores had the power to make them invisible. In Old Garden Cures & Curiosities, Gerald S. Lestz presents the fascinating uses of ferns-from the fanciful to the practical. This publication is available from John Baer's Sons.

As a guide to choosing and using ferns in the landscape, I highly recommend "Go Native-Gardening with Native Plants and Wildflowers in the Lower Midwest" by Carolyn Harstad from Indiana University Press. She devotes an entire chapter to these marvelous plants, and provides in-depth profiles for 18 or more species. In addition, she gives very helpful details on how to transplant and grow them. This title provides a well-rounded look at how gardeners can integrate ferns and other natives into the landscape. Though this invaluable guide specifically addresses the needs of Midwestern gardeners, those in other parts of zone 5 and 6 benefit greatly as well.

Create a shady retreat with ferns and other shade loving plants by following the advice of Roy Forster et al in "Woodland Garden-Planting in Harmony with Nature." Released in 2004 by Firefly Books, this title walks readers through the entire process—from designing the garden to choosing ferns and other appropriate plants and the planting process. They even have details on plant care and maintenance. This authoritative guide explains how you can take a conventional backyard and turn it into a woodland containing several different habitats. There are chapters devoted to trees, shrubs, vines, and other plants. For each category, the authors present a detailed list of suitable species.

Walking in my shady backyard on hot summer days, I glance at the ferns and feel I'm in the midst of cool, refreshing woods.





Editor's Picks Articles
Top Ten Articles
Previous Features
Site Map





Content copyright © 2023 by Connie Krochmal. All rights reserved.
This content was written by Connie Krochmal. If you wish to use this content in any manner, you need written permission. Contact Connie Krochmal for details.