Seasonal Change in the Garden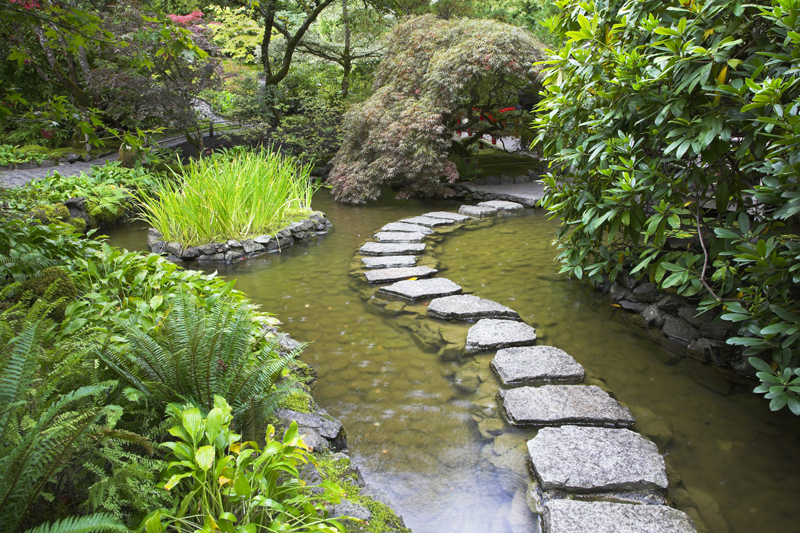 The landscape was just gorgeous in the spring. Early summer it looked fine as many of the early blooming perennials did their stuff. Then, a bad case of the mid-summer blahs set in. Why does that seem to happen? It comes from too much emphasis on flowers alone.

Instead, create four seasons of color and texture by using plants with interesting shapes, fruits, and foliage. Let's start with fruits, for these can brighten the garden from mid-summer through the winter months. The luminous purple fruits of French mulberry or callicarpa are so appealing. In the world of beauty, flowers are no rivals for these late-summer sparklers. A little later, the vivid clusters of pyracantha fruits bring a message of cheer. I also like the deciduous hollies with their masses of blue and black fruits.

Now consider foliage as a source of color and texture. Entire books have been written on foliage plants. It is so easy to incorporate foliage plants into a garden. When you go to buy nasturtiums, get the variegated ones. Then between flushes of blooms, you'll enjoy the white-tinged leaves.

Color in foliage makes a different sort of statement than flower colors. Hostas are a prime example of how variations in foliage color, shape, and size can heighten one's enjoyment of the garden.

Foliage can also be used to emphasize texture in the garden. Texture relates to the coarseness-fineness as well as the actual leaf finish, such as felty, hairy, or shiny. Use the contrast between textures of various plants to create interest. For example, consider the heaviness in the large hostas compared with the fine, fern-like foliage of the yarrows. Felty leaves may be used for textural highlights as well as for added color.

Put the forms of the plants to good use for seasonal interest. I love the ornamental grasses for their shapes alone. The tall vertical pampas grass is as pleasing as the petite, tidy blue fescue. Letting them keep their stalks over winter allows for seasonal display in the colder months as well. For contrast, try using the grasses with stately species of evergreens or yuccas.

For winter interest, we should rely heavily on perennials that are attractive in the colder months as well as evergreens. They make a beautiful contrast for the empty branches of the deciduous species. The winter is the only time we can fully enjoy the form of the deciduous to its fullest advantage. So spotlight these by using them with evergreens for a winter composition. Also, rely heavily on bark as a winter feature in the garden.

Space doesn't permit me to do more than touch the surface of landscaping tips for year-round interest. What I can do is refer you to some excellent books on the subject. "Perennials All Season-Planning and Planting an Ever-Blooming Garden" by Douglas Green was published by Contemporary Books. This authoritative guide can help you select plants for every season, choose color schemes, and design a garden for multiple seasons. For each plant, there is a complete profile with description, recommended varieties, and cultural requirements as well as their edible/poisonous status. The book features over three hundred gorgeous color photos both of recommended plants and completed gardens.

Ornamental grasses provide beauty to the landscape throughout the growing season. In addition, they can add winter interest as well if the plants are left undisturbed during the fall cleanup. The ones with attractive seed stalks are especially suitable for this. For anyone wanting to learn more about using these exceptional plants in the landscape, there is no better book than "Grass Scapes-Gardening with Ornamental Grasses" by Martin Quinn et al from Ball Publishing. This book highlights over a hundred kinds of grasses and ways in which gardeners can incorporate them into the landscape. The authors begin with an informative introduction, and explain how to choose grasses for various color schemes and seasons, including winter. They devote an entire chapter on how to design gardens using grasses. In addition, there are helpful chapters on grasses for special situations, such as wet and dry areas, and companion plants for grasses. The final chapter provides individual plant profiles and color photos of selected grasses.

Gardeners may wish to go beyond the basics, and create stunning landscapes with foliage, fruits, and plants with other kinds of multi-seasonal interest.



Related Articles
Editor's Picks Articles
Top Ten Articles
Previous Features
Site Map





Content copyright © 2021 by Connie Krochmal. All rights reserved.
This content was written by Connie Krochmal. If you wish to use this content in any manner, you need written permission. Contact Connie Krochmal for details.