The Rum Culture of Barbados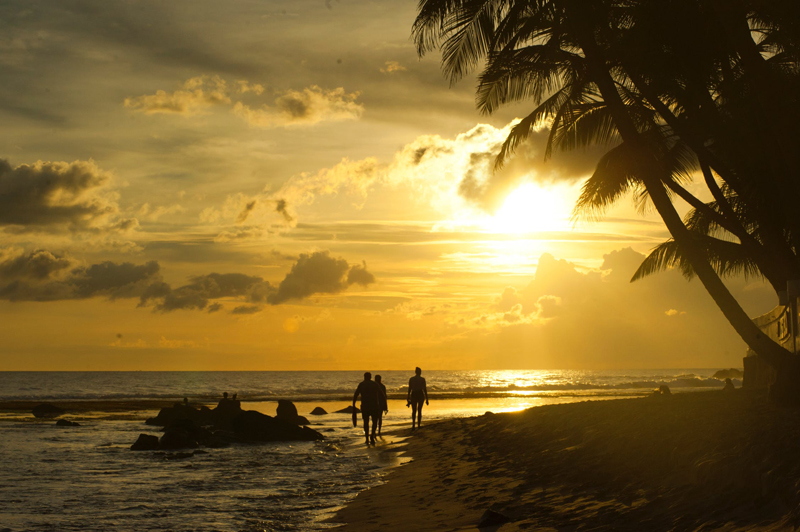 "Come leh we fire one," is a commonly heard phrase in Barbados. What does it mean exactly? It means, "Let's have a drink." Another way a Bajan asks a friend to go for a drink would be, "Leh we tek a quick touch." The best part about accepting the offer, is that Rum Shops are almost every next block, so one doesn't have to go too far.

This brings back memories of one of my many visits to Barbados. Sharon, a friend of the family generously offered to take me on a night time tour of the Island clubs. But first we took a detour or two into a couple of Rum Shops along the way. After dunking a few snap glasses of Mount Gay Rum, the cutters were introduced to entice us gals to say a tad longer. Needless to say it worked. What are CUTTERS you ask? Well it is just another word for appetizers. In the Caribbean it is pronounced as "CUTTAS".

My favorite Cutters are "Pudding and Souse, and Fried Flying Fish." Bajan Pudding is made of grated white sweet potato, allspice, clove and other grounded up seasonings. This mixture is forced into a runner (casing used in making sausages), and steamed in a pot of boiling water. After it has been cooled, it is brushed with vegetable oil and served with "Souse."

What is souse? Souse can be made from many parts of the pig or cow. In each Island, Souse can be represented differently. For example in Guyana, souse is made from cows ears, skin, and feet. Whereas in Barbados, pork skin and feet is used after it has been boiled to complete tenderness. It is then cut into bite sized pieces, then marinated in a blend of finely chopped parsley, onion, red pepper, scallion, cucumber, salt, hot pepper, and lime juice. Pudding is then sliced into two inch pieces and dropped into the souse. This is served in deep bowls in a generous fashion. For even more heat and extra flavor, be sure to add a squirt of red hot pepper sauce, a handful of sliced green onions(Scallions), and some thinly sliced cucumbers.

Whenever I get a craving for Pudding and Souse, I prepare it. But as of late, I have made a few trips to Flatbush Brooklyn, NY to a place called Cock's Restaurant. The owners are so nice, and I must say that they were quite amused that I took a cab from Manhattan to Brooklyn in order to get my fix of their superb dish. The extremely hospitable Bajans patrons even let me go to the front of the line, because I had a metered cab waiting. I simply could not wait to get home. Actually I ate my grub all the way back to Manhattan. There is nothing quite like eating Bajan Pudding and Souse, while my cab flies at top speed over the Brooklyn Bridge into Manhattan.

If you know anything about Barbados, then you would know it was one of the first Islands to begin their own Rum Industry. Sugar cane was brought from Brazil to Barbados by Pieter Blower in 1637, and originally was used to make Rum. But soon thereafter, the country was reaping great profits from sugar due to the hard work of the slaves. This gave a boost to the slave trade between the Dutch and the Portuguese, and the country's plantations grew, boosting their economy into great success. Barbados achieved prestige amongst the other Islands.

Today, some of the Rums produced in Barbados are: Mount Gay, Malibu, Cockspur, Foursquare Spiced, Doorly's, Tommy Bahama, and St Nicholas Abbey. But if you are in Barbados and happen to wind up in one of those brightly colored painted shacks known as a "Rum Shop," please sound like a local when you ask for Rum and Coke and refer to it as "Black and Coke". Cool!

For Caribbean style recipes, visit the link below.



Related Articles
Editor's Picks Articles
Top Ten Articles
Previous Features
Site Map





Content copyright © 2019 by Deborah Barocas. All rights reserved.
This content was written by Deborah Barocas. If you wish to use this content in any manner, you need written permission. Contact Nick Marshall for details.