Guest Author - Lori Collvins
I have been searching for someone out there that not only has great customer service but an affordable quality product as well. Well guess what? These are the highest quality hair bows for the best value I have found! The Bow Lady, as she is known locally, has been making quality hair bows since 1989 and has recently gone online. With a selection of over 3000 different products and the option to request something you canít find, this will be hard to beat.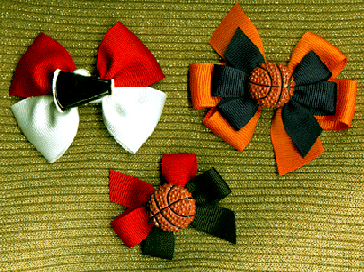 This is, of course, another item that finds my daughters debating who gets which one. I love these bows and so do they! I have seen a lot of hair bows, but not of this quality. I even tugged on them several times to see if they would come undone at the first sign of stress. They didnít and if I donít miss my guess, they wonít.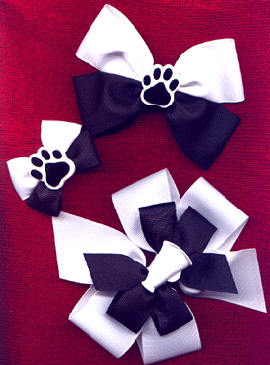 I also got a lapel pin (left side of above photo with paw print) with the hair bows and it is very cute and just as well made. I love the little paw print that adorns the pin! The Bow Lady offers many different themed bows such as
Cheerleading/Dance
,
Sports
and even bows for holidays such as Halloween and more! They are great for a cheerleader, sports fan and anyone who wants to show their team spirit!
Check out what The Bow Lady has to offer at
TheBowLady,com
and I promise you will like what you receive if you order from her!