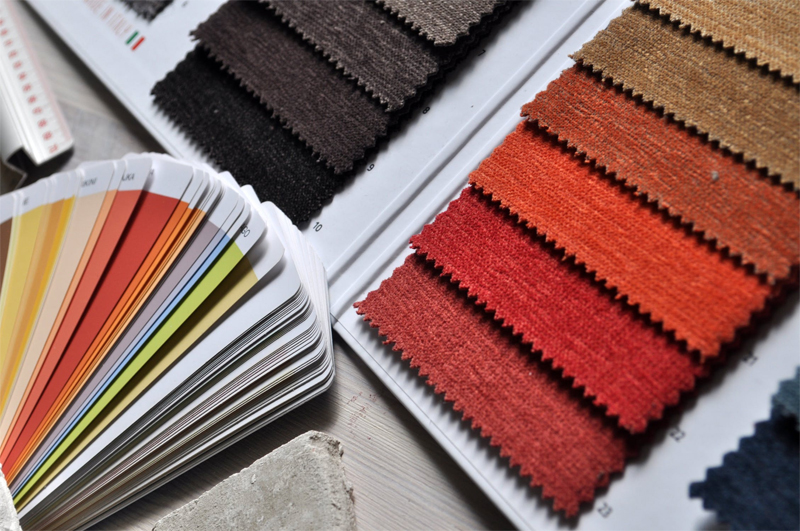 "I'm just a girl who can't say no". I'm told by my friends that this should be my theme song. Well….. I do find it hard to say "no" sometimes, ……well, lots of times,….. well, most of the time. That sets the scene for a few months ago, I was up north presenting a copyright lecture and Colour Class to quilters in Bundaberg – 400 mile from here. I was impressed with the display of postcards that were on the information board and said something to that affect. Guess what? I was invited to join the swap.
I must admit I have never imagined myself as an "art quilter", but have been somewhat surprised at the outcome. The particular weekend I was up there, was extremely hot so my first postcard I called "Flaming Hot". I chose some gold fabric from my stash as my base and picked lots of scraps in yellows, browns, reds.
I cut pieces of the scraps and ironed them onto vliesoflex. Using a very small, fine pair of scissors I cut lots of "flames" from the scraps, free hand. I cut about 20 flames. Then I arranged the flames on the gold background fabric and then pressed them down. So onto my sewing machine and I threaded it up with a Signature variegated thread in reds, yellows, and browns. I just free motion quilted up and down the flames, up and down and it helped to keep the fabric down.
I was quite chuffed with the final outcome – it certainly was very indicative of the blazing hot weekend we experienced. Here it is: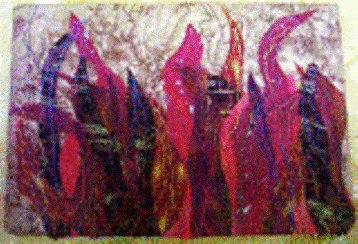 So, being part of the swap, which by the way is a monthly swap, I received two delightful postcards in the mail. And here they are. The first one is by Ailsa Koloi and she titled hers "Sewweeds" and the second is by Karen Nethercote and this one is titled "Blooming"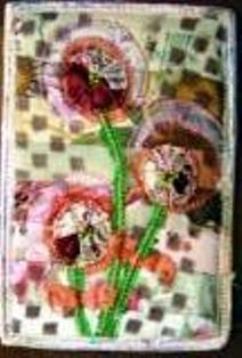 Aren't they gorgeous? I was astounded that they actually came in the mail and I'm tempted to give the inside of my mailbox a good clean and perhaps (this is the twit in me), maybe line the inside of the letterbox so it doesn't dirty any delivered postcards!!

So, my next swap is May and I've just completed my postcard. The theme was "coffee" and I put some thought to what I was going to do. Lots of ideas, but in the end I decided to do a "brain dump" thinking up adjectives describing coffee. I came up with aromatic, pungent, lavish, sumptuous, opulent and rich.
I gathered some scrappy "glitzy" fabric scraps in browns and variations of browns. I used a large piece of satin brown as the background and vliesofixed a variety of other scraps. I basically then cut odd sided shapes, and arranged them in a pleasing composition, remembering the "three triangle" rule that is used in design.
nstead of machine quilting, I decided to raid my exotic threads and hand stitched all over the shapes, using stitches such as running stitch, attached lazy daisy, Palestrina stitch, backstitch and a weaving stitch. The exotic threads compliment the shiny glittery fabrics very well, I think.

To make my postcards "mailable", I obtained a rather thickish black cardboard and cut two cards that measured 4" x 6". I placed a thin piece of wadding down on one piece of the heavy card, and then placed the stitched piece on top. Using masking tape, I taped the top piece to the card. I then had some cream homespun, cut it 1" larger all round and masking taped it to the second piece of card.

Using a very strong thread, I topstitched the two sides together, doing small stitches that will keep the two sides together. When the postcard was "one" I then grabbed some chenille thread from my stash and couched it around the edge, to hide the topstitching, and to give it a lovely finish. I'm really pleased with the result. Here it is: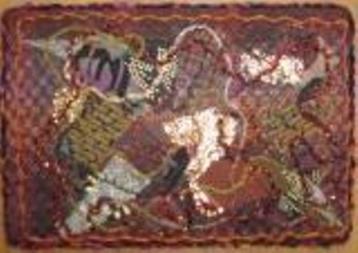 This is fun, and I must admit I've surprised myself. I'm looking forward to making the next swap postcard and the theme is "winter". Any ideas? My problem is that winter in this state lasts about 6 weeks and we get a few cold nights and mornings, but it warms up to short sleeves during the day. So in other words, we really don't get much of a winter here. Snowflakes are definitely not on the list!!





Related Articles
Editor's Picks Articles
Top Ten Articles
Previous Features
Site Map





Content copyright © 2022 by Judie Bellingham. All rights reserved.
This content was written by Judie Bellingham. If you wish to use this content in any manner, you need written permission. Contact Judie Bellingham for details.