Last week I received the most wonderful gift a doll lover can be given. Most of the people I work with know about my love of dolls and a young co-worker thought I would be able to give her collection a loving home! She has been given porcelain dolls, as gifts, through much of her life; but she has tired of the dolls. This is a concept that just doesn't compute, to me, but she wanted to be done with collecting dolls and wondered if I was interested in having her collection. What a question! Of course, I said yes, I would be thrilled to have her dolls.
So last week in she came with a box of beautiful dolls. She told me that as a child she had not been allowed to touch, or play with them; so they have all their outfits intact. This includes slips, bloomers, socks or stockings, shoes, and even a pair of ice skates. As you can see from the photos, they are just lovely.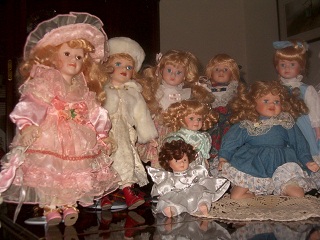 All but two of the dolls also have a stand with them.
There were thirteen dolls, in all, but one has already gone home with my daughter! I told her she could choose whichever one she liked best, except for the ice skater. She is the second from left in the upper photo, with the white hat and coat. She has a cute pair of ice skates hanging from her right hand and she is a
Seymour Mann
doll. Her original dress has been lost but she still has her hat, coat and skates.
The doll which appears to be kneeling, at the left of the upper photo, and right of the lower photo, is actually kneeling. Her legs were cast in a kneeling pose, which is simply adorable.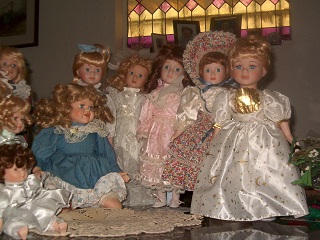 One of the dolls is on her way to church and is carrying her Bible, one has a little tiara on top of her up swept hair and a gown covered with moons and stars, who I picture as The Lady of the Lake. The doll to the far left in the upper photo is a vision in pink ruffles and lace and carries a lovely little parasol.
Now all I have to do is find the room to display them with the rest of my collection, I think I need wall stretchers in my studio!
Making and Dressing Cloth Dolls
Ebook with patterns and instructions to make 5 cloth dolls as well as chapters on general doll making techniques.The book includes 21 inch Lalena Doll, 21 inch David Doll, Bear Dolls, 9 inch Destiny Doll and 15 inch Annie Doll, all together in one handy book. 53 pages.
Making and Dressing Cloth Dolls
.