Caring for Your Indoor Cacti and Succulents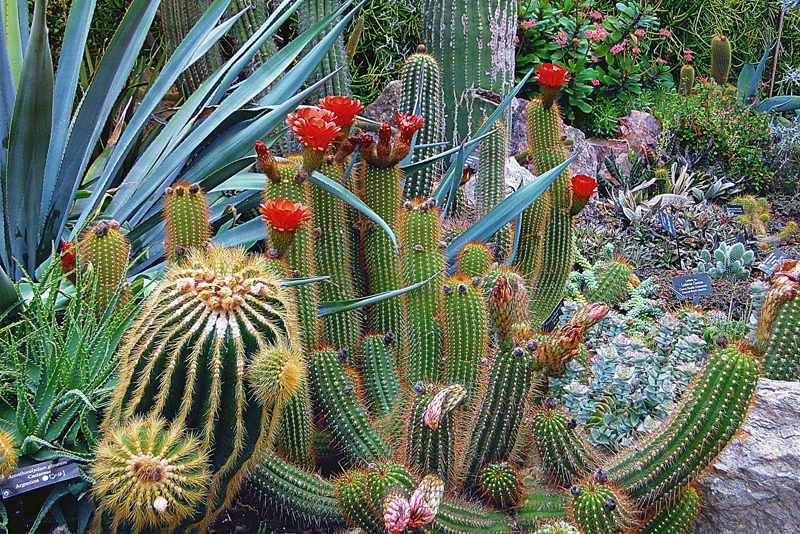 As houseplants, succulents and cacti are carefree plants that don't require a lot of attention. Here are some basic details.

Chances are your plant is pretty healthy when you brought it home. The goal is to keep it that way.

Different species or kinds of cacti and succulents require slightly different growing conditions. In order to care for these plants properly, you need some general idea on how much light it needs, what sort of potting mix it prefers, and its water needs.

Though it isn't always true, many cacti and succulent plants that you buy will have a care tag in the pot. If yours has one, just read and follow those instructions.

Otherwise, here are some general guidelines on caring for indoor cacti and succulents.

With a few exceptions like the snake plant and the jungle cacti, most other cacti and succulents prefer brightly lit areas of the home. During the summer, the afternoon sun can be pretty intense. So, at that time you may want to use a very sheer curtain or move the pots about six inches or so from the window. Otherwise, the heat might be so intense that the plant can burn.

Jungle cacti, such as the Christmas cactus, don't need quite as much sun. They're accustomed to growing under trees or in tree canopies.

Moving on to water needs, the desert cacti and many other succulents like to be kept pretty dry, particularly during their resting period. On the other hand, the jungle cacti need a somewhat moist soil during their growing season.

Regarding potting soil, all of these plants need a quick draining mix. The jungle cacti can do with a little richer soil. So, extra sterile compost in their potting mix doesn't hurt. For the most part, you can do just as well buying a commercial cactus mix. These brands will usually contain coarse sand and gritty materials that promote good drainage.

How can you tell if your cacti or succulent is getting enough light? Check its appearance. If it looks slightly off color, especially if it looks paler than it did when you purchased it, this is a clue that it needs more sun. Also, look at the general shape. If the new growth looks spindly, thin, or misshapen, then it most definitely needs more light.

For routine care, water correctly. This means adding enough to completely moisten the potting soil until the excess runs out the drainage holes. This procedure minimizes the risks of soluble salt build-up.

So far as insects are concerned, it is a good idea to check the plant for mealybugs and scales from time to time. These tend to lurk in hard to see places, such as in the rosette, around the base of the leaves, or on the underside of the foliage. The sooner you discover the problem, the better. It is likely you can handle minor infestations by dipping a cotton swab in rubbing alcohol and using that to remove the insect. In serious cases, you may decide to go with a chemical pesticide. If so, check the label first to be sure that this particular chemical is recommended for the insect that you are treating.

This site needs an editor - click to learn more!


Related Articles
Editor's Picks Articles
Top Ten Articles
Previous Features
Site Map





Content copyright © 2022 by Connie Krochmal . All rights reserved.
This content was written by Connie Krochmal . If you wish to use this content in any manner, you need written permission. Contact BellaOnline Administration for details.