Guest Author - Christine Dux
Instructions for making a rug needle from a toothbrush: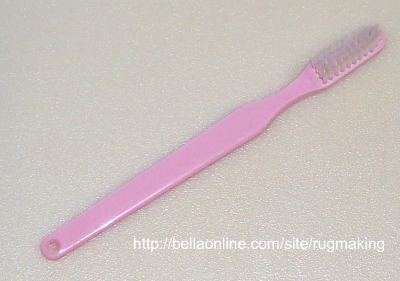 Tools and Supplies Needed:
A toothbrush with a hole in the handle
Knife
60 grit and 320 grit sandpaper and sanding blocks
Rat tail file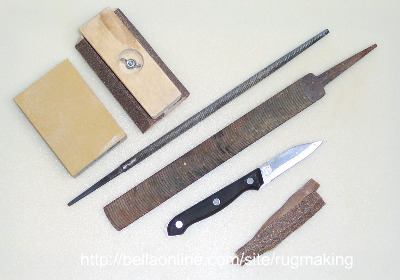 Removing the bristles:
Using a knife, carefully score the handle of the toothbrush on all four sides, just above the bristles. Purchased rug needles are usually about 4 Ĺ inches or 11.5 centimeters long. If your toothbrush is long, you can choose to score the handle a little over the standard length or you can make it longer, depending on how long you prefer your needle to be.
Holding each end of the toothbrush, bend the handle until the toothbrush breaks at the scored lines. If the toothbrush doesnít break easily, carefully use the knife to score the lines a little deeper.
Use a 60 grit sanding block to file a point at the end just cut. All four sides of the toothbrush may need to be sanded.
Use a 320 grit sanding block to do the finishing sanding to smooth away any rough edges.
Enlarge the hole of the toothbrush:
The hole will need to be large enough to fit a 2 1/2 inch or 6.35 centimeter wide folded cotton fabric strip through it. Work a rat tail file through the hole in the handle to enlarge it.
A purchased needle will have a hole thatís 3/8 Ė 5/8 inches or .95 Ė 1.6 centimeters long. Depending on the files that you have, the hole made in the needle maybe a little shorter or wider. Thatís ok, as long as the fabric will fit through the hole.
Once the hole is the desired size, take a small piece of 60 grit sanding paper, roll it up like a straw and work it around inside and around the outside edges of the hole to remove the rough edges.
Roll a small piece of 320 grit sanding paper up like a straw and use it to do the finishing sanding.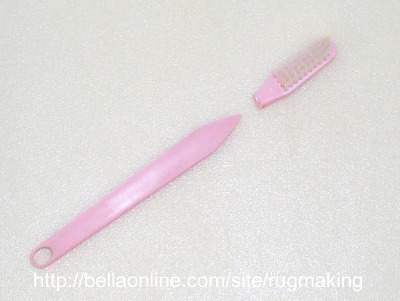 Is the toothbrush to wide?
The picture below shows the pink rug needle that I made, next to a purchased rug needle. As you can see, the pink needle is a little wider. Once I start using it, I may decide that I would like it to be a little narrower like the purchased rug needle. If you run into this, just take your 60 grit sanding block and sand the needle to the desired width, than do the finishing sanding with a 320 grit sanding block.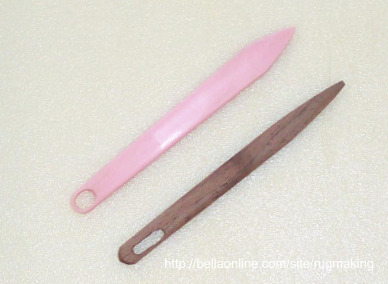 Wash and dry the needle before using, to remove any sanding dust and itís ready to use!