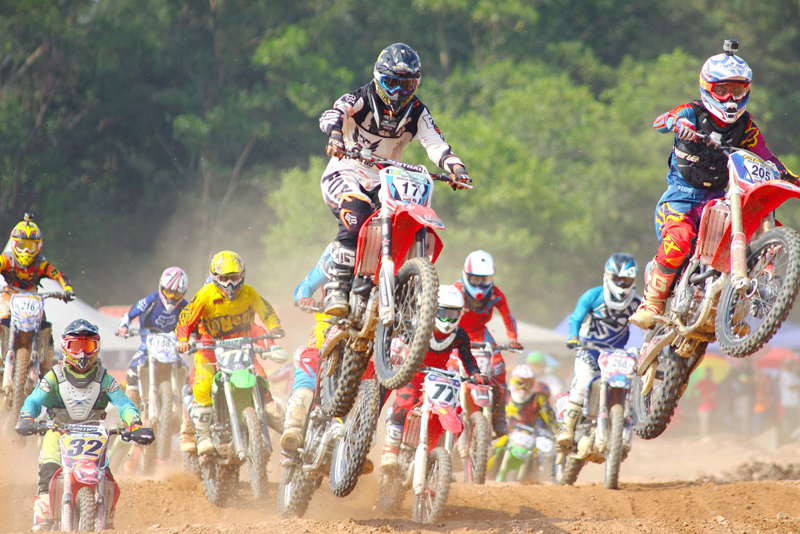 Have you ever wondered what it would be like behind the wheel of a NASCAR race car? Many of us who are die-hard fans have often thought about what it would feel like to go around the track at speeds close to 200 mph. Some of us have even thought about calling the shots behind the scenes. What would it be like to be a crew chief or a team owner. Most of us will probably never realize these dreams, but we have been afforded ways to 'try them out'.

There are racing schools where you can do anything from ride around the track with a driver, to learning to drive yourself. There are pit passes where you can go into the garage area and see what that's like. There are tours of the racing shops, where you can see the cars being made. You can get TrackPass and listen to the race scanners and hear what the drivers and crew chiefs talk about.

And then there's fantasy racing. We've all most likely heard of fantasy teams with other sports like football and basketball, where you pick players and see who has the most points at the end of the season. Fantasy racing is essentially the same thing. You pick your top drivers for the week in each race and you are allotted points depending on where your drivers end up at the end of the race. There are several different places to find fantasy racing online and there are many different types of prizes. Some sites give weekly prizes, others, just one big prize at the end. I've listed a few places where you can sign up for fantasy racing, some of them will not begin registering for the 2009 series until January. You definitely will want to check out SceneDaily.com. It's my favorite! It's a lot of fun and a way to see how good you are at picking the winners.

SceneDaily.com has a great fantasy racing program. It's my favorite. They have weekly prizes and a big prize for the top team at the end of the 35 week series. It's free to sign up and free to play. Each week you pick your top five drivers. You will have a deadline to get your selections in. They have five different groups done by alphabet. You pick a driver out of Group A, Group B etc. You then pick a number for how many drivers you think will finish on the lead lap and how many cautions you predict will happen throughout the race. They use the two numbers in case of ties in the points for each week. Each week the top team receives a prize, in 2008 the prize each week was a gift certificate for the Jeff Gordon Racing School and a 12-pack of Coke. The winner at the end of the series received a trip for two to the Coca-Cola 600, pit passes, t-shirts, roundtrip airfare and hotel accommodations, and tickets to the race of course. How's that for a great prize.
There are also several other places to play fantasy racing. Each site has different requirements, different ways to pick your drivers and different ways of scoring. You just have to pick the one that suit's the way you want to play.

At FoxSports.com you get to choose different leagues that you might want to be involved with. Sort of like picking who you want to test your wits against. You can choose people you don't know to friends and family. You can choose four drivers a week but you can't pick a driver more than five times during a segment. There fantasy racing series is divided into two segments divided by the All-Star Race. But, you might want to keep in mind that fox did not give any prizes out this year, just bragging rights. As I said it's up to you, what you want to get out of it.

There are several other places to play. Yahoo has a great fantasy racing program as well as ESPN. There are other places that you can pay a fee and play, for bigger prizes. As for me, I like the free ones. Check out SceneDaily.com, I think you will really like it. It's a great program and a lot of fun. Get your racing buddies to join up too and race your team against their's all season.
This site needs an editor - click to learn more!


Related Articles
Editor's Picks Articles
Top Ten Articles
Previous Features
Site Map





Content copyright © 2022 by Debbie Lester. All rights reserved.
This content was written by Debbie Lester. If you wish to use this content in any manner, you need written permission. Contact BellaOnline Administration for details.