Cleaning and Caring for Wool Rugs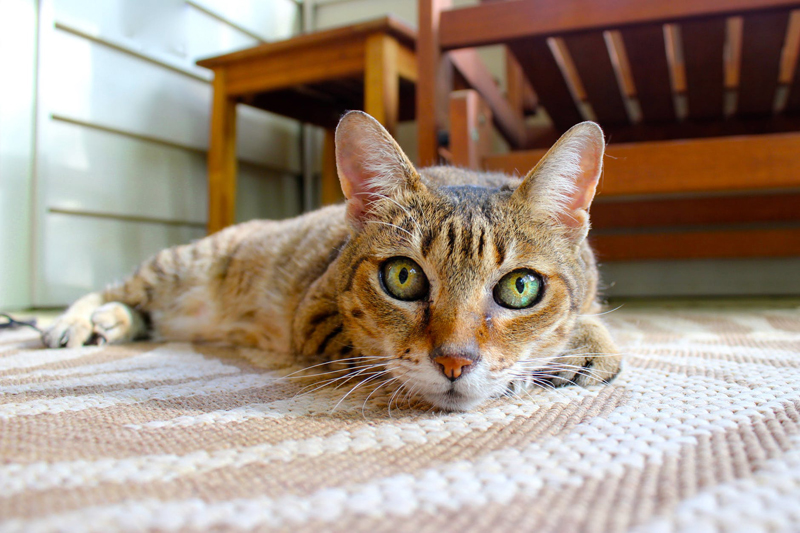 Here are some tips for cleaning and caring for wool woven and braided rugs. Includes instructions for cleaning with snow!

Storing Rugs
Rugs should be clean before they are stored, than rolled up with the right side facing inward and placed in a cool dry location.

Maintaining Rugs
To keep rugs clean, vacuum both sides on a regular basis, turning the "beater bar" off to protect the wool.

Using a non-slip rug pad will help your rug last longer and prevent slips and falls. Non-slip rug pads hold the rug just far enough off the floor to keep dirt from getting ground into the underside of the rug.

Shaking or beating rugs vigorously can damage or loosen up rugs. If you shake a woven rug, shake the rug gently from its sides, holding it by the selvages.

If one side of the rug gets more traffic or sun than another, rotating the rug on a regular basis helps it to wear more evenly.

Cleaning Wool Rugs with Snow
Here's an old fashioned method for cleaning your wool rugs.
You will need to wait for a cold day when there is a fresh "dry" powdery layer of snow. This doesn't work well if the snow is melting, "wet" or heavy.
Find a clean area in the snow to lay your rug out flat. With clean boots, walk around on top of the rug to work the snow into the crevices. Flip the rug over to another clean area of snow and repeat.
Brush or sweep the snow from the rug.
Continue repeating this process until you are no longer leaving any dirt in the snow.
I would suggest hanging your rug inside or letting it dry on a linoleum floor before returning it back to a wood or carpeted floor. If the snow is dry enough and you have brushed all of the snow off the rug, it shouldn't get wet, but it's better to be cautious than to damage your flooring.

Cleaning rugs with soap and water
I would only recommend cleaning your wool rugs when the dirt can not be removed with vacuuming. Wool naturally repels dirt, so wool rugs do not need regular cleaning with soap and water.
Some rugs can be cleaned using a gentle detergent made for wool. Use caution - wool is not always colorfast and some colors are more likely to bleed than others. Test a small spot before cleaning the entire rug.
Smaller rugs can be washed in a utility sink or bathtub.
Large rugs can be taken outside on a warm dry summer day to wash. Sweep the driveway, than lay the rug out flat. Following the instructions for your detergent, fill a bucket with the soap and water and sponge the rug clean (never scrub). Rinse well with the hose on both sides and leave outside to dry; turning the rug over occasionally and placing it on a dry part of the cement to speed up the drying process.
Large rugs are heavy when wet – this is not a one person job!

Drying Rugs
Placing a towel on the top and the bottom of the rug and pressing can help pull moisture out of the rug.
Rugs can be hung up outside, draped over a picnic table or laid out on the driveway to dry.
It's best to clean rugs on a dry summer day, when they can dry quickly. If rugs take a long time to dry, they can start smelling musty.

Spots and Spills
It would be best to devote an entire article to handling spots and spills – these are very general instructions.
The faster you clean a spot the easier it is to clean and the less likely the stain will set in. It's best not to scrub. Blot with a clean cloth than use a spot remover safe for wool and a new cloth to work at the spot. Test the spot remover on a small inconspicuous area of the rug before using it on a larger spot. Work from the outside edge of the stain towards the center so it doesn't get any bigger. Some spots, like mud, may come out easier once they have dried and can be vacuumed off. Carpet retailers often have good suggestions for removing stains.

Fresh Air
Rugs can be hung outside or layed out over a picnic table or lawn chair to air out. Wool does fade, so try to keep rugs in the shade. It's best to bring rugs in before the sun sets, so the dew doesn't make them damp and bats don't decide to make themselves at home!

Other Considerations
If you plan to get your rugs wet or damp in the process of cleaning, take into consideration where they are laying before starting. Wool is not always colorfast and can bleed onto the floor where it is laying. Some cleaners and wet or damp rugs can damage wood floors.

If you have an expensive or heirloom rug, professional cleaning is a good option. If you're not sure who to call, try calling a carpet retailer and ask who they would recommend.



This site needs an editor - click to learn more!


Related Articles
Editor's Picks Articles
Top Ten Articles
Previous Features
Site Map





Content copyright © 2022 by Christine Dux. All rights reserved.
This content was written by Christine Dux. If you wish to use this content in any manner, you need written permission. Contact BellaOnline Administration for details.