This is the third article in my series about a recycled doll. To see the first article in the series look here:
A Recycled Doll
to see the second article in the series look here:
Cleaning a Recycled Doll
In this article I will give the measurements for my "new" doll, my flea market treasure, and begin to make a new pair of bloomers for her.
Doll body Measurements
chest = 12 1/2 inches
waist = 13 inches
hips = 13 1/2 inches
arms, around = 5 inches, length = 7 inches
legs, around = 7 inches, inseam = 7 1/2 inches, waist length = 11 1/2 inches
back neck to waist = 4 1/2 inches
height = 21 inches
As you can see, her body measurement is slightly larger than American Girl type dolls and she is 3 inches taller. The clothes I will be making for her will be a little large but should still work on those dolls. It is also possible to adjust the size of the patterns by adjusting the size that you print them out at.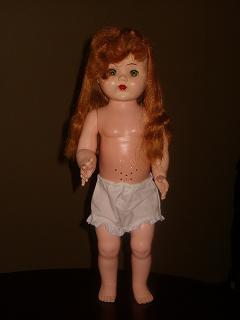 As I stated in the first article about this doll, the only piece of clothing she came with was a pair of bloomers. They were dusty, dirty and, I thought, brown with age. It turned out, after washing, they were hand made by someone who had loved her and they had been tea dyed. The fabric was very fragile so I carefully took them apart and used them as a proto-type to make the pattern for her new bloomers.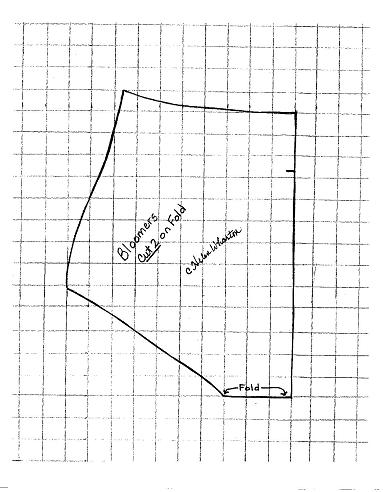 In keeping with the spirit of recycling, I made her bloomers from an old white dress shirt that my husband was going to get rid of. It doesn't require a lot of fabric, in fact I was also able to make a slip for her out of the same shirt. Any scraps of fabric that you have left over from another project will work. You may also want to include a little extra when you buy fabric to make a dress and have the bloomers match the dress. The pattern is shown on a 1/2 inch grid. This pattern is free for your personal use but you may not use it commercially.
Making and Dressing Cloth Dolls
Ebook with patterns and instructions to make 5 cloth dolls as well as chapters on general doll making techniques.The book includes 21 inch Lalena Doll, 21 inch David Doll, Bear Dolls, 9 inch Destiny Doll and 15 inch Annie Doll, all together in one handy book. 53 pages.
Making and Dressing Cloth Dolls
.