Forms of Different Cacti and Succulents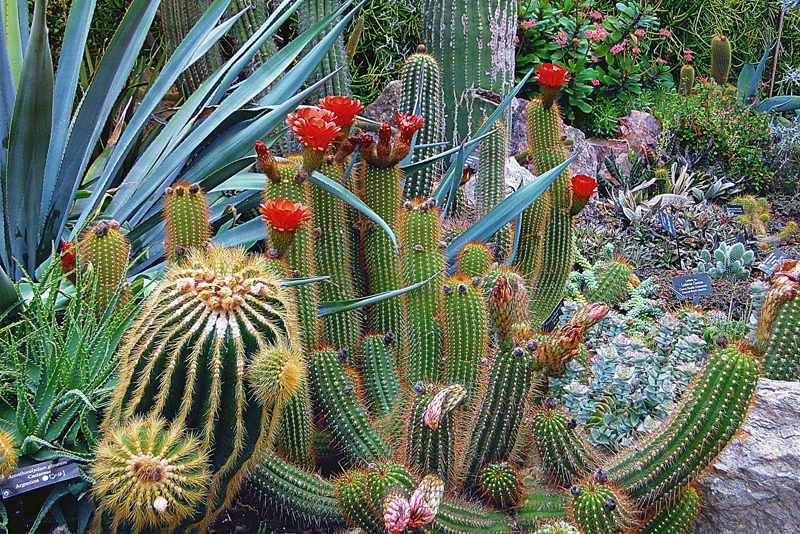 Plants have many interesting features, and each of these contributes to the overall beauty of the specimen. Most often we might think of leaves and flowers, but the form or growth habit can also make a species really attractive. Sometimes, we may want a particular form to add interest to the garden, or indoors

Let's look at some of the different forms of succulents and cacti, and various species that exhibit each of these. One of the first kinds that will come to mind is the rosette forming ones, such as Aeonium, Echeveria and Sempervivum. For the most part, the Haworthias also grow in the form of rosettes. Though it does depend upon the species, most of the foliage grows tightly together. These will often produce offsets or clumps over time.

Certain succulents, such as the Delospermas, have creeping growth habits. These tend to cover the ground or the top of the potting soil very readily. For that reason, they are often used for ground covers.

In the case of some succulents, they may take a treelike form even if they happen to be growing as houseplants. This could also be described as bushy or arborescent. An example is the Crassula or jade plant.

Some of the Aloes may have a tree-like appearance due to their trunks. However, these rarely have any branches. Instead, you'll find that most of the foliage tends to be towards the top of the plant. Usually, this will be feathery or drooping in appearance.

In addition to these forms, some plants will have a columnar shape. This shape refers to the overall outline of the plant and not necessarily to the individual leaves or stems. For example, most of the snake plants or Sansevierias have a columnar look. Except for some of the shorter varieties, these tend to have rather columnar shapes.

With regards to arching and vine-like cacti and succulents, one need not look far. Some of the orchid cactus behave this way. Anyone who has been to the Caribbean has doubtless seen vine-like cactus clambering over trees, shrubs, stone walls, and whatever is handy.

So far as cacti are concerned, it's easy to find ones with cylindrical or globular bodies. These words aptly describe many cactus species. In some cases, the mother plants form clumps around the original. Even the finely ribbed cacti can still be more or less globe-shaped, barrel-shaped, or cylindrical in outline. Cactus is also more likely to have a candelabra shape. This word is descriptive enough to identify species that fit this category.

One of the most unusual shapes seen in cacti and succulents is the cristata or cristate. Basically, this means fan-shaped with lots of different growth points. Sometimes, these develop naturally from a species or variety. Then, some gardener will notice how different looking it is, and will propagate additional ones like the original. Like a lot of cultivars, the cristata forms need to be propagated vegetatively rather than by seed.

Typically, Opuntias with flat pads have what is called a monstrose growth habit. All this means that the pads grow in the form of a ladder with each successive pad giving rise to additional pads. This also happens with some of the Cereus. But in that case the growth tends to be tightly packed together more or less in a mass.

Depending on the species, the Euphorbia can take different forms. Some South African species are basically globular. On the other hand, others may be almost bushy with angled spiny stems along the entire length of the central stem.

In their native lands, the Kalanchoes can get quite large and bush-like. Usually as house plants, they stay rather small. Yet, the overall shape remains the same.




This site needs an editor - click to learn more!


Editor's Picks Articles
Top Ten Articles
Previous Features
Site Map





Content copyright © 2022 by Connie Krochmal . All rights reserved.
This content was written by Connie Krochmal . If you wish to use this content in any manner, you need written permission. Contact BellaOnline Administration for details.