Additional New Succulents for 2005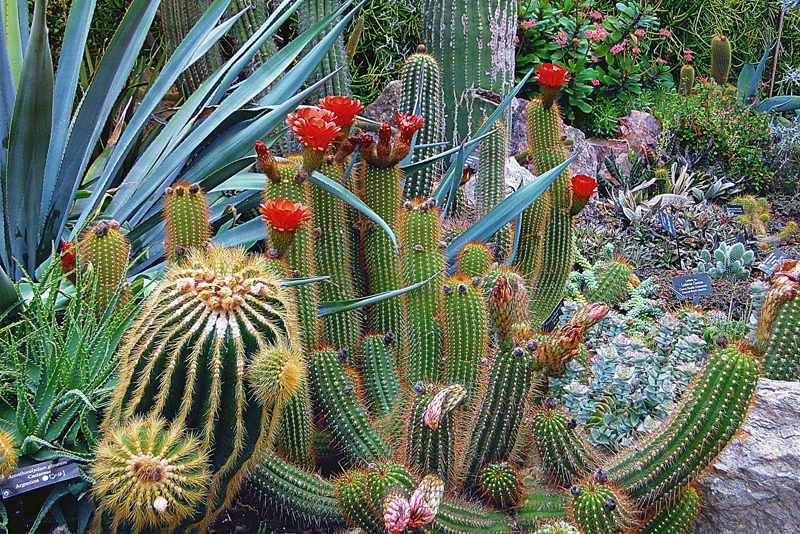 There were too many succulents for 2005 to fit into the last article, so I'm featuring additional ones here.

Proven Winners is adding quite a few new succulents to its 2005 lineup. This brand is widely available at garden centers and nurseries. You can easily identify them by the colorful tags that saw PW. For 2005, there are several new Euphorbias from Proven Winners. Euphorbia Kalipso is a hybrid. This outstanding plant is suitable for full sun to partial shade. It has a neat, rounded, ball-like, extremely bushy growth habit, and looks a lot like boxwood. It is about 1-1½ feet in height. Hardy in zones 4-11, this cultivar is noted for its lovely moss green foliage. Its yellowish-green to chartreuse blossoms appear in bunches that are borne well above the leaves. There is no need to deadhead because the new growth later conceals the drying flower stalks. It grows well in full sun and partial shade.

Also new from Proven Winner is Euphorbia amygdaloides Efanthia Improved. This evergreen hybrid is also suitable for zones 4-11. It is an especially good choice for winter gardens, for during the cool months the foliage becomes burgundy. Efanthia Improved grows well in full sun and partial shade, and has a compact, bushy growth habit with smooth foliage. The bright green blossoms open during the spring. Efanthia is noted for its non-curling, non-drooping foliage. The plant is a little over a foot in height.

Sedum 'Garnet Brocade' is another Proven Winners plant that is worth mentioning. This new variety is excellent for mixing and matching with other succulents. It is almost 1½ feet in height. Preferring full sun, this hybrid has glowing, burgundy bronze colored leaves. From June through October, the burgundy blooms open in clusters. This is recommended for zones 3-11.

An outstanding new aloe is being introduced by EuroAmerican Propagators (This company is wholesale only, but you can find their plants available at local garden centers and nurseries). It is part of their companion plants line. Aloe polyphylla Drakensburg was found in the Drakensburg Mountains of South Africa. This has withstood temperatures as low as 14 degrees Fahrenheit, and is recommended for outdoor gardens only in zones 8b-11. Elsewhere it can be grown as a pot plant. This should be very popular among plant collectors specializing in succulents. Like all aloes, it must have a very well-drained soil. It does well in full sun and partial shade. This slow growing plant ranges from 1½-2 feet in height. The foliage is produced in spiral form that becomes even more beautiful as the plant matures.

EuroAmerican is also offering a new variety of Euphorbia. Euphorbia pithyusa Faded Jeans is only hardy for zones 8-11. A little over a foot in height, Faded Jeans has a mounding growth habit. The distinctive blue foliage is small and needle-like, which is a little different than most Euphorbias. It is recommended for full sun and partial shade.

In its Fall Magic series, EuroAmerican is featuring a new Sedum. Sedum Carl is being introduced from Europe. Suited to zones 4-11, this is an improved Autumn Joy. Reaching about 1½ feet in height, this has lovely gray-green foliage, and produces characteristic dark pink flower clusters during the late summer through fall. This plant does best in full sun.

From renowned plantsman Barry Glick comes a new Euphorbia hybrid that resulted from an accidental cross between Euphorbia polychrome and Euphorbia griffithii Fireglow. He has named the new plant Euphorbia Jessie. It is known to be hardy to zone 5, and could possibly withstand the colder temperatures of zone 4. Recommended for full sun or shade, Jessie combines traits from both of its parents.

This site needs an editor - click to learn more!


Editor's Picks Articles
Top Ten Articles
Previous Features
Site Map





Content copyright © 2022 by Connie Krochmal . All rights reserved.
This content was written by Connie Krochmal . If you wish to use this content in any manner, you need written permission. Contact BellaOnline Administration for details.