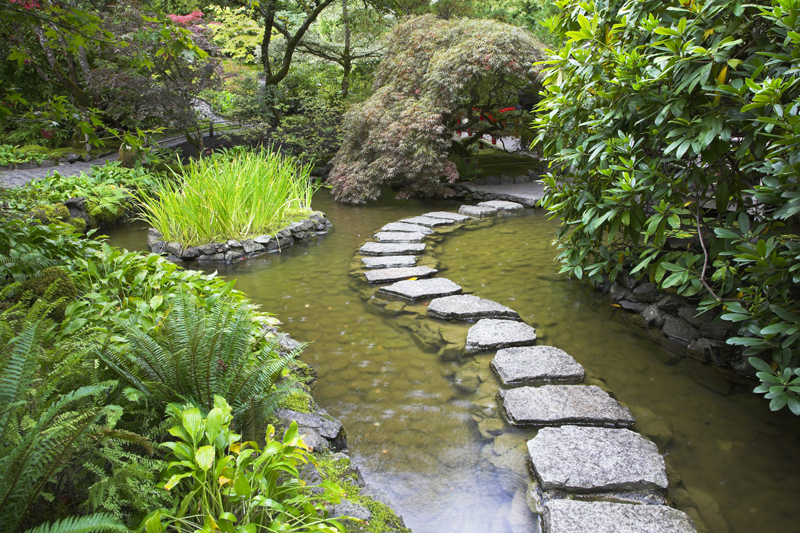 This past summer I decided I needed edging for some flower beds. I wanted something to complement the house's stone foundation. When making that decision, I realized just how important garden details can be.

When choosing garden accents and ornaments, consider both the color and texture of the material. For example, containers and paving materials may have gloss, matte, antiqued, moss, or faux-painted finishes. The preferred one would complement or contrast the other garden materials.

Fences can be finished in solid colors. Or a way to make a small garden seem even bigger is to paint murals or tromp d'oeil depicting garden themes.

True antique urns and statues as well as very good reproductions are best left unwashed to give the impression they are freshly dug from an archaeological site. Damaged urns with missing chunks and statures missing parts look even more authentic than repaired ones. The latest trend in Europe is sure to catch on in America. They are half-burying reclining statues to their heads so that only the head, neck, and calves show.

Romans used clay olive jars as planters for trees and shrubs by 100 A.D. Some of the urns were found in the ruins of Pompeii. Over time, Tuscan urns gradually became so beautiful due to the ornamental details and shapes that they were used as garden ornaments rather than containers.

During the Renaissance, urns became even more decorative as everything else did at that time. Some believe Raphael served as an apprentice to a potter and painted dishes and vases before he became an artist.

Urns were mass-produced through mechanization only when the Industrial Revolution arrived in the mid-19th century. Then, the middle class could also buy and enjoy urns, pots, and similar garden ornaments.

Sundials are often associated with herb gardens. For many years these were the timekeepers until watches were created. The very small portable sundials even served as pocket watches in George Washington's time. The earliest known sundial dates from Egypt around 1500 B.C. Both the Greeks and Romans, and the Anglo-Saxons all used sundials. These were relatively simple until the 17th century when they became artistic ornaments. They were even installed on the facades of buildings. In the 16th century, they became horizontal garden ornaments. They were originally rate in the American colonies due to cost.

Paving materials and stepping stones can be designed to complement garden features. Cost need not be a factor for you can dress up ordinary concrete steps, paving, and stones with paint.

When it comes to choosing details for outdoor rooms, look to Australia's leading landscape designer, Jamie Durie, who is host of Australia's most popular garden show. He is author of "The Outdoor Room." This is a Sue Hines Book from Allen & Unwin. In this title, he offers innovative, cutting edge designs, and guides the reader through every step of the process. This down-to-earth book features everything you need to know in order to design the outdoor room of your dreams. The author presents simple projects and inspirational projects with drawings showing how these are created. It is lushly illustrated with over 200 color photos by Simon Kenny.

"Patios and Verandas" is part of the Elle Décor Portfolios Series from Filipacchi Publishing. Whatever your situation may be, you'll find inspiring ideas in this book. These very special gardens were selected and photographed by journalists from Elle Décor magazine. They have access to some of the most beautiful private homes and gardens in the world. The book features exceptional terraces, verandas/covered courtyards, and greenhouses/patios. For each example, they explain what the designer has created, and highlight the different garden features that are included. By using these examples, readers can transform a ho-hum patio or veranda into a showcase.

Often, gardeners create the rest of the garden, and then at the last moment decide to add other features, such as walkways or stonework. The result can be a hodgepodge. If you're doing a landscape, don't let this happen to you. Start right with "Walks, Walls, and Patios-Plan/Design/Build" from Creative Homeowner. This authoritative how-to guide walks you through all the steps so that your entire landscape will look seamlessly beautiful. There are color-illustrated, step-by-step instructions. This guide features all the technical information you need for the most popular landscape projects. It features over 500 photos.



Editor's Picks Articles
Top Ten Articles
Previous Features
Site Map





Content copyright © 2022 by Connie Krochmal. All rights reserved.
This content was written by Connie Krochmal. If you wish to use this content in any manner, you need written permission. Contact Connie Krochmal for details.