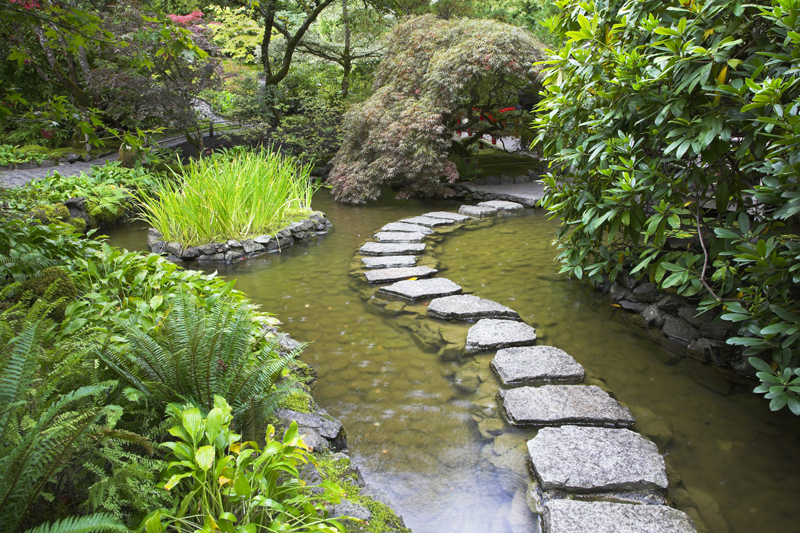 During the winter months our interest shifts from outdoors to indoors. By choosing the right houseplants, we can create a virtual tropical landscape indoors.

Gardeners are no longer content with the common houseplants. Though pothos and the old standards are still around, people are hankering for something new. Take size, for instance. Now consumers prefer fully developed plants, and are willing to pay more for them.

At the same time, dish gardens or combination plantings are in great demand. These combos are most often grown in shallow, decorative pots. The containers may be fancy ceramic pots or wicker baskets.

Heirloom plants are all the rage outdoors. A similar thing is happening inside. An example would be African violets, which were one of my mother's favorites, and holiday cactus-Christmas and Thanksgiving ones. Of the foliage plants, old fashioned ones like the snake plant (Sansevieria) and zebra aphelandra are making a comeback.

One thing that hasn't changed is the desire for a quality product. Gardeners want these indoor plants to be around for awhile, so they're looking for healthy plants that will last. When given good conditions indoors and cared for properly, even a seasonal flower like the poinsettia or cyclamen can be around for months.

However, one trend speaks poorly for indoor plants. Experts say the new buildings going up now are sometimes too dark for plants. To save money, fewer lights are used and they're often operated by motion detectors, meaning the lights turn off automatically when everyone leaves the room. Foliage plant experts are attempting to breed houseplants that will tolerate less light. For me that's good news since most of my windows aren't suitable for plants.

One foliage plant that thrives in minimal light is the Kentia palm. Almost foolproof, the Kentia palm, a Victorian favorite, is a slow growing plant that even tolerates fluctuating temperatures.

Today's indoors gardeners are working longer hours than ever and feel stressed out. As a solution, you can buy houseplants packaged with CD's. The CD's have meditative-moods music designed to bring relaxation to the weary. Sold under the Primo-Plants brand, this makes a wonderful winter gift.

Plant breeders are well aware of the problems indoor gardeners have. That's why they're breeding better, disease-resistant houseplants. For example, the Afternoon Lagoon series includes ten varieties of Fittonias. These compact, extremely hardy plants thrive in low light.

Ficus is a very popular houseplant. But they're prone to leaf drop. Move them, or forget to water, and they may lose most of their foliage in the blink of an eye. For that reason, the Ficus of the Future group may be the solution. This high quality brand includes Rianne, with a naturally twisting stem that resembles a bonsai.

Of course if you're lucky enough to have patio or glass doors with a southern exposure, you can grow many kinds of plants, such as the new and exotic Chinese yellow banana (Musella lasiocarpa). Once thought to be extinct, plant explorers found survivors in the rugged Himalayas of Southwest China. They were able to propagate the plants by using the tissue culture method. This involves taking a few cells from the original plant and growing it in glass flasks under sterile conditions. So the original plants they discovered in China weren't dug. The Chinese yellow banana has intriguing, golden yellow, dinner-plate size flowers. The blossoms last for months. While the flower continues to develop, the mother plant dies. Don't worry, this is normal for banana plants. They always produce a new offshoot that becomes a new plant. Fast growing, the Chinese yellow banana reaches about five foot tall. The ideal place for this lovely plant would be under a sunny skylight or in front of a patio or French door.

A foliage plant I'm excited about is the Tricolor aglaonema. Sometimes called Chinese evergreen, aglaonemas usually have green or gray-green leaves. The Tricolor is truly outstanding. The first thing you'll notice is the reddish-pink on the veins of the leaves and the stems. The foliage is also accented with yellow. A great plant for low-light conditions, Tricolor is bound to attract attention. It is small enough to fit into a six-inch pot.

With all these novel houseplants, weathering winter won't be a problem for indoor gardeners.



Editor's Picks Articles
Top Ten Articles
Previous Features
Site Map





Content copyright © 2022 by Connie Krochmal. All rights reserved.
This content was written by Connie Krochmal. If you wish to use this content in any manner, you need written permission. Contact Connie Krochmal for details.