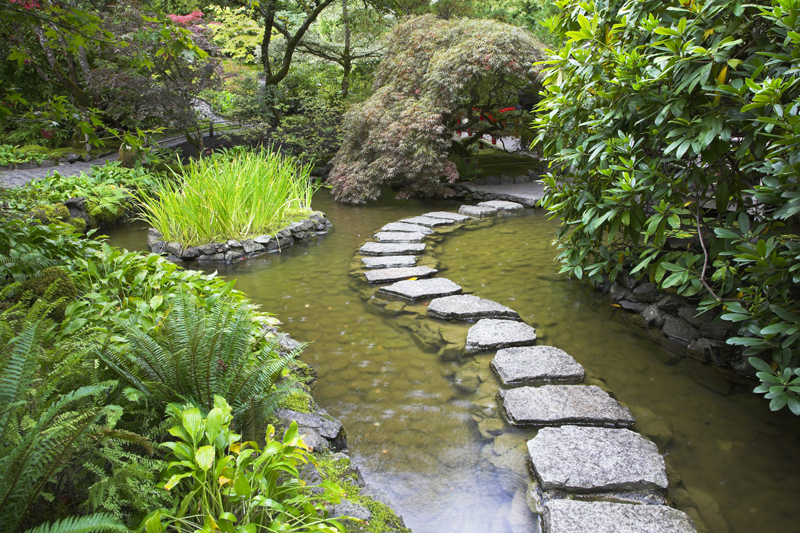 When spring arrives, I get all excited about my landscaping projects. But once the summer weather arrives my enthusiasm wanes. I simply don't like working in the heat.

What can we do to keep garden work to a minimum during the summer? What definitely helps is to create easy care landscapes with heat-loving plants. This is especially important for those living in the South.

One of my favorites happens to be the moss rose or portulaca. Its growth habit makes it perfect for hanging baskets and containers. The pendulous stems hang gracefully over the rims of the pot. The thick succulent leaves mean its less likely to wilt and dry out. This sun-lover comes in a rainbow of flower colors, so take your pick. Depending on the variety, they may be singles or doubles. With its neat mounded shape, moss rose is ideal for ground covers. However, keep in mind that it is an annual.

If you're wanting a drought-resistant flowering perennial for a ground cover, look for the delospermas. There are several species available, and the flower colors may vary from yellow to purplish-pinks. These are originally from South Africa.

Lantanas can be grown either as annuals or perennials. It usually blooms the first year, making it suitable for annual flower beds. As a perennial, it can be several feet tall with an equal spread. Many cultivars are available, so choose the ones with the flower colors that match your color scheme. They usually bloom all summer long. The blossoms look sort of two-toned because the older flowers within a cluster can change color as they age.

In general, daylilies tolerate heat and humidity very well. There are so many daylilies available, so it may be confusing. Before buying, check out the award winning All-American daylilies. These are selected by the All-American Daylily Selection Council. Since 1985, additional winners have been added to this lineup each year. There are now twelve. These varieties have withstood the test of time. They've survived trials in real-life gardens under various growing conditions all over the country. For 2005, the new winners are Red Volunteer and Miss Mary Mary.

The All-American daylily winners should be available in local stores. In case you haven't heard there is a new daylily disease, a rust that attacks some cultivars. Since fungicides don't eliminate the disease, its best to choose resistant ones.

When you go to the garden center, what other heat-tolerant plants should you look for? You're safe in buying any of the Athens Select line. These plants are tested and selected at the University of Georgia at Athen's trial gardens. The group now includes many kinds of plants.

My biggest summer chore is watering. By the time I've finished watering everything, it's time to start over again. That's why I'm such a fan of xeriscaping. Xeri simply means dry, so xeriscaping reers to landscaping with drought tolerant plants and methods. Of course it helps if plants are grouped together according to their water needs. Mulching goes a long way in minimizing the need for supplemental water.

Another reason for xeriscaping is to conserve water. Serious drought continues to hang on to many areas of the West, including Colorado. If you're having to pay for water, xeriscaping will also save you money in the long run.

When creating easy-care landscapes, you minimize your garden chores. Now there's a no-nonsense guide to the subject by renowned garden write Peter McHoy. "The Easy Low-Maintenance Garden" is part of Southwater's Garden Know-How Series. This invaluable book provides easy to follow, color-illustrated, step by step directions for designing and furnishing your easy care garden. It covers everything from plants and paving to plant care. Follow McHoy's advice, and you'll reduce your garden chores for sure.

For regional gardening guides, the "Rocky Mountain Garden Survival Guide" by Susan J. Tweit from Fulcrum Publishing, is tops. Gardeners in the area will find quick, easy to locate garden tips. It explains how to deal with extreme weather, climate change, wildfire, the area's soils, and plant pests in a reader-friendly style. The author provides the dates of the last and first frosts as well as suggested plants for different situations.

Southern gardeners will welcome "The Southern Garden Advisor" by Barbara Pleasant, published by Cool Springs Press. Those new to gardening in the South will especially benefit from this month-by-month guide. Unlike most almanacs, this one is intended for use year after year. This book is chock-full of information Southern gardeners need to know. In addition, it's a treasure trove of fascinating facts about the natural world. The lists and tables are especially helpful.

By adopting xeriscaping concepts and choosing heat-proof flowers, your garden should thrive in the heat and humidity of summer.



Editor's Picks Articles
Top Ten Articles
Previous Features
Site Map





Content copyright © 2023 by Connie Krochmal. All rights reserved.
This content was written by Connie Krochmal. If you wish to use this content in any manner, you need written permission. Contact Connie Krochmal for details.