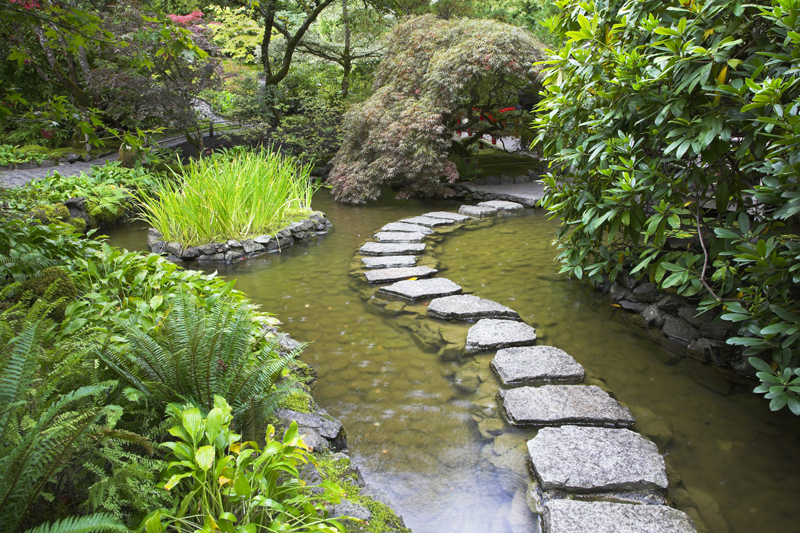 Of all the ornamentals, bulbs are probably the most rewarding. They are so easy to grow, and add so much beauty to home landscapes. Whether we grow them in flower beds and borders or container gardens, they deserve a place in garden plans.

One of the great pleasures of spring is looking forward to the spring-flowering bulbs making their appearance.

The once rare Siam tulips, really a tropical ginger, are now widely available. Interplant these striking bulbs with their exotic-looking pink blossoms in containers alongside summer annuals. In warm areas like zone 11, they are winter hardy.

Another relatively new bulb, Pardancanda, is a hybrid between the blackberry lily and an iris.

Escargot, a relatively new Begonia rex, is immune to disease and neglect. Unlike the begonias used as summer bedding and container plants, this one can be grown year-round.

For planting around water gardens, and fountains, and other places where you need a focal point, the tender calla lilies are an excellent choice.

Dahlias will remain my favorite summer bulb. Alpen Gardens is not only a great source for dahlias, but also dahlia seed and books on growing and drying dahlia flowers. If you're looking for bargains, check out their special collections.

Spring potted bulbs have been gaining popularity for the last five years, as people often need instant color and don't have the time to wait an entire season. For that reason, they will often buy potted bulbs from nurseries and greenhouses.

Of the award-winning bulbs, the All-America Gladiolus Selections winners include Mr. Carl Fisher, named for the breeder. Produced on 2 ½' tall flower stalks, the gorgeous blooms are over 5" across. Its ruffled petals are a blend of white, cream, red, and yellow.

Regarding caladiums, I haven't heard anyone say whether the 2004 hurricanes that hit Florida affected the bulb supply. These bulbs like well-drained conditions, and areas of the state experienced significant flooding, which may have damaged the crop.

When choosing bulbs, look for drought-resistant ones, such as agapanthus. This is also known as African lily. It is winter hardy wherever temperatures don't fall much below 25 F. Elsewhere it is a wonderful choice for container gardens.

Avoid buying cape tulips (Homeria spp.), a South African native, for USDA is considering banning it as an invasive species. It is already banned from sale in other countries.

Bulbs are among the most carefree plants to grow. And their dainty beauty often belies the fact they are sturdy, tough plants. Their tolerant and easy nature is made clear in "Gardening in the Humid South" by Edmund N. O'Rourke Jr. et al, published by Louisiana State University Press. This guide is a godsend to regional gardeners in the area. Based on their life's experiences as gardeners and their professional expertise as horticultural professors, the authors provide the nitty-gritty that will help gardeners succeed. If it isn't in this book, you don't need to know it. They cover everything from bulbs and coping with frosts and freezes to gardening techniques and choosing plants. Though they emphasize organic gardening methods, they let readers know this isn't always possible in the Southern climate.

"Tough Plants for Southern Gardens" by Felder Rushing from Cool Springs Press focuses on plants that have stood the test of time. When you want a low maintenance garden, this is the book for you. The author devotes a chapter to each plant group, including heat-tolerant bulbs and container plants. For each kind, he provides an introduction with some basic guidelines. In addition to a quick reference list of the recommended plants in each chapter and other helpful plant lists, he provides individual color-illustrated profiles of the main species.

Chances are you want the bulbs with the most beautiful flowers for your landscape. From the hundreds of kinds that are available, how can we choose? A great place to start is "Best Flowers to Grow and Cut" by David Joyce, published by Frances Lincoln. Known the world over for his wonderful garden books, this renowned plantsman shares his gardening experience with readers in this thoroughly useful title. He explains how to choose the plants, and how to create memorable landscapes using flowering plants. He has grouped then into helpful categories, such as color and flower shapes. This makes the selection process simple. This remarkable book features over 250 exquisite color photos. In addition, he recommends their use as cut flowers.

Give consideration to tough, easy care plants like bulbs.




Editor's Picks Articles
Top Ten Articles
Previous Features
Site Map





Content copyright © 2023 by Connie Krochmal. All rights reserved.
This content was written by Connie Krochmal. If you wish to use this content in any manner, you need written permission. Contact Connie Krochmal for details.