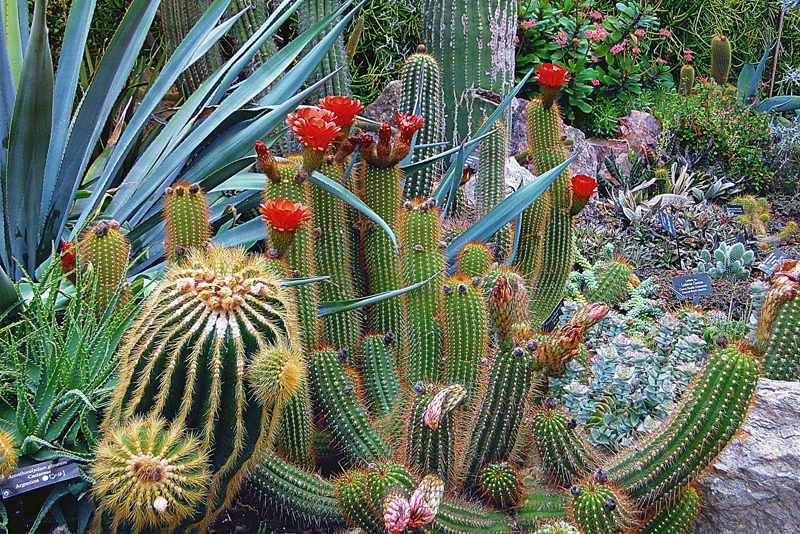 Some may know this plant by its other common name, the century plant (Agave americana).

Native to sub-tropical areas of North America, this plant is found in arid and semi-arid regions. It is also cultivated in Mexico as the source of an alcoholic drink and as a source of fiber.

Though the plant does take a long time to bloom, it doesn't really deserve to be called the century plant. It produces a flower stalk when it is about ten years old, not a hundred. But common names do tend to stick.

This plant is hardy to about -5 degrees Fahrenheit. It thrives in both extreme heat and drought.

Preferring a limestone-rich soil, American aloe requires full sun. So far as soils are concerned, it may exhibit some degree of salt tolerance. It thrives on poor, sandy soils that are common in the Southwest.

This plant is considered an herbaceous perennial. It can reach 6½ feet in height before it develops a flower stalk. The gray, rigid, tough leaves are around 3-6 feet in length and about 8 inches wide. There are spines along the edges. The foliage can have purple dots.

Once the plant finishes blooming, it will die. However, pups or baby offsets will be produced around the base of the plant just as hen-and-chicks do. Normally, it is best to remove these before the flowers actually open.

Now for the flower stalks. This develops very quickly, and reaches its mature height in no time. Because these stalks can be 25-40 feet tall, this isn't a plant for small properties. It would simply overwhelm small gardens. The flower stalk is loaded with yellowish-white to greenish-yellow densely crowded blooms, 2½ inches across. These are composed of six segments that are fused in the shape of bells. Particularly fragrant at night, these attract night pollinators. Normally these blossoms open during the summer months.

In addition to the ordinary century plant, several varieties of this are available. These are especially suitable for landscape purposes because of their smaller size.

Agave americana medio-picta is the yellow form. This has a large yellow stripe running through the center of the foliage. Younger plants may have red teeth along the edges of the foliage.

Agave americana medio-picta alba is the white form. It features a white stripe instead of yellow.

These attractive plants are used for foundation plantings, ground covers, flower borders, and xeriscapes. Because these two forms tend to be smaller, they are also often used in container plantings.

This site needs an editor - click to learn more!


Editor's Picks Articles
Top Ten Articles
Previous Features
Site Map





Content copyright © 2023 by Connie Krochmal . All rights reserved.
This content was written by Connie Krochmal . If you wish to use this content in any manner, you need written permission. Contact BellaOnline Administration for details.