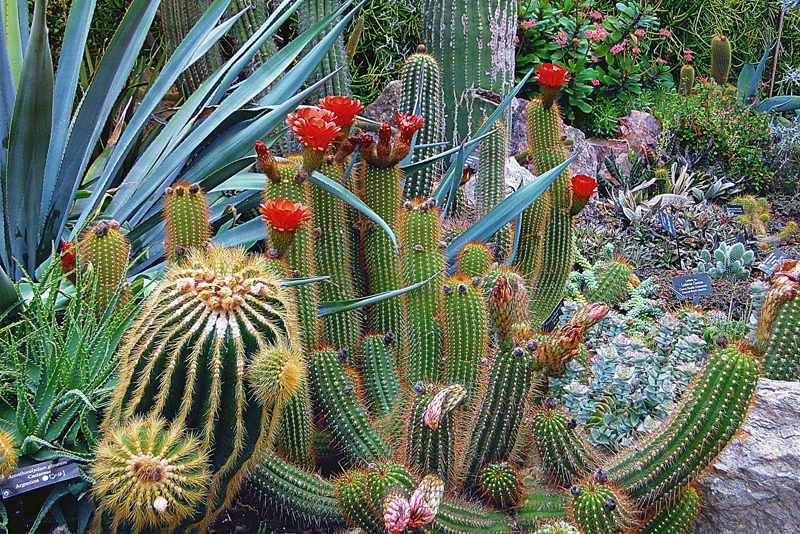 Though there are perhaps fifty or so species of prickly pears in America, one of the most wide spread is Engelmann's prickly pear. This is also called cow's tongue cactus, cow tongue prickly pear, prickly pear, prickly pear cactus, and cactus apple.

Its range extends along the Gulf Coast of Mississippi and Louisiana to Oklahoma and Missouri through the Southwest from Texas to California, Utah, and Nevada on into Mexico. Visitors will find these at the Organ Pipe Cactus National Monument and the Saguaro National Park in Tucson.

This adaptable species grows in various kinds of habitats to over 4000 feet in elevation. It thrives in almost any well drained soil. Like all opuntias, it requires full sun. This is hardy to the low teens.

Like all the prickly pears, these have flattened, oval to round pads or joints. These joints are in fact constricted areas of the stem nodes.

This prickly pear produces true leaves. However, these aren't what we ordinarily think of as foliage. These emerging leaves appear during the early spring as very small, conical growths on the new growth of the young stem. They remain on the plant for only a short time before they fall.

There are various forms or types of this plant with too many to describe. Here is a general description that pretty much fits all of them. This large, upright cactus can be around four feet or more in height. It tends to form spreading, large clumps up to 15 feet in width.

Its joints have tan or whitish spines. In rare cases, they are darker. These spines are spaced about 1-1½ inches apart. The individual pads are about ten inches in length. Its blossoms may appear from spring to early summer. These emerge from around the edges of the joints. They're about three inches across, and vary in color from yellow to various shades of red and orangish-red. These funnel-like blooms have lots of petals surrounding the floral tube.

Eventually these blossoms will give way to luscious, edible fruits. Egg-shaped, these fleshy treats are up to an inch across and three inches or so in length. Starting out green, they later ripen to purple. However, they will need peeled before they're eaten. They can have almost imperceptible spines on the outer skin. These fruits are made into delicious prickly pear jams, jellies, and wine. They're also candied.

In the landscape, Engelmann's prickly pear is often used as an accent or xeriscape plant since it is very drought tolerant. This is also recommended for barrier plantings. For example, put them between property lines or near the house in front of windows where you want to discourage thieves.

Engelmann's prickly pear is very easy to maintain. Its need for fertilizer, water, and care are minimal. There is a downside to these plants. As with cotoneaster and barberries, it is hard to remove trash and leaves that get stuck around the base of the plants. Long-handled tools are best for this chore.

These plants are easily propagated by using cuttings. Some people also use seeds.

Engelmann's prickly pear is a very useful plant. Nopals are the young, tender pads that are cooked and eaten. They're a favorite in Mexican cuisine.

Ranchers use torches to burn the spines off the joints so that cattle can browse on the plants. That brings up an interesting point. This species is becoming very common on rangelands because the seeds spread in the manure after the cattle are fed the plants.

This is one of the prickly pears that can be used to produce cochineal. This natural dye is extracted from the bodies of a special mealy bug that lives on the plants. This very colorful dye is now used in some foods. At one time, cochineal was an important crop in the New World. But this became less so with the advent of artificial dyes.

This site needs an editor - click to learn more!


Editor's Picks Articles
Top Ten Articles
Previous Features
Site Map





Content copyright © 2023 by Connie Krochmal . All rights reserved.
This content was written by Connie Krochmal . If you wish to use this content in any manner, you need written permission. Contact BellaOnline Administration for details.