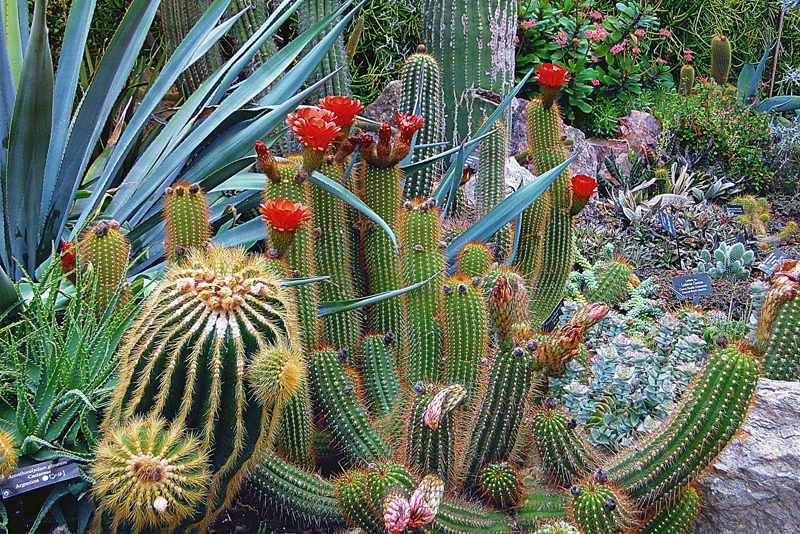 Saguaro is the signature cactus of the American Southwest. This plant is also known as pitahaya, sahuara, and giant cactus.

It is only native to a restricted area—California and Arizona. Naturally, one would expect to find it in the Saguaro National Park in the Sonora Desert near Tucson. It also grows in the Organ Pipe Cactus National Monument in Arizona.

Saguaro is unique among cactus in many respects. First, it is one of the world's largest cacti. Secondly, it has a tree-like shape. In fact, it is frequently referred to as a tree. Finally, it is one of the slowest growing cactus species. At about the rate of one inch per hear, this can grow to be
about thirty feet tall over a century. By the time it reaches the age of 250 years, it may be 60 feet in height.

Saguaro is a very finicky plant. For that reason, it is best grown outdoors as a landscape plant within its native range, or where its exacting conditions can be met. Anywhere the rainfall exceeds ten or so inches per year is very iffy for saguaro. In addition, it requires a rather alkaline soil with a pH of between 6.5 and 9. It is adapted to different textured soils. However, it can't tolerate soils with high salinity.

It is suitable for zones 9 and 10 where the growing season is about eight months long.

Be extremely careful when buying saguaros that were harvested from the wild. These should be sold with identifying tags indicating they were dug as part of a plant rescue. These plants are endangered, and cactus poaching is a serious crime.

Saguaros are typically about 40 to 60 feet in height and about a foot in diameter. They have a spread of about 8 feet. Eventually, these columnar plants develop several arms. The stem contains around twenty accordion-like pleats. These are designed to expand and absorb water when it rains.

Saguaro blooms during the spring. The white blossoms have colorful yellow to orangish-red centers. These open during the night, and are attractive to migrating bats. They remain open until the following afternoon. Butterflies and other wildlife are also attracted to the flowers. A single plant can have perhaps a hundred blooms that open over a month's time. This plant is extremely drought tolerant, and can still bloom even if it receives only an inch of rain per year.

The fruits ripen to brown during the fall. These are highly regarded as an important food for Native Americans. They use the entire fruit, including the seeds that are ground into a meal. These fruits are unusual for they contain a greater number of seeds than one can imagine—four thousand or so. These would normally be spread to new territory in droppings of wild animals that feed on the fruits with the bats being an example.

In fact, experts say the bats and the saguaro co-evolved to be interdependent upon each other. The plants provide these mammals with high-energy foods, like nectar, pollen, and fruits. In return, the bats pollinate the flowers and spread the seeds.

For its gigantic size, the saguaro has a very short taproot, generally a few feet. Radiating out from this root are lots of secondary roots.

Saguaro is propagated only by seeds. Judging from the high rate of seed production, one can assume that the survival rate of new seedlings must be extremely low. In general, the lower the seed production of a plant, the higher the rate of seedling survival. The best results are when saguaro seeds happen to land in a relatively cool, moist spot where another plant can provide it with some protection from the hot, drying sun.


This site needs an editor - click to learn more!


Editor's Picks Articles
Top Ten Articles
Previous Features
Site Map





Content copyright © 2023 by Connie Krochmal . All rights reserved.
This content was written by Connie Krochmal . If you wish to use this content in any manner, you need written permission. Contact BellaOnline Administration for details.