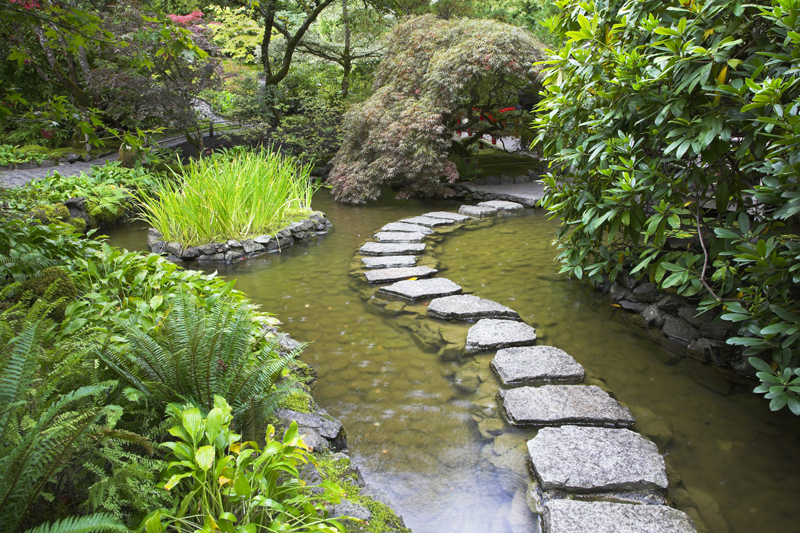 For landscapes during the spring and fall months, the fuchsia is unmatched. This Victorian favorite came into cultivation in Europe in the late 1700's. In some parts of the U.S. it can be grown outdoors as a shrub. But I'm most familiar with the ones grown as containers.

These plants thrive in the relatively cool temperatures of spring and fall, and reward the gardener with pendant blossoms in a wide array of colors.

My introduction to fuchsia was rather casual when I bought one in a hanging basket to hang outside my kitchen entrance. During the spring and early summer, the plant bloomed beautifully, and slowed down when the weather got really hot. When fall came, I decided what the heck. Maybe it was worth saving indoors. The outdoor winter temperatures in upstate New York sometimes reached -15 degrees Fahrenheit. So I felt pretty sure it wouldn't survive outdoors. When I hung it under the skylight in the upstairs bath, the plant burst forth into bloom and was a sight to behold. That experience taught me that it is suitable as an indoor plant as well as being suitable for outdoor hanging baskets during the frost-free months. The hardiest fuchsias-Fuchsia magellanica and its hybrids- will only survive outdoors from zones 6b-7.

Following that introduction, I looked at nurseries and garden centers for the ones with small flowers. I'm not a fan of the large-flowered, overbred ones.

Named for Dr. Leonhart Fuchs, an eighteenth century German herbalist, fuchsias are generally from Central and South America. Most prefer cool, shady, moist situations, but some are more tolerant of sun than others. Given the right conditions, they'll thrive and produce masses of blooms beginning in spring. Although some are reportedly deciduous, mine behave as evergreens for the most part.

With perhaps a hundred species and well over a thousand named cultivars of Fuchsia x hybrids, the problem is limiting yourself to your favorites. Some cultivars are refined, while others are like flamboyant as flamenco dancers. Ranging shape and size, the pendulous blooms are like dazzling jewels. The tubular sepal and the bell-like corolla, consisting of petals, are often in contrasting colors. Blossoms can range from one-fourth inch in length to eight inches or so. The grandifloras are noted for their extremely large, showy blooms. Hummingbirds prefer single blossoms with four petals, so that's what I grow. Semi-double fuchsia flowers have five to seven petals, and the ruffled doubles have eight or more. Examine them in detail if possible, as every part tends to be colorful. The elongated pistils and stamens are often bright pink. Some even have blue pollen.

Blooms open in pairs or whorls from the leaf axils and the tips of the stems. Most flower buds are on the new growth.

Fuchsia leaves, occurring in pairs or whorls, are lance shaped. Very attractive, the toothed foliage is often gray-green or medium green. Exceptions are variegated ones, such as the gold-leaved fuchsia (F. magellanica 'Aurea'). Everything about this elegant cultivar is petite. Aurea has dainty, golden yellow foliage, dramatic reddish stems, and eardrop-shaped, red and purple blossoms.

Of all the fuchsias, two heirloom cultivars, which have been around for nearly a century deserve special mention. They're both hybrids of Fuchsia triphylla, the honeysuckle fuchsia. Gartenmeister Bonstedt, usually known as Gartenmeister, features reddish-green foliage with burgundy veins and stems. A sun-tolerant, bushy plant, Gartenmeister has tapered, tubular, bright orange-red blossoms.

Thalia, also a bushy plant, has purplish tinges on the undersides of the leaves. The light orange-red blooms are long and slender. This remains one of my favorites as the tiny blossoms are so perfectly shaped.

Fuchsias vary greatly in form, and for that reason they are suitable for many different gardening situations. For hanging baskets, trailing and semi-cascading fuchsias are obvious choices. Upright cultivars like Gartenmeister and Swingtime feel at home in pots, window boxes, and can be trained as standards.

As bedding plants, consider there are heat-tolerant fuchsias, such as the Divas. Immune to summer heat, these bloom from spring until frost.

Free-flowering fuchsias revel in spring weather, as most prefer temperatures from around 45 to 75 degrees. They're most floriferous in spring and early summer. In preparation for spring, a flush of new growth emerges.

Once the weather becomes warmer, I harden mine off to get them ready for outdoor life in the spring. Naturally, those purchased from garden centers have already gone through this procedure.

Pinch or prune fuchsias as needed to keep them bushy and compact. If you want tidy plants, deadheading may be necessary. Whenever fuchsias are actively growing, a soluble complete fertilizer should be applied on a regular basis, about twice a month. Fuchsias prefer a moist soil; so daily watering may be needed during hot summer spells. Apart from that, fuchsias are very forgiving.

The only disease or insect problem I've seen is whiteflies, which seem to be worse in the winter. They're easy controlled with insecticidal soap. Some cultivars of fuchsias are susceptible to some sort of leafspot. Affected leaves will eventually drop off to be replaced by healthy ones. Because I don't like to spray plants with pesticides, I just ignore this problem. It doesn't seem to really affect the vigor of the plants in any case.

The most economical way to get more fuchsias is to propagate your own by taking cuttings from ones you have or by buying seeds. Several garden catalogs, such as Thompson & Morgan offer seeds. Once you have blooming plants, harvest seeds from the ripe berries. Be aware these little berries can stain. As they fell from the plants on my front porch, the purplish-black stain soaked into the wood. (I used a bleach solution to remove this.)

The flamboyant, diverse fuchsias are carefree, expressive plants. They revel in the cool weather of spring and fall.




Editor's Picks Articles
Top Ten Articles
Previous Features
Site Map





Content copyright © 2021 by Connie Krochmal. All rights reserved.
This content was written by Connie Krochmal. If you wish to use this content in any manner, you need written permission. Contact Connie Krochmal for details.